Global Marijuana March 1999
From Cannabis
Global Marijuana March

links

.
GMM: photos, basic city lists, maps, detailed city lists, years, regions, nations, links, graphics. Google images: Crowds, flyers: Marcha da Maconha. And: Marche Mondiale du Cannabis. And: Marcha Mundial de la Marihuana. And: Global Marijuana March. Add city name to searches. See signup. And: Facebook hashtags: [1][2][3][4]. Twitter hashtags: [5][6][7][8][9]. Google Plus searches: [10][11][12]. Pinterest: [13][14].
GMM, MMM. First Saturday in May (or thereabouts).

Cities

and

nations

holding

4/20 events

are included in the lists for later years. Yearly maps: 41 nations participated on May 6, 2017, or thereabouts. 44 nations participated on May 7, 2016, or thereabouts. 43 nations participated on May 2, 2015, or thereabouts. 212 cities from 42 nations signed up for May 3, 2014 or thereabouts. 226 cities from 42 nations signed up for May 4, 2013 or thereabouts. 177 cities from 34 nations signed up for May 5, 2012 or thereabouts. 274 cities for May 7, 2011. 328 cities for May 1, 2010. 270 for May 2, 2009. 240 for May 3, 2008. 230 for May 5, 2007. 203 for May 6, 2006. 184 for May 7, 2005. 165 for May 1, 2004. 235 for May 3, 2003. 199 for May 4, 2002. 119 for May 5, 2001. 104 for May 6, 2000. 31 for May 1, 1999.
Global Million Marijuana March. GMM Facebook pages. GMM yearly city totals. Many GMM links. See also: 420 event lists. And: More cannabis-related links. And: Google News archives. And: GMM on Wikipedia. Google (add name of city to searches): [15] [16] [17] [18] [19] [20] [21] [22]. [23]. Google maps: city, state, nation. Photos, graphics, and image searches: Marijuana March: [24] [25] [26] [27] [28]. Marihuana March: [29] [30] [31] [32]. Marcha Marihuana (Spanish): [33] [34] [35] [36]. Marche Mondiale Cannabis (French): [37] [38] [39] [40]. Marche Mondiale Marijuana (French): [41] [42] [43] [44]. Marcha Maconha or Marcha Marijuana (Portuguese): [45] [46] [47] [48] [49] [50] [51] [52]. Google Advanced Image Search (find free images). Pinterest: [53][54][55][56]. GMM Blogs: [57]. Travel blogs with photos: [58]. Wikipedia: Legality of cannabis by country: Erowid.org. WeBeHigh.org - many cities worldwide. Old Yahoo Groups: [59] [60] [61]. Basic city lists by year. Marijuana polls. And: Wiki upload posters, flyers, and banners. See also Wikimedia upload.
950 different cities have participated from 82 different nations or subnational areas since 1999. Wikipedia: Cannabis by country.
Search for marijuana march videos. And more.
Find GMM graphics and other event graphics for any city.
Share link: 1999details. See also: Basic 1999 GMM city list, 1999 GMM graphics, and 1999 GMM map.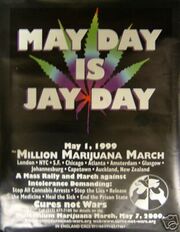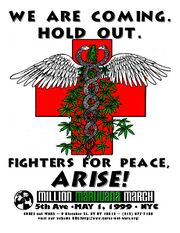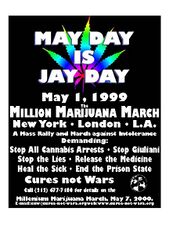 31 cities signed up for the Saturday, May 1, 1999 Global Marijuana March.
New York City video. A clip from Grass: History of Marijuana, narrated by Woody Harrelson. See 3 minutes 47 seconds in. It says "New York City 1999". It shows 1999 MMM march and "Cures not Wars" banner. Direct link to 3 minutes 47 seconds in:
Overview
[
edit
]
The Global Marijuana March (GMM) is also known as the Million Marijuana March (MMM), and Global Cannabis March. There are local names for the event too. Such as: World Cannabis Day, Cannabis Liberation Day, Global Space Odyssey, Ganja Day, J Day, etc.. GMM occurs on the first Saturday in May, or thereabouts, depending on the city. It may include marches, meetings, rallies, raves, concerts, festivals, information tables, and more. It is a celebration embracing cannabis culture as a personal lifestyle choice. Participants unite to discuss, promote, entertain and educate both consumers and non-consumers alike. See GMM, GMM Facebook, and GMM links for many links for reports, photos, videos, press, media, posters, maps, flyers, etc.. See also: 420 event lists and Legality of cannabis by country.
MMM 1999 city list
[
edit
]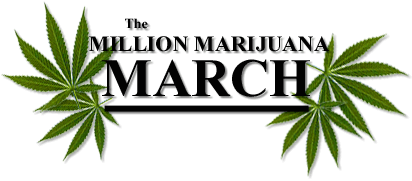 31 cities worldwide for the first international Million Marijuana March on May 1, 1999!
Sources for city list
[
edit
]
The 31 cities were compiled from several articles and reports:
1999 MMM. Village Voice article on New York City MMM. Mentions Prague. Also, Winnipeg, Canada. May 5-11, 1999 Village Voice. "Smoke and Jeers. Million Marijuana March Protests NYC's Record-High Pot Arrests." By Jennifer Gonnerman.
1999 MMM. High Times article lists 25 cities.
1999 MMM. FoM (of CannabisNews.com) compiled many reports from cities worldwide. Also, reports for additional cities not found on other 1999 city lists. Such as for Amarillo, Detroit, Eureka, and Houston.
1999 MMM article. Another city mentioned: Tel Aviv.
1999 MMM rally reports, photos, etc
[
edit
]
Google search of CannabisNews.com -- Note that the MMM phrase or the year may be from a comment, and not from the article itself.
New York City. Comments and many photos. Click links for pages 1 through 7 at the bottom of the left column.
CannabisCulture.com articles.
High Times article.
London and around the world. Rally reports.
Seattle, Washington, USA. Over the day 4000 people marched and/or rallied.
Categories
[
edit
]