420 and Global Marijuana March event lists by year
From Cannabis
Top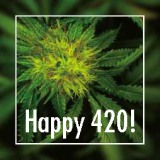 See also: Cannabis event lists and calendars. Cannabis-related events. And: Signup.
Flat list of event graphics and photos (all events). Current events and news.
"420" events are cannabis-related events held on or around April 20 (4/20). See "History of 420" at the bottom of the page. See Category: 420 events for much more info. See Flat list of 420 event graphics.
Global Marijuana March is on or around the first Saturday in May. See Category: Global Marijuana March and Category: Global Marijuana March by year for much more info.
GMM: photos, basic city lists, maps, detailed city lists, years, regions, nations, links, graphics. Google images: Crowds, flyers: Marcha da Maconha. And: Marche Mondiale du Cannabis. And: Marcha Mundial de la Marihuana. And: Global Marijuana March. Add city name to searches.
You can suggest links for this page or any city! Use the talk pages, or add the links directly yourself to city pages. No need to log in to city pages or talk pages.
Reports
2018
May 5, 2018 is the first Saturday in May. April 20, 2018 is on a Friday. Events are held on those days or thereabouts.
Multi-city photos and reports:
2017
Reports, photos, videos.
2016
Reports, photos, videos:
2015
2014
Reports, photos, videos:
2013
420-only info:
2012
420-only info:
Reports, photos, videos:
2011
420-only info:
2010
420-only info:
2009
2008
2007
2006
2005
2004
2003
2002
2001
2000
1999
Yearly city totals
GMM, MMM. First Saturday in May (or thereabouts).

Cities

and

nations

holding

4/20 events

are included in the lists for later years. Yearly maps: 41 nations participated on May 6, 2017, or thereabouts. 44 nations participated on May 7, 2016, or thereabouts. 43 nations participated on May 2, 2015, or thereabouts. 212 cities from 42 nations signed up for May 3, 2014 or thereabouts. 226 cities from 42 nations signed up for May 4, 2013 or thereabouts. 177 cities from 34 nations signed up for May 5, 2012 or thereabouts. 274 cities for May 7, 2011. 328 cities for May 1, 2010. 270 for May 2, 2009. 240 for May 3, 2008. 230 for May 5, 2007. 203 for May 6, 2006. 184 for May 7, 2005. 165 for May 1, 2004. 235 for May 3, 2003. 199 for May 4, 2002. 119 for May 5, 2001. 104 for May 6, 2000. 31 for May 1, 1999.
History of 420
Some Waldos, and the 420 flag. Created in San Rafael, California in 1971. The original 420 batik flag was created by Patty Young. See Wikipedia: batik. She is holding the flag in the photo. Along with some Waldos. She created it in 1971 according to the 2012 article linked first below. The photo is from that article too.
History of 420 events
The remaining members of Sublime wanted to perform in San Francisco on 4/20 in 1997 both as a tribute to their fallen bandmate and to launch their new group, the Long Beach Dub Allstars. CAN was experienced at organizing marijuana-themed events in San Francisco. ... I [Debby Goldsberry] said yes right away to produce the Long Beach Dub Allstars 4/20 show. Now we needed a venue, so I called Boots Hughston, who owned San Francisco's hippie haven, the Maritime Hall. I remember trying to be discreet about the fact that we wanted to hold a big marijuana event at his venue. But when I asked about renting the Hall on April 20, he replied, "Hell yeah! That's 4/20."
One day in early March 1995, Danna [Rozek] and Cindy [Lassu] came to me at my desk at HEMP BC, and we had this exchange I remember vividly. Danna said, "Marc, we'd like to have a 'Four-Twenty' celebration on April 20. ..."
Image caption at source of photo below ([19] [20]): "Smokeless toke: Using a Toke-O-Matic, Hemp BC store owner Marc Emery, 37, and store manager Danna Rozek, 22, toke up some marijuana at the store. his device which is new, allows smoking of pot without actually inhaling any smoke. The pot is heated inside the bowl until the THC active ingredient releases from the pot. Then it's inhaled through the hose".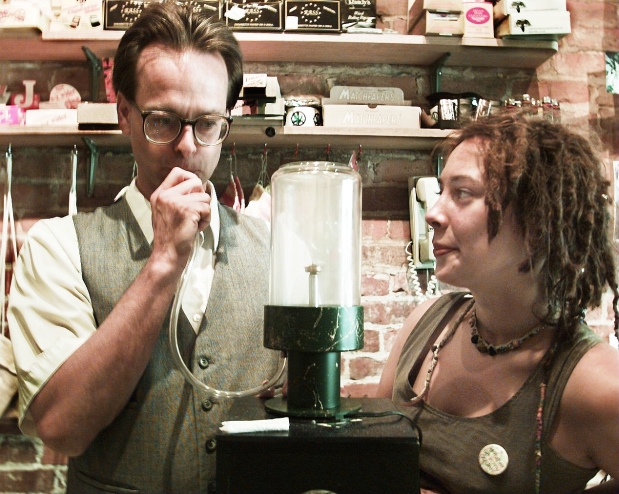 Wikipedia: Marc Emery. According to Wikipedia Marc Emery was born on February 13, 1958. So he would have become 37 years old on Feb. 13, 1995. So this photo was taken in 1995 or early 1996.
Early 420 event graphics
See: Category: Flat list of 420 event graphics.
Article discusses the first known public 420 event in the USA in 1997 in San Francisco, California.
Banner below is for an April 20, 1999 event in San Francisco: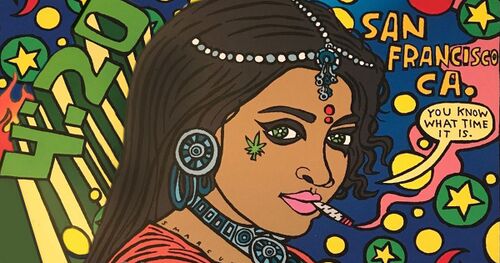 More city lists, reports
How to organize events
Categories