Corvallis, Oregon, USA
Jump to navigation
Jump to search
Share link: Corvallis
Full site / Mobile. To Top or End. News & 2022 GMM & Categories. 2023 GMM-420. US Congress could legalize, reschedule, or remove cannabis from the federal schedule if Republican filibuster were gone. Vote in US Senators who will abolish it. [2][3][4][5]. Senators Manchin or Sinema could abolish it now. Abolish Presidential veto too. Mandatory retirement. [6].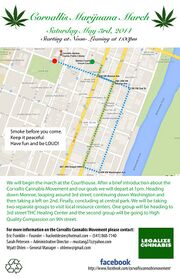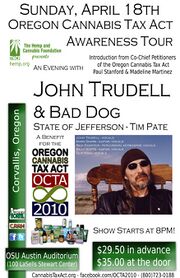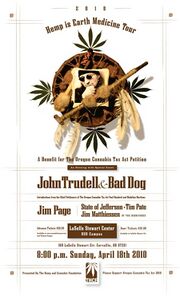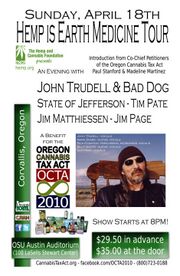 Wikipedia:

Cannabis by country.
Search for: event videos. And more.
GMM graphics and other event graphics.
City lists. Global Marijuana March, 420. Crowd photos.

City info
[
edit
]
Search: Wikipedia. Wikitravel. Wikivoyage.
WeBeHigh.org - Click "Travel Guides" button at top for continents. By U.S. state. And: Google site search.
Global Marijuana March
[
edit
]
Google site search no longer works well. It does not find all the yearly city lists containing a city name.
Special:Search works well. Click: "Global Marijuana March maps". Add city name to search, and state/province/nation as needed. This is an advanced search of main pages and templates. This will pull up all yearly maps in which the city is listed. Except for 2015, 2016, 2017, 2021 due to various problems. Putting quotes around multi-word city names helps focus the search: "New York City". This city, nation, or subnational area participated or signed up one year (or more) for the Global Marijuana March (GMM), Million Marijuana March (MMM), or 420. Cities and nations holding 4/20 events are also included in later years. Yearly maps. See: 420 and Global Cannabis March event lists by year. See: GMM links.
1035 cities have participated from 85 nations or subnational areas since 1999.
GCM/420 city lists and maps: ~ 1999. 2000. 1.2.3.4.5. 6.7.8.9.10. 11.12.13.14.15. 16.17.18.19.20. 21.22.23. Yearly event links in many cases will no longer be added to city pages due to the amount of work involved. Such links are found in the yearly city lists and maps. Graphics and crowd photos will also no longer be added to city pages in many cases. Graphics and photos can be found in this alphabetical flat list.
Return to top. See 2014 Global Marijuana March and 420 map. And: 420 event lists.
May 3:
Return to top. See 2011 Global Marijuana March map.
Sunday, May 1, GMM:
Return to top. See 2010 Global Marijuana March map.
What: Corvallis Marijuana March
Who: registered voters, people who support the cause
Where: 4th and Monroe, Corvallis, OR 97333
When: Saturday, May 1st 2:00-6:00PM, March at 4:20PM
Why: awareness, education, jobs, health, safety, tradition, reform, regulation, revenue
The Corvallis Marijuana March was organized because of the Cures Not Wars' Worldwide Marijuana March that takes place that day. Cures Not Wars was founded in New York in May 1994 as a grassroots response to the deteriorating quality of life in America. It is a coalition of drug-reform activists, users, health-care and drug-treatment providers and social-justice activists committed to advocacy and non-violent direct action to stop the drug war, whether in small, local protests or in regional or national actions.
The event has been organized by SSDP (Students for Sensible Drug Policy) and the Corvallis Cannabis Movement. This will be a peaceful march for cannabis awareness. We will gather at the Courthouse, 4th & Monroe at 2PM on May 1st and start at 4:20pm. We will circle the courthouse, march past the police station, around City Hall, then up to Monroe. We will march to Allan Bros on the corner, then cut across campus, ending back at Central Park. We will have information handouts and volunteer sign-up sheets available for SSDP, Corvallis Cannabis Movement, and OCTA 2010 Petition Circulators.
We will need125,000 signatures (~90,000 verified signatures) to secure placement for the Oregon Cannabis Tax Act on the November ballot. The initiative will help to fund state programs, build and promote local green industry, and develop a new future for Oregon. So tell a friend, come and be loud, bring some music, and let's change Oregon for the better!
See 2010 Global Marijuana March map. Corvallis: Eric Franklin ericcfranklin(at)yahoo.com 541-868-7140 .
May 1, GMM:
April 18. Corvallis event as part of 6 city Oregon tour to raise funds and awareness for the OCTA.

Return to top. 2023 GMM-420 and Mirror.
Full site / Mobile. To Top or End. News & 2022 GMM & Categories.
Cannabis is safer.
[
edit
]
See articles: Cannabis is safer.
And: History of US Republican war on cannabis, and their lies about its health effects.
US Republicans &
[
edit
]
Conservatives worldwide
[
edit
]
US Republicans have led cannabis and drug wars worldwide. All to create 2nd class citizens who are blocked from many educational, job, and voting opportunities. Part of the conservative plan to concentrate wealth in fewer hands worldwide. USA. The state of the nation. After decades of Republican-led drug war, and their filibusters in the Senate.
Global warming. Roswell
[
edit
]
Return to top. Share link: Roswell UFO.
---
---
---
Full site / Mobile. To Top or End. News & 2022 GMM & Categories. 2023 GMM-420 and Mirror.
---
---
Categories
[
edit
]