Global Marijuana March Russia
Jump to navigation
Jump to search
Full site / Mobile. To Top or End.
Global Marijuana March links
See: Global Marijuana March links. And: Videos.
1035 cities have participated from 85 nations or subnational areas since 1999.
GMM: years, photos, basic city lists, maps, detailed city lists, nations, links, graphics, regions. Google images: Crowds, flyers: Marcha da Maconha. And: Marche Mondiale du Cannabis. And: Marcha Mundial de la Marihuana. And: Global Marijuana March. Add city name to searches. Flat list. All event graphics and photos. In alphabetical order by city. More flat lists:

Share links: GMM Russia - gmmrussia. See also: Russia. Cannabis-related links.
Right-click any region for its city list.
The Global Marijuana March (GMM) is also known as the Million Marijuana March (MMM), and Global Cannabis March (GCM). Other names, and associated events (some have been around longer than GCM): World Cannabis Day, Cannabis Liberation Day, Cannabis Parade, Ganja Day, J Day, MardiGrass, etc.. GMM occurs on the first Saturday in May, or thereabouts, depending on the city and country. It began in 1999. See New York City, Dana Beal, and Wikipedia: Global Marijuana March. It may include marches, meetings, rallies, raves, concerts, festivals, information tables, and more. The six main demands: stop all cannabis arrests; stop the lies; release the medicine; heal the sick; end the prison state; Cures Not Wars. See ibogaine. And Facebook: Ibogaine Universe!!!! See GMM links for many links for event maps, reports, crowd photos, videos, GMM graphics, press/media, 420 graphics, etc.. See flat lists. See GMM Facebook. See Archive.org to find archived reports by entering the URL. See report compilations: 420 and Global Marijuana March event lists by year. See also: Wikipedia: Legality of cannabis by country. Please let us know of missing cities for any year: Talk. Wikipedia: Cannabis by country.
Search for: marijuana march videos. And more.
Find GMM graphics and other event graphics.
GMM cities in Russia
[
edit
]
Full site / Mobile. To Top or End. News & 2022 GMM & Categories.
Cannabis is safer.
[
edit
]
Return to top. See article: Cannabis is safer.

Vote out most US Republicans and their cannabis war.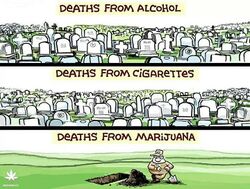 16 Dec 2019: Majority Of Americans Support Marijuana Legalization, Two More New Polls Show. "Voters who supported President Trump in the 2016 election expressed greater opposition to the policy than Republicans and Republican-leaning independents as a whole."

23 Feb 2019: Trump Continued to Flip-Flop on Medical Marijuana.
See: Reagan's war on cannabis. And: Holy War on Drugs, Conservative-led global incarceration.
Ronald Reagan

, 1980

campaign speech:

"Leading medical researchers are coming to the conclusion that

marijuana, pot, grass

whatever you want to call it, is probably

the most dangerous drug in the United States

, and we haven't begun to find out all of the ill effects, but they are permanent ill effects. The loss of memory for example."

Share link: Obama.
See longer article: Cannabis is safer.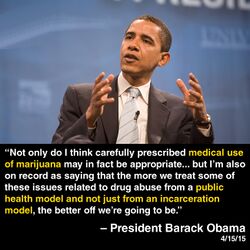 Above quote is from Sanjay Gupta interview of Obama on April 15, 2015. Interview aired on CNN on April 19, 2015. [19][20][21].

Register and vote for cannabis.
---
---
---
Full site / Mobile. To Top or End. News & 2022 GMM & Categories.
---
---
Categories
[
edit
]