Global Marijuana March cities
From Cannabis
Top

Share links: gmmcities or GMMcities
888 different cities have participated from 80 different nations or subnational areas since 1999.
See map of all these cities at Global Marijuana March.
Alphabetical city list
Nations and regions
80 countries and some subnational areas: Angola. Argentina. Australia. Austria. Belarus. Belgium. Bermuda. Bolivia. Brazil. Bulgaria. Cambodia. Canada. Canary Islands. Cape Verde. Chile. Colombia. Costa Rica. Croatia. Cyprus. Czech Republic. Denmark. Ecuador. El Salvador. Faroe Islands. Finland. France. French Polynesia. Germany. Greece. Guadeloupe. Guatemala. Guyana. Hungary. Iceland. India. Indonesia. Iraqi Kurdistan. Ireland. Israel. Italy. Jamaica. Japan. Lithuania. Luxembourg. Malaysia. Malta. Martinique. Mexico. Moldova. Nepal. Netherlands. New Zealand. Nicaragua. Northern Ireland. Norway. Paraguay. Peru. Philippines. Poland. Portugal. Puerto Rico. Reunion. Romania. Russia. Serbia. Sicily. Slovakia. Slovenia. South Africa. Spain. Sweden. Switzerland. Trinidad and Tobago. Turkey. Ukraine. United Kingdom. United States of America. Uruguay. Venezuela. Vietnam. (Note: To edit this list click any nation, or go to Template:Global Marijuana March nations.)
2017 Global Marijuana March and 420

May 6, 2017, Saturday, or thereabouts. And April 20 (4/20), or thereabouts. Rallies and marches overall change public opinion for the better! See: Cannabis polls.
2017 Facebook event pages for Global Marches and 420. - Some cities.
Main Facebook pages for organizing global marches.

Cannabis is safer
Return to top. See article: Cannabis is safer.
See: Reagan's war on cannabis. And: Holy War on Drugs, Republican-led mass incarceration.
Ronald Reagan

, 1980

campaign speech

1:

"Leading medical researchers are coming to the conclusion that marijuana, pot, grass, whatever you want to call it, is probably the most dangerous drug in the United States, and we haven't begun to find out all of the ill effects, but they are permanent ill effects. The loss of memory for example."
See longer article: Cannabis is safer.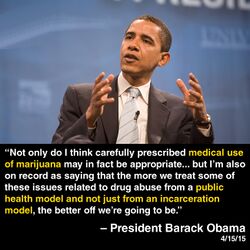 Above quote is from Sanjay Gupta interview of Obama on April 15, 2015. Interview aired on CNN on April 19, 2015. [10][11][12].
USA. Republican war on cannabis
The Cannabis War is over and the U.S. Republican Party has lost. They may not know it yet, so keep marching, lobbying, and voting! Please register and vote! See: Reagan's War on Cannabis. And: Drug war, control, and Republican-led income inequality. And: Alternatives to Republican-led mass incarceration.
A or F? How Congress scores on marijuana

.

2.

By Danielle Keane, NORML political director. 2016. "Of the 233 Democrats in Congress, 208 members (89.3 percent) received a passing grade of a 'C' or higher. Of the 302 Republicans in Congress, 102 members (33.8 percent) received a passing grade of a 'C' or higher." For your state see:

Congressional Scorecard. NORML

. Grading was based upon members' voting records.
Vermont's Republican Governor Scott Vetoes Marijuana Legalization bill of Democrat legislature. May 24, 2017. And: New Mexico's Republican governor vetoes a bill that would have allowed medical marijuana for opioid addiction. April 7, 2017. And: New Mexico's Republican governor vetoes the 911 Good Samaritan Overdose Prevention Bill. April 7, 2017. And: Idaho's Republican governor vetoes a broadly-supported asset forfeiture reform bill. April 7, 2017.
Will 2018 midterm elections remove Republicans? 2018 ballot issues: marijuana & minimum wage.
Democrats, following Bernie Sanders lead, propose bill to raise minimum wage to $15 by 2024. Republicans oppose raising federal minimum wage. [16] [17].
U.S. Republican Party: Greed, Ground Wars, Drug Wars, and Mass Incarceration.
Presidents alone can not reschedule it
Neither the president nor the Attorney General can reschedule marijuana by themselves. [19] [20][21]. The two of them together also can not do so. See Wikipedia: Removal of cannabis from Schedule I of the Controlled Substances Act. See "Process" section.
Since HHS (Health and Human Services) and the DEA (Drug Enforcement Administration) have again declined to reschedule or deschedule cannabis, then only Congress can do so. But Congress removed help for veterans: Republicans in Congress Won't Let Veterans Access Medical Marijuana After All. [22][23]. And Congressional Republican committee leaders refuse hearings on CARERS bill to reschedule cannabis. See: Medical Marijuana Advocates Rally to Loosen Restrictions. By Alicia Ault. 23 Mar 2016. Medscape.
Drug war, control, mass incarceration
Green love
The Global Marijuana March is the first Saturday in May. The first Saturday in May is also World Naked Gardening Day. Your marijuana garden needs love too

. (see Google search for it). But, be safe!
Single Payer. Half the cost of Trumpcare
20 million uninsured: 20,000+ deaths yearly
Portugal. Few die of overdoses
Portugal has decriminalized all drugs. Like Canada it has universal healthcare. See: Portugal. Cannabis-related links. See: Wikipedia: Drug policy of Portugal and Wikipedia: Health in Portugal. Nearly all of the European Union (EU) has universal healthcare. [29][30]. See: List of countries with universal health care.
Source for above chart: Are any conservatives in the US for a single payer and a universal health care system, or can they not coexist? Chart is from comment around March 11, 2017 by Dan Munro, "author of Casino Healthcare and Forbes contributor".
Canadian Single Payer: Show health card, get health care paid for by taxes. No deductibles on basic Canadian health care, and co-pays are extremely low or non-existent.
Canada passes US in middle-class wealth. Median after-tax middle-class income in Canada is higher. [32]. Why? Canadians pay so much less for far better healthcare. And: Canada has higher minimum wage.
The $0 Alternative To Trumpcare. See chart below. USA versus top ten healthiest nations.
Universal healthcare and longer life, at half the cost of US healthcare.

Portugal decriminalised drugs 14 years ago – and now hardly anyone dies from overdosing. 2015 article by Chris Ingraham. Chart below is from the article.
"The country has 3 overdose deaths per million citizens, compared to the EU average of 17.3."
In 2014 the USA had 147 overdose deaths per million people. [33] [34] [35] [36]
US charts:
Ibogaine cure:
Categories