New York City, New York, USA
Jump to navigation
Jump to search
Full site / Mobile. To Top or End. Nov 8, 2022 election. Vote for cannabis by voting for Democrats. Democrats also support higher minimum wages, abortion rights, contraceptive rights, higher taxes on the rich, lower taxes on the poor and middle class. Vote for real Democrats who will abolish the Senate filibuster.
Table top
Top

Share links: New York City or NYC or nyc. Local or regional cannabis-related links wanted. See: New York (state). See cities by country on GMM map of all cities. See all cities (not just Global Marijuana March). See the yearly city and event lists for additional Facebook and other links.
See also this Dana Beal page for more cannabis history of New York City.
See this archive.org archive of this New York City page. Links are archived too, with many in their original versions. Go to early archives (by year) to see.
Photos and graphics
New York City cannabis event graphics and photos.
A Brief History of the NYC Cannabis Parade & Rally. - cannabisparade.org
Links
Facebook:
More links:
Wikipedia: Cannabis by country.
Search for: marijuana march videos. And more.
Find GMM graphics and other event graphics. Global Marijuana March Links.
Flat list: Event graphics & photos. Alphabetical.
-Category: Cannabis-related links.
Medical Cannabis Worldwide. (zoomable English map). And: Spanish.
-Commons: Category: Cannabis by country.
See: Google Translate. And: Firefox addon.
Add local or regional links
Info
Global Cannabis March. 420
Google site search no longer works well. It does not find all the yearly city lists containing a city name.
Special:Search works well. Click: "Global Marijuana March maps". Add city name to search, and state/province/nation as needed. This is an advanced search of main pages and templates. This will pull up all yearly maps in which the city is listed. Except for 2015, 2016, 2017, 2021 due to various problems. Putting quotes around multi-word city names helps focus the search: "New York City". This city, nation, or subnational area participated or signed up one year (or more) for the Global Marijuana March (GMM), Million Marijuana March (MMM), or 420. Cities and nations holding 4/20 events are also included in later years. Yearly maps. See: 420 and Global Cannabis March event lists by year. See: GMM links.
1035 cities have participated from 85 nations or subnational areas since 1999.
GCM city lists and maps: ~ 1999. 2000. 1.2.3.4.5. 6.7.8.9.10. 11.12.13.14.15. 16.17.18.19.20. 21.22. Yearly event links in many cases will no longer be added to city pages due to the amount of work involved. Such links are found in the yearly city lists and maps. Graphics and crowd photos will also no longer be added to city pages in many cases. Graphics and photos can be found in this alphabetical flat list.
2022
2021
May 1:
April 20:
2020
Return to top. See 2020 Global Cannabis March and 420 map. And: 420 event lists.
April 18: The Annual 420 Reggae Fiesta on the River with Dub Is a Weapon. [102]
May 2: Facebook event page: NYC Cannabis Parade & Rally 2020. And: Legalize it! Stop quarantining the weed! The Village Sun.
May 2: Digital Facebook event: Virtual NYC Cannabis Parade & Rally 2020.
2019
Return to top. See 2019 Global Marijuana March and 420 event map. And: 420 event lists.
April 20: [103][104]. May 4: [105][106][107][108][109][110][111][112].
May 4:
April 20:
2018
Return to top. See 2018 Global Marijuana March and 420 events. And: 420 event lists.
May 5:
420:
Brooklyn 420:
2017
Return to top. See 2017 Global Marijuana March and 420 events. And: 420 event lists.
April 20, 2017:
May 6, 2017:
2016
Return to top. See 2016 Global Marijuana March and 420 events. And: 420 event lists.
May 7:
2015
Return to top. See 2015 Global Marijuana March and 420 map. And: 420 event lists.
May 2, GMM:
2014
Return to top. See 2014 Global Marijuana March and 420 map. And: 420 event lists.
April 20:
May 3, GMM:
2013
Return to top. See 2013 Global Marijuana March map. And: 420 event lists.
May 4:
2012
Return to top. See 2012 Global Marijuana March map.
May 5:
2011
Return to top. See 2011 Global Marijuana March map.
May 7:
2010
Return to top. See 2010 Global Marijuana March map.
April 20:
May 1:
2009
Return to top. See GMM 2009, GlobalMarijuanaMarch.org archive, 2.
May 2:
2008
Return to top. See 2008 GMM, GlobalMarijuanaMarch.org archive, 2.
May 3:
2007
Return to top. See 2007 Global Marijuana March map.
May 5:
2006
Return to top. See 2006 Global Marijuana March map.
May 1:
Report from New York City
Beautiful weather, Beautiful people, Beautiful march. Made some beautiful new friends and had a beautiful day. It started off at 11:00am set in Washington Square Park, for the 1st time in years, with an ibogaine forum and march history speech by Global/Million Marijuana March founder and veteran activist Dana Beal (www.cures-no-wars.org) while we handed out flyers to the people in the park as they came up to see what was going on so they would be up to speed with what Dana and the other speakers were talking about. Most of the people listening, aside from the 100 or so people starting to float in for the march, were tourists and really getting into the speeches and many had questions which were cheerfully answered by those who had answers. A few brave souls lit up some joints and the cops were pretty cool, well actually they were really cool throughout the entire day because they hung around and were glad to talk to anyone who wanted to talk to them about their opinion of the war on cannabis. The opinion was the same from any cop I talked to "Will you people please get this put on the ballot and I'll vote for it because I have better things to do on the 1st week of May every year then babysit you people". Very nice.

I met a cop that really didn't understand that street pot was the same thing as what is growing in the ground just dry. He was under the impression it was similar to how coca becomes cocaine since the have to wear hazard gear to move it and he's never seen it because it's always wrapped up in packages or bundles or something. He, like every law enforcement officer I and others spoke to, is very aware that they need to go home, type in www.leap.cc and start reading since every cop I spoke to agreed that cannabis enforcement is a total waste of time & money. Some mentioned much concern over the impending scourge of crystal meth that is on the way and that they wouldn't mind the weed resources to get a jump on it. We let them know that Leap would let them know how to make their concerns heard. I have to say I had a great time going up to "The Man" and saying "Hey, I remember you from last year. How've you been? Thanks for coming out and watching out for us" They returned the greeting and we talked, well except for those in plainclothes who preferred to stay "anonymous". I always say that the GMM is the one place on Earth where everyone is completely equal and all get along as one. Everyone seems to take a day off from hating each other and that is a beeeeeautiful thing and very spiritual if you are aware of the vibe, which I did my best to make sure those I spoke to knew to be part of the vibe. A few more speakers spoke including the Pieman ( www.pieman.org ) who is always great to talk to because, even though he has a tough time of it getting around anymore, he is absolutely 100% pure 1960's activism and there's so much to learn from him. Dana explained to us that the Mayor through his lawyers had to change our finish from Battery Park which is a good sized park on the southern most tip of NYC by the Statue of Liberty to City Hall Park in front of City Hall because blasting (how American & ironic?) and our safety. Well that sounds like a step in the right direction, Washington Square Park and City Hall Park all in the same day, good start.

12 noon we walk a few blocks to the starting point at Houston & Bleecker Streets. There was a free speech/open megaphone for an hour, with all its usual screaming and animation, while banners, flyers & signs were being handed out.

1pm we are on our way. Another part of his march I really find amusing is the fact that this GMM is the only march, parade or the like that people stop off at the various food stands, carts and pizza & burger joints along way, grab something to munch on and catch up to the march while usually being stopped by people on the street with questions or tourists who want a picture holding one of our signs or while walking in the march looking like a participant. I gave away a sign to a pair of young adult European couples who wanted a souvenir to take home. That should make for some fun going through customs. The people we passed all cheered us on which made us all think "Tell me why is weed illegal again?, Everyone seems to like it".

We get to City Hall Park which is quite small and are told that we only have a noise permit so we have to give up our signs and we could only be on the sidewalk outside of the park and to see the speakers and entertainment we had to sit down in a roped off area of sidewalk. Well I gotta say my ass immediately began to hurt, not because of the concrete either. We were literally kicked to the curb by the city. Poor Dana had to field like two or three fuktillion "What da fuk is going on?" questions from the marchers. Everyone made the best of it and we headed into the park for a bench in the park where we could hear the speakers but not have to be crowded on the sidewalk in the direct sun as did many people which ended up making more room for those out in front of the "stage". From what I've seen from the last couple years of attending various NY marches/rallies and such, sadly if you've heard the speeches at one NY rally you've heard them all. I agree that the history of pot oppression is an important part of promoting activism, especially for those who are just starting out and are hungry for info and passion to fuel their own fight, but I really feel there is almost no focus on now, , tomorrow and how we're going to win this fight. But that's a story for another time. I was blessed with being veeeeery brownied-up, since I knew smoking would be a game I didn't want to play this year, and had a wonderful glow the whole day with out having to hide like a criminal to burn a joint so the joints I brought along just in case somehow made it into the hands of some of my new friends without weed. Sharing is Caring, remember? Being brownie boy protector of cannabis freedom, I pretty much rambled the ears off of anyone who would listen and pretty much was unable to shut up for hours. Around 4pm or so we headed out into the rest of the city, walked around aimlessly, hanging out at street corners eating a variety of delicious NY street food, watching people go by, especially the summer clad females of all varieties, while doing our best to attract attention to our pro-cannabis t-shirts the whole way until exhaustion set in, caught a cab and headed to the train home. I would love to see enough people come out that we could all light up and the law would be rendered helpless but the people who did come out were great and very into either sharing information or asking questions. I do believe I love them all and am looking forward to being able to enjoy a bud with everyone someday soon in a NY March. See you all at the NY Harvest Fest in October.
2005
Return to top. See 2005 Global Marijuana March map.
May 7:
From the article
A group rallied in Lower Manhattan Saturday to call for the legalization of marijuana for medical purposes.

"Cures not Wars" is urging lawmakers to allow hemp to be used with a prescription.

"If alcohol is socially acceptable, then I see no reason why marijuana can't be," said Audrey Silk, a Libertarian candidate for mayor, who joined the demonstration. "And medical marijuana to me is a total no-brainer. There is no reason to deny people who say it works fot them the ability to use it."

The group is also touting the new drug ibogaine, which it says helps cure addiction.

"Basically with every other drug you take for drug addiction, like methadone, when the methadone wears off, you're back in withdrawal," said Dana Beal, another protestor. "When the ibogaine wears off there is no withdrawal."

Similar demonstrations took place in nearly 200 cities around the world, including Prague, Kiev and Tel Aviv.
2004
Return to top. See Global Marijuana March 2004 map.
May 1:
2003
Return to top. See GMM 2003, MillionMarijuanaMarch.org archive, 2.
May 3:
2002
Return to top. See 2002 Global Marijuana March map.
May 4 MMM:
Local news media summary
Source: Global Cannabis. Million Marijuana March - Yahoo Groups. Message 20.
From: Andrew Seidenfeld <noprob@...> To: Dana Beal <dana@...>, <ptpeet@...>, Ssdptalk mailing list submission <ssdptalk@...> Status:
I didn't catch the early evening news at 7, but at 10:00pm Channels 5 and 9 both broadcast local news, and they both covered New York's Million Marijuana March.
Channel 5, Fox, had a short thing, maybe 15 seconds, with great on-stage footage of Preston Peet editor of http://www.drugwar.com. They mentioned the police made 148 arrests there, though I don't know if this is the latest figure. I presume most of the arrests were for marijuana possession, but I wonder if those arrested just got a desk appearance ticket (out of the cop shop in a few hours) or were put through the system (in jail until bail could be set, and paid, on Monday or Tuesday).
Channel 9, UPN, ran 2 or 3 promos leading up to their coverage, which lasted about a minute. They had great footage of the parade (which I missed this year), and Cures Not War's Dana Beal (http://www.cures-not-wars.org), talking on stage about nonviolently repealing the marijuana laws. Also footage of people booing the police as they took away another person.
Neither channel showed anyone smoking pot, because not many people were smoking pot. There were about 500 cops there, and thousands of people there. Still, the event was somewhat smaller than last year, when there also hundreds of cops and not many people smoking pot. The weather was sunny and warm.
ABC 20/20 was there videotaping anybody who wanted to say anything; they'll probably air a piece this summer.
There were 3 stages again this year. There were also vendors for food, clothing, and paraphernalia, and a table for a Libertarian party candidate, and for Medical Marijuana Barbie, now with "Hookers for Weed."
Some really good music, and good speakers, including Dana, Preston, Ask Ed (Ed Rosenthal), and people from Students for a Sensible Drug Policy and the Unitarian Universalist Church, the Pie Man, and more.
2001
Return to top. See GMM 2001 and Cures-Not-Wars.org archive.
May 5 MMM:
From the article
The most confrontational rally took place in New York City, where police were very hostile towards the crowd. Pot-freedom is against the agenda of NY Mayor Rudolph Giuliani, whose anti-pot crusade has resulted in New York cops making 10% of all pot busts in the country.

A crowd of about 5000 people filled five city blocks as they marched through town. Plainclothes cops pulled pot-smokers out of the crowd, putting them in plastic cuffs and hauling them away. When some people started pointing out the undercover narcs, they too were arrested and hauled off. As rally-goers protested the police actions, they were clubbed and then pepper sprayed. Police sprayed dozens of people, including two High Times editors.

According to organizer Dana Beal, police made almost 200 arrests, over 60 of them for the catch-all charge of "obstructing governmental administration." Last year's New York march saw over 300 arrests.
2000
Return to top. See Global Marijuana March 2000 map.
May 6 Millennium Marijuana March:
1999
Return to top. See Global Marijuana March 1999 map.
May 1:
That night we got coverage on CBS, NBC, ABC, Fox, UPN, and WB 11, along with a three minute loop that ran for all weekend on NY-1. The Times missed the march altogether, mistaking the people waiting in Battery Park for the actual event. The best article, in the Daily News, plugged the actual date of the Millennium Marijuana March -- May 6, 2000 --and if taken together with Newsday, make one one pretty good article.
From the article:
The turn out was unbelievable: in New York, as many as 25,000 people marched and chanted anti-drug war slogans. ...

In marijuana-intolerant New York, correspondent Dana Beal reported a very different experience. Police in New York formed a "wall of blue" forcing 25,000 marchers out of affluent areas and making over 105 arrests in the process. Witnesses described some of the arrests as violent attacks on pot protestors.

One woman, carrying a sign that read, "Stop All Cannabis Arrests," saw one of the arrests take place right beside her. "It was horrible," she said. "We heard the smack of the body against the building."

According to Beal, New York Police also distributed fake flyers, telling protestors to organize at the wrong spot at the wrong time, drawing nearly 4,000 away from the march's main assemblage. Around the world, the Jay Day experience demonstrated that the most dangerous drug on the streets was power ? the power of police in certain precincts to abuse peaceful demonstrators partaking of a harmless, happy herb.
1998
1998 Million Marijuana March (MMM) on May 2. This was before it went global in 1999.
1998 Million Marijuana March flyer below. See largest version of flyer.
1994
Dana Beal at the 1994 marijuana march. See photo info: Commons: File:Dana Beal 1994.jpg.
1978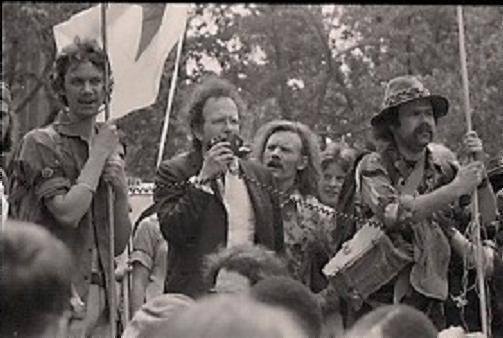 Facebook photo caption:
"this pic was taken by wayne angel at the 1978 national marijuana day smoke-in at nyc's central park — with Stephen DeAngelo, AJ Weberman, Dana Beal and Aron Kay." (left to right in the photo).
1976
1974
Photo sources and history:
https://www.facebook.com/groups/48203592077/posts/10158016609337078/?comment_id=10158627462522078
1973
Mr. Beal works out of a garret on Bleecker Street, where the faded paint outside still says, "The Yipster Times." He and his followers have staged a marijuana rally in the park every year beginning in 1973 -- each time with a permit, except last year, when they held what a city spokesman called "an illegal assembly."
1967
The first New York City smoke-in was in Tompkins Square Park on June 1, 1967 when the Grateful Dead played there. There were several smoke-ins at events that summer.
6/1 Grateful Dead/Group Image
6/14 David Amram
6/21 Marc Levin Ensemble
6/28 Blues Project
7/12 Sonny Nevins Jazz Revue
7/19 Richie Havens
7/30 Pterodactyls play smoke-in
8/16 Fugs

Quote below (emphasis added) from no-longer-existing page at yippiemuseum.org/whatsup.html (archived):
"The first Smoke In was held in February 1967 in upstate New York by Michael Aldridge but it did not receive much press attention. In June 1967 Dana Beal and the New York Provos held the second smoke-in in Tompkins Square Park. Due to several arrests this demonstration received considerable press. Beal went underground in January 1968 but the Smoke Ins continued just as they do today as evidenced by the above photo of 10,000 Smoke Inners in Boulder on April 20, 2008."
The sweet, heavy smell that indicates burning marijuana drifted over Tompkins Square Park on the Lower East Side yesterday evening. The hippies were having a "smoke-in," and seven policemen were standing by, doing nothing about it. [Subscribe to read more].
Or read the full article online here: Page 63 of Marijuana (2018 book by The New York Times Editorial Staff). More from that article indicates that there were several smoke-ins that summer of 1967:
The smoke-in began at about 7:15 P.M. [July 30, 1967], when a band called the Pteradactyls began playing electric guitars. ... Provo had a smoke-in last Sunday and the Sunday before.
Verified by a member of the Pterodactyls, Robin LeMartel, here.
Inspired by a Dutch anarchist group, activists A.J. Weberman and Dana Beal founded the New York Provos. When underground newspaper The East Village Other moved, the Provos took over its former office on Avenue A.

"We put a big sign in the window that said 'Psychedelic Revolution,'" says Weberman. "I remember going out, selling this magazine we had, New York Provo magazine, and talking to 100, 200 different people a day on the street, wherever I'd meet them, trying to get them to come to our demonstrations.

"And we began to organize. Every time there was a pot bust, we'd march through the streets to protest them busting people for marijuana. The people in the neighborhood were very receptive, they threw flowers at us – along with the flowerpots. We started a bail fund and went down to 100 Centre and bailed out a number of people who couldn't make bail for pot."

In June 1967, Beal staged the first of a series of Smoke-Ins in Tompkins Square Park. "We had the first Smoke-In in the entire world there," says Weberman, who left the U.S. that year. "We smoked pot openly to show people that it didn't turn you into a raving maniac. Back then the pot was so weak it hardly did anything."
In June of 1967, marijuana enthusiast, activist, and one of the founders of the Yippies, Dana Beal, organized "Smoke-Ins" that took place in Tompkins Square Park. According to the book [Grateful Dead date is wrong], Smoke Signals: A Social History of Marijuana – Medical, Recreational and Scientific:
"New York cannabis activists organized four successive weekend smoke-ins in the leafy refuge of Tompkins Square Park, a favorite hangout of East Village Hippies. At the initial smoke-in in June 1967, Dana Beal tossed handfuls of joints into a thankful crowd, which sent everyone scrambling. The same ritual was enacted a few weeks later when the Grateful Dead performed a free concert at another Tompkins Square smoke-in. (It was the Dead's first visit to the Big Apple.) By throwing down the gauntlet in such a fashion, Beal and his gang of pot provocateurs sought to force the police to choose between busting hundreds of people or letting them smoke in public. The cops caved."
---
Some interesting photos and graphics:
1965
January 10, 1965:
This may be from the same rally:
About the January 10, 1965 demonstration:
Info from archive of above page:
8vo (A4) handbill, printed on one side. The heading 'FREE MARIJUANA PRISONERS' and part of the text reproduces handwriting (printed not cursive so to speak - see image on my website - Ginsberg's or Saunder's?) , the rest is typed. Text clear and complete. Fair, on lightly-aged and creased paper. The part of the text reproducing manuscript reads 'Many New Yorkers are arrested each year for possession of the harmless herb marijuana. Woman prisoners are kept in the Women's House of Detention. NYC Lemar will demonstrate at the Women's House of Detention Greenwich Ave. & W. 10th Street on Sunday Jan. 10th from 1.00 to 3.00 pm. Calls for an 'immediate amnesty'. 'Thousands of responsible New Yorkers use pot, but only some get caught! (The rest live in daily jeopardy of their freedom.)' Gives four reasons why the 'laws against pot are blatant travesties of justice'. 'End Prohibition! Refuse to participate in Marijuana prosecution! Millions of Americans smoke pot.' Ends by laying out the three aims of LEMAR's campaign. In his 'The True Story Behind NORML and the Politics of Marijuana' Patrick Anderson states that 'Poets Ed Saunders and Allen Ginsberg started a chapter [of Lemar] in New York in early 1965 and organized demonstrations outside several prisons.' Excessively scarce: no copy on COPAC or WorldCat.
A January 1965 "Pot is Fun" LeMar marijuana street protest (with photo) in New York City, and some more LeMar history:
More on the Jan. 1965 protest. And a different photo: Small group marching in circle with "Pot is Fun" sign visible:
1964
Photo shows Allen Ginsberg at a December 27, 1964 legalization demonstration in New York City by the marijuana advocacy group LeMar (Legalize Marijuana). It was possibly the first public street demonstration for marijuana in the USA. A sign says: "Smoke Pot ... it's cheaper and healthier than liquor".
- See here the December 31, 1964 Village Voice article as it originally appeared in print. Excerpt from the 1964 article:
They distributed salmon-colored mimeographed leaflets that read in part: "Like liquor prohibition, pot prohibition violates personal liberty, promotes racketeering, and invites mass evasion of the law. But while alcohol is demonstrably productive of a hangover, cirrhosis of the liver, violence, and Dylan Thomas type scenes, marijuana on the other hand is in ALL respects gentle, benevolent and absolutely nonaddictive. We defy anyone to produce one shred of evidence that marijuana is in any way addictive!"

"On Shivaratri (Shiva's birthday)," said Ginsberg, who last year spent some months in India, "all the respectable families drink bhang (a mixture of marijuana, almond paste, and milk) prepared by all the respectable grandmothers in India." "Pot," he explained, "is sold in government stores, and is a big industry there."
Reefer Madness reproduces an excerpt from the Federal Bureau of Narcotics's file on Allen Ginsberg:

On December 27, 1964, GINSBERG and ––––– had marched in front of the Department of Welfare Building, East 9th St. and Avenue C, with signs reading "Smoke Pot, It's Cheaper and Healthier Tha Liquor" and "Pot Is a Reality Kick." There individuals are members of an organization called LEMAR (Legalize Marijuana) and their names appear in the files of Interpol. (1998, p. 221).
1961
Not a cannabis event. But a pivotal event in Washington Square Park nonetheless:
"On this day [April 9] in 1961, poets, musicians, artists and their supporters showed up to Washington Square Park in New York and were met by a large force of the NYPD. The city had begun rejecting the necessary permits to play in the park for no clear reason, effectively banning musical gatherings in this park known as a center of folk music. About 3,000 protesters arrived to oppose the changes, organized in part by folklorist Izzy Young. That day of defiance became known as the Beatnik Riot, with artists, including a young Bob Dylan, defending their space to play and connect openly and freely. Within a couple of weeks, the city relented and music returned, and a new era of defiance was emerging in the folk music world."
The next day, the New York Daily Mirror, the conservative Hearst tabloid, ran a giant war-is-over front page headline, "3000 BEATNIKS RIOT IN VILLAGE." Other local papers followed suit. That week's Voice scoffed at the Mirror's "hysterical" coverage, wondering if there were three thousand beatniks in the entire country that Sunday, let alone in Washington Square Park.
Global March overview
The Global Marijuana March (GMM) is also known as the Million Marijuana March (MMM), and Global Cannabis March (GCM). Other names, and associated events (some have been around longer than GCM): World Cannabis Day, Cannabis Liberation Day, Cannabis Parade, Ganja Day, J Day, MardiGrass, etc.. GMM occurs on the first Saturday in May, or thereabouts, depending on the city and country. It began in 1999. See New York City, Dana Beal, and Wikipedia: Global Marijuana March. It may include marches, meetings, rallies, raves, concerts, festivals, information tables, and more. The six main demands: stop all cannabis arrests; stop the lies; release the medicine; heal the sick; end the prison state; Cures Not Wars. See ibogaine. And Facebook: Ibogaine Universe!!!! See GMM links for many links for event maps, reports, crowd photos, videos, GMM graphics, press/media, 420 graphics, etc.. See flat lists. See GMM Facebook. See Archive.org to find archived reports by entering the URL. See report compilations: 420 and Global Marijuana March event lists by year. See also: Wikipedia: Legality of cannabis by country. Please let us know of missing cities for any year: Talk.
---
---
Full site / Mobile. To Top or End. News & 2022 GMM & Categories.
---
---
Categories