Nimbin, New South Wales, Australia
From Cannabis
Additional news.

-

2017 global marches.

2016.

-

Cannabis is safer.
See: More news. Archive. News sources. Facebook: Global Marijuana March [29][30][31]. Hashtags: [32][33][34]. Twitter: [35][36][37].
Uruguayans sign up for state cannabis in world first. And: Man wins historic medical marijuana trial. 46 plants. And: Congress Gives Jeff Sessions $0 To Go After Medical Marijuana Laws. [38][39]. And: Montel Williams reveals how smoking marijuana every day for 17 years changed his life. And: Bipartisan Senate Bill Introduced To Rein In Trump Support For Philippines Drug War.
Trump invites drug-war mass murderer President Duterte (Philippines) to the White House. [40][41][42][43][44][45]. And: Duterte slammed over discovery of abused prisoners in secret cell in Manila.
Philippines' President Duterte's 'kill drug addicts' job 'plan' is bizarre.[46]. And: 'Mass murder' complaint filed against him at International Criminal Court.
Philippines Votes to Legalize Medical Marijuana in Middle of Brutal Drug War that has killed 7000. And: European Union Parliament to vote on call for probe into Duterte's drug war. [47][48]. And: Philippine VP Robredo: She says bullets can't stop illegal drug use. [49].
'Democracy Demands Dissent': Philippine Vice President Condemns Duterte's Drug War in Q&A With TIME. [50].
Marijuana on Religious Grounds? A Cannabis Church Opens in Denver. [51][52]. And: Denver-based International Church of Cannabis is now offering weed weddings. The 'Elevated Wedding'. And: California's 'weed nuns' on a mission to heal with cannabis. And: Weed Nuns. And: 4/20 celebration leads to 7 arrests by US Capitol Police. [53][54][55]. And: 4/20 event lists. And: Canadian Veteran Walks 750 Miles Through Snowstorms To Protest Cuts To Medical Marijuana Treatments. And: USA. 2.3 million uninsured veterans. Universal healthcare would cover everybody. And: 10 best 4/20 sites: Where marijuana history was made. And: Weed around the world: what legal marijuana looks like in other countries. And: Uruguay in July will become the first modern nation to fully legalize the production, sale and consumption of cannabis.
Rachael Leigh Cook of "your brain on drugs" turns around and exposes the drug war with new video. And: Mexican Congress approves use of medical marijuana. Goes to President to be signed into law. [56]. And: The booming business of cannabis in Spain. Article and video. [57]. And: Republican Roger Goodell Thinks Marijuana Is 'Addictive' And Bad For NFL Players. He's Wrong. [58][59]. And: Epilepsy takes life of a young cannabis advocate.
Canada is poised to approve a law legalizing marijuana nationwide. [60][61][62][63]. And: French election: 4 of the 5 main presidential candidates support cannabis reform. Far-right Marine LePen opposes.
David Peel, Downtown Singer and Marijuana Evangelist, Dies at 74. New York Times. And: Kansas City, Missouri. Voters Approve $25 Fine In Easing Of Marijuana Law.[64][65]. And: Argentina Approves Medical Use of CBD Cannabis Oil. [66][67]Video.
South African court legalizes possession, cultivation, use of marijuana at home. Constitutional Court likely to confirm it. [68][69][70][71][72]. And: For the First Time Ever, UFC Fighters Allowed to Smoke Pot Before Fights.
Inmate in for cocaine. His 2-hour 'Boiling' Death Ruled An Accident. Documents Show They Omitted Key Details. [73][74][75][76]. And: Philly420: The most arrested drug in Camden, N.J. is ... And: Pennsylvania. Auditor General: If it were legalized, taxing marijuana could yield $200 million annually for state. And: CTV News Channel: 'Quite traumatized': Jodie Emery. After her arrest in Canada [77]. And: Infamous "F*ck it, I Quit" Reporter (while in Alaska) Launches Her Online Weed Show in Los Angeles.
Israel decriminalizes. [78]. Houston decriminalizes. And: Severely Epileptic Child Granted Cannabis Oil in Ireland, Setting Precedent: Almost Homeless in LA. And: Medical marijuana given green light in South Africa: report. And: First Marijuana Testing for Vets with PTSD Underway in Phoenix; Volunteers Wanted. And: New Study: Cigarettes Tied To Increased Stroke Risk But Not Marijuana.
Canada grows closer to legalizing pot. [79].
Republican America? The US federal minimum wage hit its peak purchasing power nearly 50 years ago. And: Feds refuse to stop taxing the canceled student debt of severely disabled people.
Percentage of Young Americans Living With Parents Rises to 75-Year High. And: The Student Debt Crisis Is Driving Elderly People Into Poverty. And: Republican governor Kasich quietly bans Cleveland voters from raising minimum wage in their city. And: Working full time at state minimum wage is not enough for a one-bedroom apartment in any state. Click states
For the first time more Australians support legalizing pot than oppose. And: DEA Slapped in Face: American Epilepsy Society Accepts Marijuana Extract Obliterates Seizures in Epileptic Children. And: Big Pharma Shaking in Their Boots as 80% of Cannabis Users Give Up Prescription Pills for Pot. And: Branford, Connecticut. America's oldest hospice to study medical marijuana.
Women keep marching on: Marijuana and gender equity: Cannabis industry is a magnet for women executives. And: 'America Is Full Of Hypocrites': Marijuana Lifer John Knock Speaks Out. And: Hemp Industries Association Sues DEA Over Illegal Attempt to Regulate Hemp Foods as Schedule I Drugs. And: Will Trump Crush the Modest Progress in Fighting Mass Incarceration? Momentum at state level. [80][81][82].
New UN chief António Guterres was Prime Minister of Portugal when it decriminalized drugs [83][84][85]. And: Vermont Governor Peter Shumlin (Democrat) Pardons 192 for Marijuana Convictions. And: On average, states with medical marijuana laws see dips in fatal car crashes.
And: Marijuana, made in Italy: Inside the military police cannabis lab. And: Israel moves to decriminalize marijuana use [86]. And: Germany expands medical cannabis legalization. Insurance will pay for it. [87][88][89][90][91]. And: People in the US and Canada spent over $53 billion on marijuana in 2016. And: Mass incarceration doesn't do much to fight crime. But it costs an absurd $182 billion a year. And: Imagine That! Police Solve Far More Murders After they Stop Arresting Cannabis Users.
Trump's death panel: He already violated health care promises by appointing Tom Price.

First Marijuana Bill Already Introduced In New US Congress. And: Georgia (country). Constitutional Court decides prison is too harsh punishment for marijuana use. [92]. And: Mexico Begins Importing Medical Marijuana As Views on Therapeutic Cannabis Evolve. And: The Taboo of Marijuana in Mexico May Be Fading Away.
Attorney General Jeff Sessions Is a Drug War Dinosaur. [93]. And: More than 1,100 law school professors nationwide oppose Sessions's nomination as attorney general. And: MSNBC Guest: Upcoming Attorney General Jeff Sessions Is a 'KKK Sympathizer'. And: Sessions: KKK "was O.K. until I found out they smoked pot." [94]. And: Sessions Racism Accusations: 5 Fast Facts You Need to Know. [95]. See: Race, ethnicity, and drug war. And: US News & World Report. Activists Roll Joint, Offer Free Pot at Jeff Sessions Office as Threats Swirl to Legalization Framework. [96]. Viral video.
Professor says Obama Trump could grant blanket "amnesty to all first time nonviolent drug offenders in prison who have good records and would not even be in prison now if they were convicted under current law." [97] Federal prisoners only.
Republican Tennessee state representative Andy Holt insults people defending medical cannabis. [98]. And: Idaho teen football player walks free after sodomizing black disabled teammate with wire hanger. And: The Racial Achievement Gap is Directly Tied to Mass Incarceration of Black Parents According to New Study. Drug laws in particular. See: Alternatives to Republican-led mass incarceration.
Massachusetts legalizes on Dec. 15, 2016. What you can and can't do. And: Toddler back home after becoming first legal medical cannabis user in Ireland. And: Mexico's Senate Passes Medical Cannabis Bill in Landslide Vote.
The Growing Movement for Marijuana Amnesty.
James Taylor cancels Philippines concert over Rodrigo Duterte's drug war killings.
2016-18 ballot issues. Register to vote. Facebook GMM.2. Congressional Scorecard. And: Presidents alone can not reschedule marijuana. And: Obama commuted sentences of 153 people, and handed out 78 pardons.
Philippines: Trump's pal Duterte Threatens to Burn Down UN Building, Calls 3 Out of 5 Americans 'Idiots'. [99][100]. Duterte confirms he personally killed three men. [101]
Philippines president Rodrigo Duterte admits to killing people and abusing drugs. [102].
Philippines. 'They Are Slaughtering Us Like Animals'. New York Times. And: Philippines president Duterte: Trump Endorsed Deadly War on Drugs as 'The Right Way'. And in the USA: He got life without parole for pot. And he was just denied clemency. [103]. See: Life for Pot.

DEA writes illegal rule banning interstate sales of non-psychoactive CBD. [104][105].
Will Republicans start another 'law-and-order' mass incarceration binge?
The Official Denver 420 Rally 2017 [106].
Quezon City, Philippines. Nov. 13, 2016 march for medical cannabis [107]. And: Insurers are beginning to cover medical cannabis. And: United Kingdom Could Be Forced to Consider Marijuana Legalization [108]. And: Alec Baldwin Responds to Donald Trump's 'SNL' Criticism. And: Donald Trump Prepares. Hilarious Cold Open. SNL - Saturday Night Live.
Republicans in Congress Won't Let Veterans Access Medical Marijuana After All. [109][110].
Surprise! Voter turnout in 2016 likely higher than 2012. And: Denver, Colorado legalizes cannabis in cafes and other venues. And: Texas activists call for expanding medical use law. And: Will Team Trump turn back cannabis reform? [111][112][113][114][115][116]. And: Michael Moore predicted the Trump win. "5 Reasons Why Trump Will Win."
Map shows states that legalized pot on Election Day. And: 4 States Raise Minimum Wage; 7 Loosen Marijuana Laws. And: 28 Legal Medical Pot States & DC. [117]. And: Clickable NORML map. [118].
Maine Passes Revolutionary Voting System That Helps Third Parties. And: Insane Early Voting Lines Were a Direct Result of Republican Voter Suppression And: The Real Voter Fraud. Fewer polling places, long lines, millions of disenfranchised not allowed to vote, fewer early voting days, or none. [119][120][121].
Only Bernie Sanders Can Save the Democratic Party Now. And: Clinton lost. Bernie could have won. And: Shades Of 2000? Clinton Surpasses Trump In Popular Vote. 2. And: PolitiFact: 70% of Trump's statements are false or mostly false. [122].
Australia legalized medical marijuana cultivation as of October 30, 2016. See: video. And: Obama releases 98 more drug-war prisoners. A single-year record. And: 72 more released after that.
Arkansas Poll Results Show Medical Marijuana A Tight Ballot Issue. And: Momentum Builds as More Artists Come Out in Support of Prop 64 Legalization in California. And: Bernie Sanders (Prop 64 supporter) Goes 'All In' for Hillary Clinton With an Eye Toward Post-Election Goals.
Katy Perry, Beyoncé, Jennifer Lopez, Jay Z, Stevie Wonder, Jon Bon Jovi, and Pharrell Williams get out the vote for Hillary.
Arkansas may become the first Southern state to legalize medical marijuana. [123]. And: 2016 may be a watershed moment for legalization. [124].
Wages, weed and wind divide Vermont candidates. And: Turkey legalizes cannabis production in 19 provinces. [125].
Legalization Brings Massive Drop In Arrests, No Increase In Youth Use Or Traffic Fatalities. And: East Lansing, Michigan OKs pot smoking, possession of small quantities. And: Police arrest more people for marijuana use than for all violent crimes combined.
Marijuana on ballot in 2016. And: Register and VOTE! And: Cannabis Festivals 2016-2017 help change public opinion for the better; even that of Republicans.
Minimum wage on the ballot - Ballotpedia. And: These states will vote on increasing the minimum wage. And: Supporters Hope Minimum-Wage Votes Will Push Democratic Turnout.
Great video. Lives are being destroyed by the war on drugs. Democrat Gavin Newsom. And: Gary Johnson Is a Moron (And If You Vote For Him, You Are Too). And: Gary Johnson opposes the federal minimum wage. As governor he vetoed an increase. And: Colorado. Vote "yes": Opposition to minimum-wage increase is stuck in the past. And: Recreational Marijuana Polls Suggest Legalization in 5 States. And: Arizona Doctors And Nurses Say Vote 'Yes' On Prop. 205. And: Actress Susan Sarandon Urges Voters To Support Arizona Legalization.
Marijuana legalization is leading in every state where it's on the ballot this November. [126][127]. And: Spain. Like Barcelona, Bilbao is Regulating and Normalizing Cannabis Social Clubs.
A first for USA TODAY's Editorial Board: Trump is 'unfit for the presidency'. "been on so many sides of so many issues ... 124 shifts by Trump on 20 major issues."
Philippine President Duterte: Hitler killed millions of Jews, I will kill millions of drug addicts. 2. 3. And: 75 years ago: 33,771 Jews slaughtered at Babi Yar, Kiev, Ukraine. Early Nazi mass murder.
2016 Early Voting Underway! And: 34 states have no-excuse early voting programs. And: Maine voters may legalize marijuana in November. Social clubs too. See poll. And: Montana will vote to overturn severe Republican medical cannabis restrictions. And: Republicans block bipartisan federal sentencing reform (nonviolent offenders).
Dr. Bronner's donates over $600,000 to marijuana legalization efforts in five states. [128].
Mass incarceration could be costing the United States over $1 trillion a year. [129]. See Alternatives. See costs.
9 States Have Marijuana Initiatives On November Ballots.
Clueless Republican Governor of Arizona still claims alcohol is safer than marijuana. And: Fentanyl Maker Donates Big to Campaign Opposing Arizona Pot Legalization. [130]. And: Prop 205 Poll: Half want to see marijuana legalized in Arizona. 50% for, 40% against.
American Legion Calls for Marijuana Rescheduling. Vets want Republicans to return protection for VA doctors recommending cannabis. In VA funding bill. [132]

Alternatives to Republican mass incarceration. - Denver votes on marijuana in cafes, etc.. And: Unprecedented number of states vote on marijuana.

44% of Black women (and 32% of Black men), but only 12% of White women (and 6% of White men), have a family member imprisoned [133]. Prisons and taxes keep the poor in line:

Trump's tax plan penalizes single parents. And: House GOP's 'Better Way' Tax Plan A Much Better Way For Richest 1 Percent.

Amendment 70. Colorado. Why small business owners support raising the minimum wage. And: Banning Canadians from U.S. for life for smoking pot 'ludicrous,' says Goodale. And: Narcan Prices Are Skyrocketing, and Republican Big Pharma Is Ecstatic.

Philippines President calls Obama a "son of a whore" concerning 2,400 drug user killings 2.. Duterte says he is no American puppet.

Income inequality is slowing the global economy. And: Want to Reduce Crime and Mass Incarceration? Raise Wages. And: Minimum wage splits candidates along party lines. And: Republican Chris Christie Vetoes New Jersey Minimum Wage Hike. See Minimum Wages by Country. And: Overzealous Prosecutors Are Losing Elections. And: Obama Administration Continues Pulling Away From Private Prison Companies. And: Pennsylvania Poll Shows Why Democrats Are On The Verge Of Senate Takeover.

Oregon has first legal pot display in a state fair in the US. And: USDA approves organic hemp certification. [136].

EpiPens cost just several dollars to make. Customers pay more than $600. [137]. Canada's Single Payer healthcare helps remove some of the monopoly profit.

A Day in the New Life of an Injured, Marijuana-Smoking Army Veteran. Time. And: Republican governor Hutchinson of Arkansas opposes legalizing medical marijuana. And: 5 Olympians Who Smoke Weed & Win Gold. More THC allowed in blood tests.

Philippines President Duterte threatens to leave UN over criticism of his brutal drug war, and death squad killings of alleged drug users or dealers. [138][139].

Single Payer. Developed world paying half of what USA spends on healthcare. And: Kentucky's Republican governor wants to eliminate health insurance for over 400,000. Like the rest of the Republican South. In contrast: Patients can grow their own medical pot in Canada under new rules. [142][143]. And: Marijuana Growers' Fair Opens in Oregon. First time at a state fair.

Sanders Says DOJ Ban on Private Prisons Doesn't Go Far Enough. And: DEA Stops Calling Marijuana One Of The 'Most Dangerous Drugs'.

Ronald Reagan

, 1980

campaign speech

1:

"Leading medical researchers are coming to the conclusion that marijuana, pot, grass, whatever you want to call it, is probably the most dangerous drug in the United States, and we haven't begun to find out all of the ill effects, but they are permanent ill effects. The loss of memory for example."

Nation's first memorial to commemorate victims of lynching and mass incarceration. [144]. Republican state senator opposes "more race talk". And: Republican Chris Christie Vetoes Automatic Voter Registration Bill Again. But 5 other states have it. And: 86% of eligible Coloradans are registered to vote. Text voter registration, too.

Sanders Condemns Obscene Levels of Inequality Documented in New CBO Report. And: Judge rules in favor of minimum wage. And: Baltimore votes for $15 minimum wage by 2022. And: Trumponomics: Off-The-Shelf, Warmed-Over Trickle-Down Policies. Newsweek. And: 5 States Voting on Recreational Marijuana This Election.. 2..3.4.. - Register, VOTE!

Duterte's Brutal Drug War Skyrockets Killings In The Philippines.

Richard Branson asks President Duterte to stop murderous Philippine drug war. [145][146]. And: Washington Post editorial board: Death squads in the Philippines. And: PHOTOS. Dead bodies and hellish prisons on Philippines police graveyard shift. [147]. Duterte wants martial law.

Bodies pile up in Philippine drug war. AFP. See maps, charts, lists of dead. And: Jennelyn Olaires hugs murdered partner Michael Siaron, 30, killed by presidential Philippines death squad in July 2016. Hundreds of alleged drug users killed with approval of President Duterte. [148]. See: Kill List. And: "Olaires insists that he was just a pedicab driver and had no ties to the drug trade." - CNN. Wikipedia: Philippine Drug War. And: Rodrigo Duterte.

At least 704 people have been killed since May 10, when Duterte's election win became clear. And: Choirgirl, 22, killed with a bullet to the head during Duterte's 'state-sponsored butchery'. And: Human Rights Watch: Duterte's drug war packs jails to 'breaking point'. And: Philippines President Vows 'No Mercy' In Drug War; Estimates 100,000 Will Be Killed. And: Seeks even more Presidential power, though public opinion turning against giving it to him.

Time magazine. Can Medical Marijuana Help End the Opioid Epidemic?

Philadelphia during the Democrat Convention. 26 July 2016. Part of "the 'Great Wall of Love' with our LGBTQ friends to keep out the hate spewing bigots from the Westboro Baptist Church." [149].

In a first, Oregon State Fair to feature marijuana plants. And: If You Are Succeeding in the Cannabis Industry, Thank an Activist.

Medical marijuana has potential as Alzheimer's treatment, study says. And: Republicans block it?: Senate Bill Would End Massive Tax Breaks for Private Prisons. [150]. And: Legal medical pot nationwide would save Medicare $468 million. [151].

Pot activists meet with cops to prep for Democrat Convention. And: Restorative justice. An alternative to mass incarceration. [152]. Versus $31,000 a year for prison. Florida: More high-THC medical marijuana available if 2016 ballot issue passes. And: Police head wants less limits on past marijuana use of police recruits.

Michael Moore Thinks Donald Trump Will Win Presidential Election: Find Out Why! And: Italian Parliament To Consider Marijuana Legalization. [153]. And: Italian farmers are planting hemp to decontaminate polluted soil. And: Latin American Medical Cannabis Conference in Costa Rica – July 27-29. And: MP to move bill in Indian Parliament to legalize common recreational drugs like pot.

Florida police shoot black man with his hands up as he tries to help autistic patient. And: Trump campaign channels Nixon "law-and-order" strategy (and war on drugs?). And: Politifact agrees that Nixon's drug war led to a massive increase in incarceration. See Wikipedia: War on drugs. See: Drug war causes high U.S. incarceration rate. And: Lancet: Mass imprisonment of drug users driving global epidemics of HIV, hepatitis, and tuberculosis. And: Pot Vs. Pills: Can Marijuana Help Cure The Opiate Crisis?

More current and former Canadian cops are using medical marijuana. Veterans too.

After Democrats back marijuana rescheduling, Republicans vote against medical pot. [154].

Kansas City Marijuana Reform Advocates Launch Decriminalization Ballot Initiative. [155].

Democratic Party platform on marijuana: "Because of conflicting laws concerning marijuana, both on the federal and state levels, we encourage the federal government to remove marijuana from its list as a Class 1 Federal Controlled Substance, providing a reasoned pathway for future legalization." See: Full text.

The Netherlands has a strange problem: Empty prisons. 2nd lowest incarceration rate in Europe.

Tony Blair, like Republican Bush in the past, blasted by UK Chilcot Report on the Iraq War. [156] [157]. And: House Republicans Buy the Navy a $400 Million Pork Ship the Secretary of Defense does not want. And: New Mexico (Republican governor) Defrauds The Poor Out Of Food Stamps, Whistleblowers Say

The Republican War on Voting Is Working. [158]. Part of the War on the Poor, drug users, and the 99%. Historic discontent related to more than a decade of declining bottom-quartile wages. And: Income Inequality Is At The Highest Level In American History. "Incomes for the 99 percent have only recovered about 60 percent of what they lost. But the rich are doing great. ... They captured more than half of all the income growth in the country." Republican leaders are ecstatic.

Murder in Western nations. USA on top. See above 1950-2010 chart. Homicide rates of USA (top line), Australia, Canada, Spain (ESP), Great Britain, and the Netherlands. From: OECD "How Was Life?", page 147.

More people killed by US domestic gunmen (1,516,863) since 1968 than in all wars fought by America (1,396,733). [159]. And: Mass Incarceration and high murder rate damage U.S. Global Peace Ranking. - U.S. News and World Report.. Incarceration rate of 693 per 100,000. [160].

Most firearm deaths in the USA are from handguns. [161][162]. Canada has a much lower rate of handgun ownership than the USA. See chart. And Canada has a much lower murder rate, and little mandatory sentencing. See: NRA's high murder rate, and mandatory sentencing And: A ten-round magazine is sufficient for semi-auto rifles in the real world. And: What a semi-auto rifle can do to the human body. And: Congress Refuses, So California Funds Its Own Gun Violence Research Center.

Tipping point? Ohio is 25th state to legalize medical marijuana. [163][164].


Maryland repealed mandatory minimum drug sentencing despite initial Republican opposition.

"We have an under-incarceration problem." Republican Senator Cotton. Trillions of dollars.

What are the chances Democrats will gladly change all states to open primaries? Then ask what are the chances independents will gladly vote for Clinton in November.

Democrats want independents to vote for them, but NOT in the primaries.

Bill Maher And Bernie Sanders Take Down 'Chicken' Donald Trump. [177][178]. Presidents have too much power. Canada elects a prime minister who can be removed by a majority vote. In the USA Republicans and Democrats are often closed political cults. Wikipedia: Results of the Democratic presidential primaries, 2016. Many Democrat primaries lock out independents.

Gallup poll: Majority in U.S. Support Single Payer Healthcare. As do doctors. [179]. And: Polling shows the majority of Americans agree with Bernie Sander's views: Single payer healthcare (which costs less per person), income inequality, progressive taxation (it does not increase total taxes; it assigns higher and lower tax rates depending on income), minimum wage, cannabis reform [180]. See Wikipedia: List of countries by total health expenditure per capita.

Women who smoke weed are smarter than those who don't.

Republicans block drug law reform unless their criminal friends allowed to thwart environmental and business regulation. And: E-cigarettes should be offered to smokers, say doctors - BBC News. [181].

Happy 4/20! NORML Unveils Our 2016 Congressional Scorecard. And: A or F? How Congress scores on marijuana. Grading based upon members' 2015 voting records.

USA: "Of the 233 Democrats in Congress, 208 members (89.3 percent) received a passing grade of a 'C' or higher. Of the 302 Republicans in Congress, 102 members (33.8 percent) received a passing grade of a 'C' or higher."

Will 2018 midterm elections remove Republicans? 2016-18 ballot issues: marijuana & minimum wage.
Will 2018 midterm elections remove
Republicans?
2017-18 ballot issues: marijuana & minimum wage.
Democratic Party, following Bernie Sanders lead, proposes bill to raise minimum wage to $15 by 2024. Republicans oppose raising federal minimum wage. [182] [183].
Trumpcare 3 Would Leave 23 Million More Uninsured, Budget Office Says. [184]. And: Vermont's Republican Governor Scott Vetoes Marijuana Legalization bill of Democrat legislature. And: Democrats pick up two GOP-held legislative seats, the first flips of the Trump era. And: Trump Called Rodrigo Duterte to Congratulate Him on His Murderous Drug War: "You Are Doing an Amazing Job". [185][186]. And: California. Single-Payer Would Cost A Third of Current Health Care Costs Per Family. And: Conservative morons worldwide: British Prime Minister Just Claimed Cannabis Leads To Heroin And Suicide. And: American Legion to Trump: Allow marijuana research for vets. [187]. And: Marijuana convictions go up in smoke with California legalization. And: Artist Projects Image Of Jeff Sessions In KKK Hood Across Department Of Justice.
'The Drug Whisperer': Drivers arrested while stone cold sober by dumbass Georgia cops. And: Willie Nelson to Jeff Sessions: Smoke Some Pot. And: Cannabis may help wean people off crack, study finds. And: Trump thinks health insurance costs $15 a month. And: Doctors hate Trumpcare. And: Prison healthcare, deaths. And: At heated North Dakota town hall watch a man stuff money into shirt Of GOP Congressman Who Voted To Repeal Obamacare. [188][189]. And: Jeff Sessions Rolls Back Obama-Era Drug Sentencing Reforms. Harsher punishments for low-level drug crimes. [190][191][192][193][194][195][196][197][198].
Jeff Sessions once wanted to execute pot dealers. And: Georgia Cop Decides A Sober Woman Is High On Marijuana, Jails Her. And: Criminal Charges For Georgia Police Officers punching and kicking handcuffed marijuana user in head. [199][200][201].
Gigantic rally in Sao Paulo, Brazil. Global Marijuana March. May 6, 2017. Videos [202][203] Event. And: Cape Town, South Africa. Videos [204][205] Event. And: Huge joint rolls through New York City. [206][207].
2017 Global Marijuana March. [208]. And: Cannabis Festivals 2017-2018 | Man, I'm hungry. | Everfest. And: World Naked Gardening Day is May 6th. Your marijuana garden needs love too

.
Poll: Bernie Sanders is most popular U.S. politician [209]. And: Bernie Sanders And Democrats Introduce A New $15 Minimum Wage Bill. And: When Trump was an independent, like Bernie Sanders, and more logical, Trump supported Single-Payer. And: Patrick Stewart Reveals He Uses Marijuana Daily To Help With Arthritis Symptoms. And: Congresswoman Tulsi Gabbard Calls For Ending Federal Marijuana Prohibition.
Much better healthcare in Canada, Britain, France. I had a health crisis in France. I'm here to tell you that 'socialized medicine' is terrific. [210][211][212][213][214]. And: Medical marijuana could save Medicaid $1 billion in prescription drug costs. [215][216]. And: West Virginia becomes 29th state to legalize medical marijuana. [217][218]. And: Republican Governor, Terry Branstad, rolls back local minimum wage increases in Iowa.
The 'unimaginable' premium hikes of Trumpcare 2.0 for people with pre-existing conditions. And: Republicans To Vote To Take Away Health Care For Those Tens of Millions. [219][220][221]. And: Poll: Trump, Democrats and Republicans all unpopular.
More Than Half of American Adults Have Tried Pot. [222]. Among current users: 14% Republican, 43% Democrats, 42% independents. And: USA. Marijuana legalization support at all-time high. [223]. And: Smoke pot in Oregon? Your name now protected from feds. And: New Mexico's Republican governor vetoes a bill that would have allowed medical marijuana for opioid addiction. And: She also vetoed the 911 Good Samaritan Overdose Prevention Bill. And: Idaho's Republican governor vetoes a broadly-supported asset forfeiture reform bill.
Bernie Sanders To Introduce Single-Payer Health Care Bill In Senate. And: For The First Time Ever, The Federal Government Is Referring To Marijuana As Medicine. And: Bernie Sanders: Americans pay highest prices for pharmaceutical drugs in the world. And: Canada has universal health care, and higher minimum wage than USA.
The disease killing white Americans goes way deeper than opioids. [224][225][226]. And: Trump's Health Care Plan Could Exacerbate Opioid Epidemic, But Medical Marijuana Could Help. [227][228]. And: Former premiers and Australian police chiefs call for drug decriminalisation. [229]. And: NPR: Former Drug Czar Says GOP Health Bill Would Cut Access To Addiction Treatment.
17,000 more people annually could die in 2018 if Trumpcare becomes law. 14 million more people uninsured in 2018. 24 million in 2026. 29,000 more dead annually in 2026. Single-Payer for California. Great healthcare for half the cost of Trumpcare. And: Canada: Show health card, get free care. and The $0 Alternative To Trumpcare. See chart below. USA versus top ten healthiest nations. Vancouver's top doctor to Trudeau: Decriminalize all illicit drugs, now. Using Portugal's model. [230][231]. End drug war with universal healthcare. List of countries with universal health care.
Quinnipiac poll: 71% oppose enforcing federal marijuana laws in states where the drug is legal. And: Canada. Human rights board orders insurer to pay medical marijuana costs in precedent-setting case [232].
No deductibles on basic Canadian health care. Co-pays are extremely low or non-existent. And: Canada passes US in middle-class wealth. Median after-tax middle-class income in Canada is higher. [233]. One reason why: Canadians pay so much less for far better healthcare.
Repealing the Affordable Care Act will kill more than 43,000 people annually, and 30 million will lose their healthcare coverage. Physicians for a National Health Program. And: A Trump Fan Cheering Obamacare Repeal Just Found Out He's On Obamacare. Hilarity Ensues. And: 15 charts that show how Obamacare works now — and how Republicans would overhaul it.

Return to top. See 2014 Global Marijuana March and 420 map. And: 420 event lists.
May 3, GMM:
Social media, Facebook
[
edit
]
Facebook:
Local links
[
edit
]
City info
[
edit
]
Global Marijuana March
[
edit
]
GMM (years signed up). (The city search of basic city lists will not find 2015, 2016, or 2017 cities since the 2015-17 GMM-420 pages list only countries, and not cities). This city, nation, or subnational area participated or signed up one year (or more) for the Global Marijuana March (GMM), Million Marijuana March (MMM), or 420. Cities and nations holding 4/20 events are also included in later years. 39 nations participated on May 7, 2016, or thereabouts. 43 nations participated on May 2, 2015, or thereabouts. 212 cities from 42 nations signed up for May 3, 2014 or thereabouts. 225 cities from 42 nations signed up for May 4, 2013 or thereabouts. 888 different cities have participated from 80 different nations or subnational areas since 1999.
Global Marijuana March

links

.
GMM: photos, basic city lists, maps, detailed city lists, years, regions, nations, links, graphics. Google images: Crowds, flyers: Marcha da Maconha. And: Marche Mondiale du Cannabis. And: Marcha Mundial de la Marihuana. And: Global Marijuana March. See signup.
GMM, MMM. First Saturday in May (or thereabouts).

Cities

and

nations

holding

4/20 events

are also included in the maps and lists for later years. Yearly maps: 39 nations participated on May 7, 2016, or thereabouts. 43 nations participated on May 2, 2015, or thereabouts. 212 cities from 42 nations signed up for May 3, 2014 or thereabouts. 225 cities from 42 nations signed up for May 4, 2013 or thereabouts. 177 cities from 34 nations signed up for May 5, 2012 or thereabouts. 274 cities for May 7, 2011. 328 cities for May 1, 2010. 270 for May 2, 2009. 240 for May 3, 2008. 230 for May 5, 2007. 203 for May 6, 2006. 184 for May 7, 2005. 165 for May 1, 2004. 235 for May 3, 2003. 199 for May 4, 2002. 119 for May 5, 2001. 104 for May 6, 2000. 31 for May 1, 1999.
Global Million Marijuana March. GMM Facebook pages. GMM yearly city totals. Many GMM links. See also: 420 event lists. And: More cannabis-related links. And: Google News archives. And: GMM on Wikipedia. Google (add name of city to searches): [236] [237] [238] [239] [240] [241] [242] [243]. [244]. Google maps: city, state, nation. Photos, graphics, and image searches: Marijuana March: [245] [246] [247] [248] [249]. Marihuana March: [250] [251] [252] [253]. Marcha Marihuana (Spanish): [254] [255] [256] [257]. Marche Mondiale Cannabis (French): [258] [259] [260] [261]. Marche Mondiale Marijuana (French): [262] [263] [264] [265]. Marcha Maconha or Marcha Marijuana (Portuguese): [266] [267] [268] [269] [270] [271] [272] [273]. Google Advanced Image Search (find free images). Pinterest: [274][275][276][277]. GMM Blogs: [278]. Travel blogs with photos: [279]. Wikipedia: Legality of cannabis by country: Erowid.org. WeBeHigh.org - many cities worldwide. Old Yahoo Groups: [280] [281] [282]. Basic city lists by year. Marijuana polls. And: Wiki upload posters, flyers, and banners. See also Wikimedia upload.
888 different cities have participated from 80 different nations or subnational areas since 1999.
Return to top. See 2013 Global Marijuana March map. And: 420 event lists.
GMM MardiGrass, May 4-5:
Facebook:
Return to top. See 2012 Global Marijuana March map.
GMM:
Return to top. See 2010 Global Marijuana March map.
Nimbin: Max Stone Australian Cannabis Law Reform Movement aclrm(at)nimbinaustralia.com ph: 61 266 891842. See links at top.
Return to top. See GMM 2009, GlobalMarijuanaMarch.org archive, 2.
Nimbin: Max Stone of the Australian Cannabis Law Reform Movement aclrm(at)nimbinaustralia.com ph: 61 266 891842. See links at top.

Nimbin MardiGrass. May 1-3. 2009 Global Marijuana March. Youtube link.
Return to top. See 2008 GMM, GlobalMarijuanaMarch.org archive, 2.
Nimbin: Max Stone of the Australian Cannabis Law Reform Movement aclrm(at)nimbinaustralia.com ph: 61 266 891842. See links at top.
Report (from old GMM site):
As you can imagine, having the H*E*M*P Bar and its live web cam shut down and a sign on it's door saying "Gone to Mardi Grass" meant I was in a bit of a sticky situation from an 'organizational' point of view. Fortunate for me, the previous decades worth of 4 20's had left such an impression in the minds of all the hardcore repeat MardiGrassers, that I almost didn't need to mention it, but, mention it I did. At 20 minutes past the hour ,every hour, on the main festival sound system I talked up the event. MardiGrass Saturday was a very POLICE intensive atmosphere, road blocks around the town, riot squad in bullet proof sunglasses every where you looked. I urged everyone if they was going to smoke one joint all day, let it be at 420 today when they could light that joint in global unity with the millions of other people all around earth who will also be lighting up at 420. And I always make a point of asking that when you do light up at 420, let it not be an act of defiance, let it be an act of peace, a sharing, a celebration and a thing you do every day at 420 until the law is changed.................... Peace for Pot ------------ Pot for Peace
Best part is that outside the H*E*M*P Bar wasn't the only venue for the 420 Demonstration, H*E*M*P President Michael Balderstone did a HUGE 420 Demo in Peace Park, Captain Reefer did another in Allsop Park, the Stage down in the Markets did a 420 and pretty much everyone everywhere was part of the Demonstration and if I had to add one last thought it would be that 4.20 PM on Saturday was about the only time that the main street of Nimbin had that traditional smoky mardigrass look to it, no arrests were recorded by the police at 4.20 or in the 30 minutes after. Over 15,000 people attended this years www.NimbinMardiGrass.com and everyone of them
till 2009
Return to top. See 2007 Global Marijuana March map.
More info, links, years
[
edit
]
Nimbin tale: Site of the annual "First weekend in May" Nimbin MardiGrass, Nimbin is unique. Once a sacred initiation site for the Bundjalung tribe, it was originally "settled" by white Europeans in the very late 19th Century. Basically that means we clear-felled as much of the forest as we possibly could, fenced it off from the local Kooris and proceeded to wipe out any of them that objected to being uprooted, brain-washed and totally cut off from their traditional lands and way of life... It's a familiar story.
Within a couple of decades the white guys had pretty much run out of trees and so they started looking around for a NEW way to turn a buck. Sticking a whole bunch of heavy-footed European cows on the recently cleared slopes seemed like a good idea at the time, and so within ANOTHER few decades the once pristine forests surrounding this area had been transformed into an expanse of denuded, eroding cow pastures. Meanwhile the arse was busily dropping out of the international market for Australian meat and dairy produce. Ho-hum...
By 1973, Nimbin was almost a ghost town. Luckily for the local real estate agents, a bunch of long haired student radicals from the Australian Union of Students arrived seeking a site for a national student counter culture life style event called the Aquarius Festival. They had taken a left turn at Mullumbimby, chose Nimbin promising the village residents that Aquarius would "recycle the town".
Cut to 1993 - the same deserted dairy town has been transformed. The building and shop fronts are a garish yet somehow compelling collage of full blown psychedelia and traditional Bundjalung art. There's more cafes, craft shops and backpackers than you can wave a traveler's cheque at and the stinky sweet smell of ganja is positively enveloping the street. This definitely AINT Byron Bay.
Down the centre of the main drag of this tiny, tripped out tourist town, there's a huge throng of people, laughing, drumming, chanting, DANCING towards the local cop shop.
Dozens of them are helping to carry a huge smoking joint with "Let It Grow!" painted in 4 foot high letters on the side. Others are holding banners and placards calling for change - an end to drug prohibition, the legalisation of cannabis, an end to the drug war.
Many are openly smoking pot as they drum, sing and humba their way towards the suddenly vacant-looking police station. One dude is on stilts, wearing a huge cardboard helicopter he's made in mockery of the annual pot raids that Nimbin has suffered for more than a decade. Paradoxically, not one person looks angry.
What the f*ck is happening here?
Why, it's the first annual "Let It Grow!" MardiGrass Fiesta and drug law reform rally.
A thousand local "alternatives" (the politically correct way to say "hippies") finally spitting the dummy, coming out of the closet and in true 60s in-your-face street theatre style pointing out to the jaded apathetic mainstream that the drug wars just aren't working.
That night on the national news the Australian general public was faced with the bizarre spectacle of a bunch of aging hippies, their off-spring and an ever-growing army of young and old recruits joyously breaking the cannabis laws en masse and demanding a change to the drug laws. Not only has the war on drugs left a deep and unpleasant impression on our idyllic, lotus-munching existence (the hippies seemed to be saying) but these days it's seriously f*cking with YOUR way of life as well.
Ever since the '73 Aquarius Festival, Nimbin has had a strong tradition of civil disobedience of the drug laws. The cops tried to bust someone for pot in the middle of the festival, but were quickly (and peacefully) overpowered by the crowd and the "criminal" disappeared into the seething hairy melee. This was nothing new at the time.
The same kind of spontaneous rebellion had happened at the Sunbury rock festival the year before, and was of course a regular ingredient in the Vietnam protest movement of the sixties and early seventies.
By the late 80s however, people's willingness to take these kind of measures had markedly diminished... even in a place as supposedly pot-soaked as Nimbin. The U.S.-driven "War On Drugs" was in full swing. In the cities, the psychedelic, sacramental dealing circles of the sixties had long ago been replaced by more commercial, well-oiled interests. Smack was available everywhere in Australia. Hope was extremely unfashionable.
Those in Nimbin still clinging to their hippy ideals were pretty much trying to keep their heads down... at least as far as drugs were concerned. Regular invasive police helicopter raids were just a fact of life. The general wisdom seemed to be that showing an interest in drug law reform was as suicidal as walking into a police station smoking a joint.
Despite this generalised paranoia, a few brave souls were consistently stirring the pot.
Beginning in 1988, a series of public demonstrations, press releases and politically motivated events kept emanating from Nimbin, all of them hammering the same basic point ... the drug laws are a miserable, socially destructive failure.
At first, these words of wisdom only seemed to be coming from one person, Bob Hopkins, a Nimbinite who conducted a vigorous and extremely effective one-man campaign against the drug laws.
Gradually other folk began to get involved. Michael Balderstone (the owner of the local "hippy" museum) and David Heilpern (a lawyer and activist who later became a magistrate) were among the early ones.
By 1993, a small but dedicated bunch of folk had coalesced around the name "The Nimbin HEMP Embassy". Their press releases and activities had consistently kept the issue of drug law reform in the spotlight of the local media and more and more people were coming out in support of what they had to say. The time seemed right for a larger display of local public feelings. Hey presto, the first annual Let It Grow! MardiGrass and Drug Law Reform Rally was born.
The first MardiGrass attracted a crowd of about 1000 people and much publicity. The day went off without a hitch. It was a huge success. By the next year, many more local people were openly supportive of the event. That year, the MardiGrass rally was preceded by a conference and seminar which attracted politicians, academics and health professionals from all over Australia. In a tradition that has continued to this day, the crowd doubled over the previous year's numbers... 2000 people paraded through Nimbin calling for an end to the madness, prejudice and social chaos that masquerades as drug prohibition.
In 1995 the first MardiGrass Cannabis Grower's Cup was held.
The year 1996 saw the beginnings of many events that have since become intrinsic to the Mardi Grass. The HEMP Olympix had its inaugural year, as did the Kombi Konvoy and the Hemp Traders Trade Fair. The now-legendary HEMP Olympix comprised pothead contests around joint rolling, bong throwing and, for the more physically-minded, a Growers Ironperson competition. For this contestants pitted themselves against the odds in outlandish tests of strength such as crawling through lantana tunnels dragging large bags of fertiliser.
The Kombi Konvoy opened the 96 Mardi Grass and has done ever since. A procession of variously decorated Kombi vans winds its way from nearby Lismore, arriving at dusk in the crowded lantern-lit streets of Nimbin. Led by the Olympix torch-bearer, the Kombis eventually park in a circle and the crowd forms for the opening ceremony.
Thus begins a weekend of song, dance, speeches, workshops, poems, pot art exhibitions, hemp trade and fashion shows, drug law and drug health information exchanges, seed swaps, magick, myth and joyous, stoned civil disobedience and political demonstration.
Finally on the last day, a lucky few settle down for the Cannabis Cup.
Based (very loosely) on the Amsterdam event of the same name, the Nimbin Cannabis Cup is a nice mellow wrap-up to the heightened chaos of the previous few days. A rather broad selection of the best local buds is tasted, toked and tested by a smattering of card-carrying "expert" judges, eventually choosing a winner. If you don't make it as a judge however it doesn't really matter. Just like in Amsterdam, there's so much good pot everywhere that anyone that does make it to judge status is usually too stoned to tell anyway.
The MardiGrass has grown stronger and larger every year and the Nimbin HEMP Embassy has continued to stay at the forefront of drug law reform activism worldwide. Several large scale smoke-ins and demonstrations have been held outside police stations and courthouses, political candidates have been run (and polled quite highly), a television ad campaign was run requesting people to dial-in to a safe number and report any cases of police harassment or corruption. All this plus maintaining a high-profile drug education outlet in Nimbin's main drag.
One of the more interesting actions was the helicopter blockade in January 1997. Finally sick of the annual hippy-bashing helicopter raids that the police had been mounting every year, the HEMP crew and friends decided to do something about it. With a little ingenuity, they found out where the chopper squad was staying and where they'd parked the chopper for the night. Early the next morning, the cops awoke and opened their motel room door only to be greeted by the rather unnerving sight of one or two hippies chained underneath their wagons, a whole bunch of hippies waving and laughing at 'em from across the car park and a veritable swathe of camera-toting press all clicking and whirring and taking notes right next to those god damned hippies.
Needless to say the hippies had a very articulate and convincing press release ready about the waste of public money inherent in sending a bunch of gung-ho cops on double-pay in a very expensive helicopter to circle and swoop above the local communes and come back with a pathetic payload of what could only be described as personal stash.
Meanwhile on the other side of Lismore another couple of Hempsters were slowing things down by chaining themselves to the chopper. The press loved this story, and the cops?
Well, the cops just shook their heads, got in their little, blue wagon and went away. To this day, the helicopter squad has not returned to Nimbin.
All of these events lend colour and strength to the MardiGrass.
Last year's was a huge success and this year promises even more. As time goes on and the crowd grows, it's interesting to watch the demographic changing. These days, the old-school hippies are well and truly out-numbered by the whole array of society's archetypes. Many of these are just as counter or sub cultural as the hippies (punks, ferals etc). The vast number of them however are just plain, ordinary suburban working people. Many of them are there with their kids. Not all of them smoke pot, but they all know someone who does and they all agree that it's time for the drug laws to change.
It's ironic but somehow typical that the drug law reform movement should find it's most vocal and public face in a place like Nimbin. The MardiGrass gives voice to frustrations and problems that are vexing the whole of mainstream society, but most people aren't quite brave enough to express this to their neighbours. In the anonymity of a "freak-fest" like MardiGrass, many people are quite prepared to stand up and be counted. This is vitally important as a first step, but it's only when there's a MardiGrass happening in every town and when every pot smoker puts their hand up that the laws will change. It's too easy for the mainstream to ignore protest when it just happens in Nimbin.
So come this year to MardiGrass, but remember that it's a drug law reform rally and not just a pot party. We're there to make some points not just to get out of it, and remember to take some of the magick, idealism and commitment home with you when you go, there's enough to spare. Neil Pike 2004 http://www.nimbinmardigrass.com
More info, links, years
[
edit
]
2017 Global Marijuana March and 420
[
edit
]

May 6, 2017, Saturday, or thereabouts. And April 20 (4/20), or thereabouts. Rallies and marches overall change public opinion for the better! See: Cannabis polls.
2017 Facebook event pages for Global Marches and 420. - Some cities.
Main Facebook pages for organizing global marches.

Cannabis is safer
[
edit
]
Return to top. See article: Cannabis is safer.
See: Reagan's war on cannabis. And: Holy War on Drugs, Republican-led mass incarceration.
Ronald Reagan

, 1980

campaign speech

1:

"Leading medical researchers are coming to the conclusion that marijuana, pot, grass, whatever you want to call it, is probably the most dangerous drug in the United States, and we haven't begun to find out all of the ill effects, but they are permanent ill effects. The loss of memory for example."
See longer article: Cannabis is safer.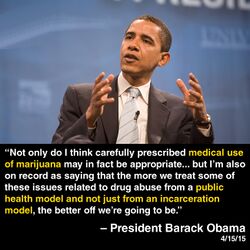 Above quote is from Sanjay Gupta interview of Obama on April 15, 2015. Interview aired on CNN on April 19, 2015. [302][303][304].
Presidents can not reschedule it
[
edit
]
The president alone can not reschedule marijuana. [308] [309][310][311]. Since HHS (Health and Human Services) and the DEA (Drug Enforcement Administration) have again declined to reschedule or deschedule cannabis, then only Congress can do so. But Congress removed help for veterans: Republicans in Congress Won't Let Veterans Access Medical Marijuana After All. [312][313]. And Congressional Republican committee leaders refuse hearings on CARERS bill to reschedule cannabis. See: Medical Marijuana Advocates Rally to Loosen Restrictions. By Alicia Ault. 23 Mar 2016. Medscape.
Drug war, control, mass incarceration
[
edit
]
Green love
[
edit
]
The Global Marijuana March is the first Saturday in May. The first Saturday in May is also World Naked Gardening Day. Your marijuana garden needs love too

. (see Google search for it). But, be safe!
Single-Payer. Half the cost of Trumpcare
[
edit
]
Portugal. Few die of overdose
[
edit
]
Portugal has decriminalized all drugs. Like Canada it has universal healthcare. See: Portugal. Cannabis-related links. See: Wikipedia: Drug policy of Portugal and Wikipedia: Health in Portugal. Nearly all of the European Union (EU) has universal healthcare. [314][315]. See: List of countries with universal health care.
Source for above chart: Are any conservatives in the US for a single payer and a universal health care system, or can they not coexist? Chart is from comment around March 11, 2017 by Dan Munro, "author of Casino Healthcare and Forbes contributor".
Canadian Single Payer: Show health card, get "free" care paid for by taxes. No deductibles on basic Canadian health care, and co-pays are extremely low or non-existent.
The $0 Alternative To Trumpcare. See chart below. USA versus top ten healthiest nations.
Universal healthcare and longer life, at half the cost of US healthcare.
Canada passes US in middle-class wealth. Median after-tax middle-class income in Canada is higher. [317]. Why? Canadians pay so much less for far better healthcare. And: Canada has higher minimum wage.
Portugal decriminalised drugs 14 years ago – and now hardly anyone dies from overdosing. 2015 article by Chris Ingraham. Chart below is from the article.
"The country has 3 overdose deaths per million citizens, compared to the EU average of 17.3."
In 2014 the USA had 147 overdose deaths per million residents. [318] [319] [320] [321]
US charts:
Ibogaine cure:
USA. Republican-led drug war
[
edit
]
The Cannabis War is over and the U.S. Republican Party has lost. They may not know it yet, so keep marching, lobbying, and voting! Please register and vote! See: Reagan's War on Cannabis. And: Drug war, control, and Republican-led income inequality. And: Alternatives to Republican-led mass incarceration.
Vermont's Republican Governor Scott Vetoes Marijuana Legalization bill of Democrat legislature. May 24, 2017. And: New Mexico's Republican governor vetoes a bill that would have allowed medical marijuana for opioid addiction. April 7, 2017. And: New Mexico's Republican governor vetoes the 911 Good Samaritan Overdose Prevention Bill. April 7, 2017. And: Idaho's Republican governor vetoes a broadly-supported asset forfeiture reform bill. April 7, 2017.
Categories
[
edit
]