Punta Sal, Peru
Jump to navigation
Jump to search
Full site / Mobile. To Top or End. News & 2022 GMM & Categories. 2023 GMM-420. US Congress could legalize, reschedule, or remove cannabis from the federal schedule if Republican filibuster were gone. Vote in US Senators who will abolish it. [2][3][4][5]. Senators Manchin or Sinema could abolish it now. Abolish Presidential veto too. Mandatory retirement. [6].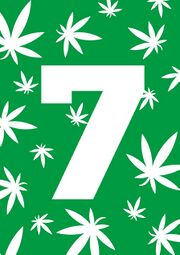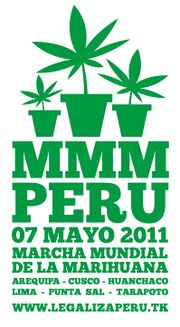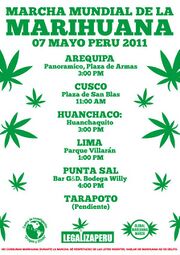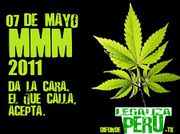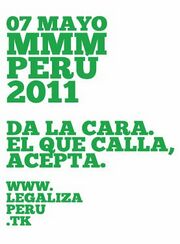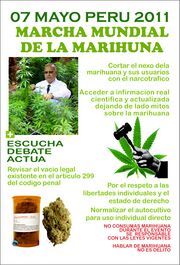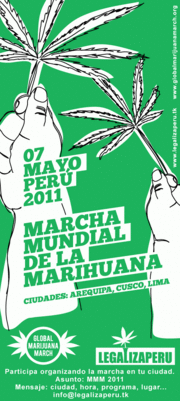 Local links
[
edit
]
City info
[
edit
]
Search: Wikipedia. Wikitravel. Wikivoyage.

WeBeHigh.org - Click "Travel Guides" button at top for continents. By U.S. state. And: Google site search.
Global Marijuana March (GMM)
[
edit
]
GMM (years signed up). -- Add city name to search. Google site search no longer works well. It does not find all the yearly city lists containing a city name.
Special:Search works well. Click: "Global Marijuana March maps". Add city name to search, and state/province/nation as needed. This is an advanced search of main pages and templates. This will pull up all yearly maps in which the city is listed. Except for 2015, 2016, 2017, 2021 due to various problems. Putting quotes around multi-word city names helps focus the search: "New York City". This city, nation, or subnational area participated or signed up one year (or more) for the Global Marijuana March (GMM), Million Marijuana March (MMM), or 420. Cities and nations holding 4/20 events are also included in later years. Yearly maps. See: 420 and Global Cannabis March event lists by year. See: GMM links.
1035 cities have participated from 85 nations or subnational areas since 1999.
GCM/420 city lists and maps: ~ 1999. 2000. 1.2.3.4.5. 6.7.8.9.10. 11.12.13.14.15. 16.17.18.19.20. 21.22.23. Yearly event links in many cases will no longer be added to city pages due to the amount of work involved. Such links are found in the yearly city lists and maps. Graphics and crowd photos will also no longer be added to city pages in many cases. Graphics and photos can be found in this alphabetical flat list.
Return to top. See 2011 Global Marijuana March map.
GMM:
MMM
La Global Marijuana March (GMM) también conocida como Marcha Mundial de la Marihuana (MMM), se realiza desde 1999 el primer sábado de mayo de cada año, en simultáneo en ciudades de todo el mundo. Hasta hoy han participado más de 686 ciudades de 62 países. Perú se suma por segundo año a esta causa.
MANIFIESTO
La iniciativa ciudadana Legaliza Perú convoca a todos sus adherentes a unirse a la manifestación por la MARCHA MUNDIAL DE LA MARIHUANA, acto de ejercicio civil que reúne a millones de personas alrededor del mundo, en más de 420 ciudades.
Como se sabe, el cáñamo tiene innumerables usos en industrias de: alimentos, textiles de consumo, farmacia, construcción, automotriz, biocombustibles, etc. Es importante recalcar que nuestra iniciativa ciudadana no promueve, ni hace apología al uso de Marihuana. Solo realiza activismo y difusión de información, con mayores de edad, sobre esta planta y sus potencialidades.
AL ESTADO
GOBERNANTES
CIUDADANOS
EXIGIMOS
• Cortar el nexo de la marihuana y sus usuarios, con el narcotráfico.
• Acceder a información real, científica y actualizada, dejando de lado los mitos sobre la marihuana.
• Terminar con la violencia, represión, extorsión y discriminación a los usuarios.
• Normalizar el autocultivo para uso individual directo.
• Revisar el vacío legal existente en el artículo 299 del código penal.
• Por el respeto a las libertades individuales y el estado de derecho.

No hay que olvidarse de los objetivos, no es juntarse a fumar. Hay que hacer evidente la cantidad de consumidores para terminar con la discriminación y las detenciones, promover políticas de reducción de daños y una nueva ley de drogas más humana, justa y eficaz, haciendo hincapié en las libertades individuales de las personas.
LUGAR + HORA
Bar G&D. Bodega Willy. 4:00PM.
RECOMENDACIONES
María te necesita. Avisa a tus amigos y conocidos, manda emails y SMS, llama a los medios de comunicación. Acude a la Marcha con todos tus amigos, familiares, lleva alegría, pancartas, disfraces, instrumentos musicales que vamos a divertirnos y expresarnos libremente, llevemos arte, mostrémosle al mundo lo que sabemos hacer.
No es demás recalcar que no se consumirán bebidas alcohólicas, ni sustancias tóxicas en la realización del mismo y acorde con las ordenanzas municipales que nos acogen. No consumas Marihuana durante la Marcha. Sé responsable con las leyes vigentes. Hablar de Marihuana no es delito.
DA LA CARA. EL QUE CALLA, ACEPTA.
Legaliza Perú 2011
More info, links, years
[
edit
]

Return to top. 2023 GMM-420 and Mirror.
Full site / Mobile. To Top or End. News & 2022 GMM & Categories.
Cannabis is safer.
[
edit
]
See articles: Cannabis is safer.
And: History of US Republican war on cannabis, and their lies about its health effects.
US Republicans &
[
edit
]
Conservatives worldwide
[
edit
]
US Republicans have led cannabis and drug wars worldwide. All to create 2nd class citizens who are blocked from many educational, job, and voting opportunities. Part of the conservative plan to concentrate wealth in fewer hands worldwide. USA. The state of the nation. After decades of Republican-led drug war, and their filibusters in the Senate.
Global warming. Roswell
[
edit
]
Return to top. Share link: Roswell UFO.
---
---
---
Full site / Mobile. To Top or End. News & 2022 GMM & Categories. 2023 GMM-420 and Mirror.
---
---
Categories
[
edit
]