Saint Petersburg, Russia
Jump to navigation
Jump to search
See also: St. Petersburg, Florida, USA.
Full site / Mobile. To Top or End. News & 2022 GMM & Categories. 2023 GMM-420. US Congress could legalize, reschedule, or remove cannabis from the federal schedule if Republican filibuster were gone. Vote in US Senators who will abolish it. [9][10][11][12]. Senators Manchin or Sinema could abolish it now. Abolish Presidential veto too. Mandatory retirement. [13].



Share link: Saint Petersburg. Local or regional cannabis-related links wanted. See: Russia. See cities by country on GMM map of all cities. See all cities (not just Global Marijuana March). See the yearly city and event lists for additional Facebook and other links.
Telegram. See: Wikipedia: Telegram (software):
Facebook:
VK (short for its original name VKontakte). See Wikipedia: VK (service):
Instagram:
Twitter:
More links:
Wikipedia:

Cannabis by country.
Search for: event videos. And more.
GMM graphics and other event graphics.
City lists. Global Marijuana March, 420. Crowd photos.
Global Marijuana March Links.
Flat list: Event graphics & photos. Alphabetical.
-Category: Cannabis-related links.
Medical Cannabis Worldwide. (zoomable English map). And: Spanish.
-Commons: Category: Cannabis by country.
See: Google Translate. And: Firefox addon.
Add local or regional links
Global Cannabis March. 420
[
edit
]
Google site search no longer works well. It does not find all the yearly city lists containing a city name.
Special:Search works well. Click: "Global Marijuana March maps". Add city name to search, and state/province/nation as needed. This is an advanced search of main pages and templates. This will pull up all yearly maps in which the city is listed. Except for 2015, 2016, 2017, 2021 due to various problems. Putting quotes around multi-word city names helps focus the search: "New York City". This city, nation, or subnational area participated or signed up one year (or more) for the Global Marijuana March (GMM), Million Marijuana March (MMM), or 420. Cities and nations holding 4/20 events are also included in later years. Yearly maps. See: 420 and Global Cannabis March event lists by year. See: GMM links.
1035 cities have participated from 85 nations or subnational areas since 1999.
GCM/420 city lists and maps: ~ 1999. 2000. 1.2.3.4.5. 6.7.8.9.10. 11.12.13.14.15. 16.17.18.19.20. 21.22.23. Yearly event links in many cases will no longer be added to city pages due to the amount of work involved. Such links are found in the yearly city lists and maps. Graphics and crowd photos will also no longer be added to city pages in many cases. Graphics and photos can be found in this alphabetical flat list.
Return to top. See 2020 Global Cannabis March and 420 map. And: 420 event lists.
Return to top. See 2019 Global Marijuana March and 420 event map. And: 420 event lists.
May 4: [17][18][19][20][21][22][23][24][25][26][27][28][29]. Facebook: [30][31]. Videos of event: [32][33][34][35][36]. Event held here: Wikipedia: Ozerki (Historic district in Saint Petersburg).
Videos of event:
Return to top. See 2018 Global Marijuana March and 420 events. And: 420 event lists.
Global Marijuana March: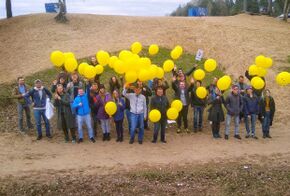 Return to top. See 2016 Global Marijuana March and 420 events. And: 420 event lists.
Global Marijuana March:
Return to top. See 2007 Global Marijuana March map.
GMM:
English translation  
NEW LOCATION: St. Petersburg prepares for "Hemp march"
Published in SergE May 3, 2007 - 08:00
St. Petersburg, May 3 (New Region, Ivan Smirnov) - The police of St. Petersburg of the Russian Interior Ministry has been informed that the world, "the legalization of hemp League" has decided to spend 5 May as "Hemp march." Parades are planned in several cities, including St. Petersburg. According to police, the organizers of the march, using the tactics of flash mobs are planning to arrange a "hemp festivals" that might provoke a riot.
The campaign, which "League" is trying to spend more than a year, will be handed out printed material calling for the legalization of drugs.
In order to prevent unauthorized marches law enforcement agencies plan to hold a series of preventive measures. In particular, together with FSNK Petersburg and the region expected to hold a series of search operations and preventive measures to identify the organizers and active participants in such actions. The relevant committees and district administrations sent warnings about the impossibility of harmonizing these shares. All police patrols and internal forces at this time will be transferred to a more vigilant performance of the service and rapid response to attempts at "hemp festivals."
Meanwhile in Moscow, preparing for, "Hemp march" began in late March. Moscow media reported that the capital's subway ads appear on behalf of the "legalization of marijuana League" with an appeal to Muscovites to take part in the "Hemp march" in the May holidays. In promotional materials indicated that each of the subway cars have at least one person who smokes "weed", and this, according to the authors leaflets, must play its role in the legalization of marijuana. In the first "Hemp march" in Moscow, which took place in 2004 and also was unauthorized, was attended by about 200 people, 65 people were detained by police. In the world of this event is held annually during the past 10 years. The first "Hemp march" took place in America.
Return to top. See 2006 Global Marijuana March map.
GMM:
English translation  
Hemp March 2006 in St. Petersburg. Reporting party
Published in SergE August 3, 2006 - 08:00
Talk Petersburg ECM-2006 sent a report and photos of events May 7, 2006 Organizing Committee of the League shares the author's regret about the absence of any organization in the preparation of the march past and hopes that St. Petersburg will be able to adequately prepare comrades VCR-2007 . "The World Hemp March", which was to be held in St. Petersburg, May 7, 2006 again left without the organization
It all started about 17 pm at the Manege Square, near the fountain. Arriving at the place at the appointed time, I found a small group of people (about 50) sitting on the lawn, singing songs and playing musical instruments.
Nearby, across the street were two police cars were walking around which law enforcement officials, apparently for something to cook.
Press and television appeared somewhat revived and is happening between the participants' sedentary march "and onlookers began to unravel simple black-and-white leaflets (as they were then called one of the representatives of the police - campaign materials), with the image of bunny« PLAYBOY »who was already six ears - cinquefoil in the manner of hemp.
Apparently the camp for law enforcement it was a call to action, as they were immediately arrested several teenagers, which they very politely escorted to his first car, and then to the department.
The lieutenant, after ordered his, approached reporters with an enigmatic smile and said, "Well, what? It did not happen Cop outrage? ".
It became clear that the march will not happen, but "sitting" continued to sit on the lawn, until finally the police were not dispersed. Further, one of the most active participants,
"Channel 5" took a brief interview in which she told of the usefulness of marijuana, and to "march of hemp." (Incidentally, I know the interview to air did not work).
No more action, I have not seen, and so he decided to retire. But still, some action was. That's what tells the eyewitness and participant of the "March", comrade Kelemor:
"It all began when I got lost and missed the first" welcome "...
In the car, a young police officer recorded the data for legalayz poagitirovalsya me, took a flyer on the memory and sent to the department. There were people already about 15-20 people.
Three police officers selected from a stack of passport, called a man wrote a standard protocol, "sat on the lawn and drinking beer," made out "administrativku" and released from the subpoena.
Counter-propaganda was carried out in parallel, which I, as the eldest, was trying to dilute the replicas. A la Svejk.
Let me go last, a parrot of disorderly conduct, "the kidney" and the monkey.
Kelemor
As can be seen, in order to conduct a "Hemp March" without such incidents, St. Pete advocates the legalization of marijuana just need competent organization and preparation. Let's see what will happen in 2007 ...
Return to top. See 2005 Global Marijuana March map.
GMM:
Event graphics and photos
[
edit
]
Return to top. See videos too.
See: Flat list of event graphics and photos. Alphabetical order by city. There are many more images there than is shown below (in desktop or "full site" view). Full site / Mobile. To Top or End.

Return to top. 2023 GMM-420 and Mirror.
Full site / Mobile. To Top or End. News & 2022 GMM & Categories.
Cannabis is safer.
[
edit
]
See articles: Cannabis is safer.
And: History of US Republican war on cannabis, and their lies about its health effects.
US Republicans &
[
edit
]
Conservatives worldwide
[
edit
]
US Republicans have led cannabis and drug wars worldwide. All to create 2nd class citizens who are blocked from many educational, job, and voting opportunities. Part of the conservative plan to concentrate wealth in fewer hands worldwide. USA. The state of the nation. After decades of Republican-led drug war, and their filibusters in the Senate.
Global warming. Roswell
[
edit
]
Return to top. Share link: Roswell UFO.
---
---
---
Full site / Mobile. To Top or End. News & 2022 GMM & Categories. 2023 GMM-420 and Mirror.
---
---
Categories
[
edit
]