Template:2018 bottom
Jump to navigation
Jump to search
Reports, photos, videos
For global event reports by year see:
See Featured 420 event crowds in 2018. And: Featured GMM event crowds in 2018. See: Videos. And: 420 and Global Marijuana March event lists by year. See 2018 section. And: Cannabis News Service. Do a 420 search of it. See: 2018 GMM event graphics. And: 420 event graphics for 2018. And: Flat list of GMM featured crowd photos over many years. And: Flat list of event graphics and crowd photos in alphabetical order by city.
NYC. Manhattan District Attorney says he'll stop prosecuting pot possession on August 1, 2018. [17][18][19][20][21].
Overview
The Global Marijuana March (GMM) is also known as the Million Marijuana March (MMM), and Global Cannabis March. There are local names for the event too. Such as: World Cannabis Day, Cannabis Liberation Day, Cannabis Parade, Ganja Day, J Day, etc.. GMM occurs on the first Saturday in May, or thereabouts, depending on the city and country. It began in 1999. See New York City, Dana Beal, and Wikipedia: Global Marijuana March. It may include marches, meetings, rallies, raves, concerts, festivals, information tables, and more. The six main demands: stop all cannabis arrests; stop the lies; release the medicine; heal the sick; end the prison state; Cures Not Wars. See ibogaine. And Facebook: Ibogaine Universe!!!! See GMM links for many links for event maps, reports, crowd photos, videos, GMM graphics, press/media, 420 graphics, etc.. See flat lists. See GMM Facebook. See Archive.org to find archived reports by entering the URL. See report compilations: 420 and Global Marijuana March event lists by year. See also: Wikipedia: Legality of cannabis by country. Please let us know of missing cities for any year: Talk.
1002 cities have participated from 83 different nations or subnational areas since 1999.
Yearly totals
Return to top. See: 420 and Global Marijuana March event lists. And: GMM and 420 nations.
GMM, MMM. First Saturday in May (or thereabouts). Cities and nations holding 4/20 events are included in the lists for later years. Yearly maps: 42 nations participated on May 5, 2018, or thereabouts. 42 nations participated on May 6, 2017, or thereabouts. 45 nations participated on May 7, 2016, or thereabouts. 43 nations participated on May 2, 2015, or thereabouts. 213 cities from 43 nations signed up for May 3, 2014 or thereabouts. 229 cities from 43 nations signed up for May 4, 2013 or thereabouts. 177 cities from 34 nations signed up for May 5, 2012 or thereabouts. 274 cities for May 7, 2011. 328 cities for May 1, 2010. 270 for May 2, 2009. 240 for May 3, 2008. 230 for May 5, 2007. 203 for May 6, 2006. 184 for May 7, 2005. 165 for May 1, 2004. 235 for May 3, 2003. 199 for May 4, 2002. 119 for May 5, 2001. 104 for May 6, 2000. 31 for May 1, 1999.
Free hosting
Return to top. See: Free hosting.
For each country and state please create 2018 city lists that we can link to.
Facebook pages, groups, event pages, image pages, etc. are free, and they may stay up forever. Please use an event page only for one year. That way there is a permanent record we can link to. Create a new event page each year for each city.
For your state or country also create a single page with a list of cities and event links for 2018. For example; create a Facebook event page for a whole state or country. In its description and "about" area compile a list of event links for various cities.
Facebook event pages for each city are great because media report links can be added later to the Facebook event pages. Those yearly event pages for cities can be near-permanent historical records filled with as many reports, photos, and videos as you want.
Here are some more places to post for free:
Links, photos, and graphics
Return to top. See: Videos.
GMM: photos, basic city lists, maps, detailed city lists, years, regions, nations, links, graphics. Google images: Crowds, flyers: Marcha da Maconha. And: Marche Mondiale du Cannabis. And: Marcha Mundial de la Marihuana. And: Global Marijuana March. Add city name to searches.
Map of cities since 1999: Global Marijuana March. See also: 420 and Global Marijuana March nations and states.
Flat list. All event graphics and photos. In alphabetical order by city over the years. More flat lists:
Cannabis is safer
Return to top. See article: Cannabis is safer.
See: Reagan's war on cannabis. And: Holy War on Drugs, Republican-led mass incarceration.
Ronald Reagan

, 1980

campaign speech:

"Leading medical researchers are coming to the conclusion that

marijuana, pot, grass

, whatever you want to call it, is probably

the most dangerous drug in the United States

, and we haven't begun to find out all of the ill effects, but they are permanent ill effects. The loss of memory for example."
Share link: Obama.
See longer article: Cannabis is safer.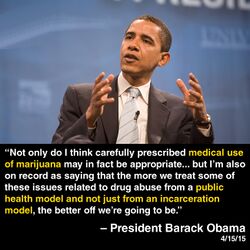 Above quote is from Sanjay Gupta interview of Obama on April 15, 2015. Interview aired on CNN on April 19, 2015. [29][30][31].
See main article: Presidents alone can not reschedule marijuana.
Neither the president nor the Attorney General can reschedule marijuana by themselves. [35] [36][37]. The two of them together also can not do so. See Wikipedia: Removal of cannabis from Schedule I of the Controlled Substances Act. See "Process" section.
Since HHS (Health and Human Services) and the DEA (Drug Enforcement Administration) have again declined to reschedule or deschedule cannabis, then only Congress can do so. But Congress removed help for veterans:
Oct 2016: Republicans in Congress Won't Let Veterans Access Medical Marijuana After All. [38][39]. And Congressional Republican committee leaders refuse hearings on CARERS bill to reschedule cannabis. See: Medical Marijuana Advocates Rally to Loosen Restrictions. By Alicia Ault. 23 Mar 2016. Medscape.
Mass incarceration
Portugal. Drug decrim
See: Canadian single-payer healthcare and Portuguese drug decriminalization. And: End drug war with universal healthcare. And: Canadian healthcare versus US healthcare.
Norway to decriminalize all drugs, likely following Portugal's model. December 19, 2017 article.
Portugal has decriminalized all drugs. Like Canada it has universal healthcare. See: Portugal. Cannabis-related links. See: Wikipedia: Drug policy of Portugal and Wikipedia: Health in Portugal. Nearly all of the European Union (EU) has universal healthcare. [40][41]. See: List of countries with universal health care.
Portugal decriminalised drugs 14 years ago – and now hardly anyone dies from overdosing. 2015 article by Chris Ingraham. Chart below is from the article. From the article: "The country has 3 overdose deaths per million citizens, compared to the EU average of 17.3."
In 2014 the USA had 147 overdose deaths per million people. [42] [43] [44] [45]
In 2016 the USA had 185 overdose deaths per million people. <~~ See chart in article, and a similar chart below.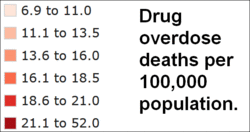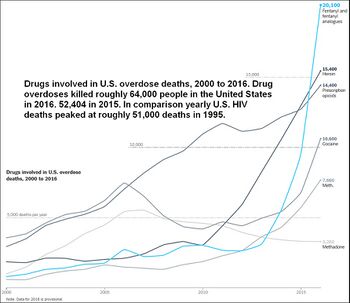 US charts:
Ibogaine cure:
Portugal's drug decriminalization. 2.3.4.5. Based on single-payer, universal healthcare. 2.