Template:2018 bottom
Jump to navigation
Jump to search
Links, photos, and graphics
Return to top. See: Videos.
GMM: photos, basic city lists, maps, detailed city lists, years, regions, nations, links, graphics. Google images: Crowds, flyers: Marcha da Maconha. And: Marche Mondiale du Cannabis. And: Marcha Mundial de la Marihuana. And: Global Marijuana March. Add city name to searches.
Map of cities since 1999: Global Marijuana March. See also: 420 and Global Marijuana March nations and states.
Cannabis is safer
Return to top. See article: Cannabis is safer.
See: Reagan's war on cannabis. And: Holy War on Drugs, Republican-led mass incarceration.
Ronald Reagan

, 1980

campaign speech:

"Leading medical researchers are coming to the conclusion that

marijuana, pot, grass

, whatever you want to call it, is probably

the most dangerous drug in the United States

, and we haven't begun to find out all of the ill effects, but they are permanent ill effects. The loss of memory for example."
Share link: Obama.
See longer article: Cannabis is safer.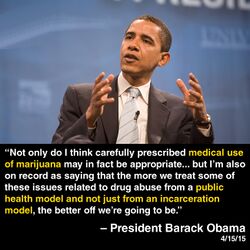 Above quote is from Sanjay Gupta interview of Obama on April 15, 2015. Interview aired on CNN on April 19, 2015. [17][18][19].
See main article: Presidents alone can not reschedule marijuana.
Neither the president nor the Attorney General can reschedule marijuana by themselves. [23] [24][25]. The two of them together also can not do so. See Wikipedia: Removal of cannabis from Schedule I of the Controlled Substances Act. See "Process" section.
Since HHS (Health and Human Services) and the DEA (Drug Enforcement Administration) have again declined to reschedule or deschedule cannabis, then only Congress can do so. But Congress removed help for veterans:
Oct 2016: Republicans in Congress Won't Let Veterans Access Medical Marijuana After All. [26][27]. And Congressional Republican committee leaders refuse hearings on CARERS bill to reschedule cannabis. See: Medical Marijuana Advocates Rally to Loosen Restrictions. By Alicia Ault. 23 Mar 2016. Medscape.
Mass incarceration
Portugal. Drug decrim
See: Canadian single-payer healthcare and Portuguese drug decriminalization. And: End drug war with universal healthcare. And: Canadian healthcare versus US healthcare.
Norway to decriminalize all drugs, likely following Portugal's model. December 19, 2017 article.
Portugal has decriminalized all drugs. Like Canada it has universal healthcare. See: Portugal. Cannabis-related links. See: Wikipedia: Drug policy of Portugal and Wikipedia: Health in Portugal. Nearly all of the European Union (EU) has universal healthcare. [28][29]. See: List of countries with universal health care.
Portugal decriminalised drugs 14 years ago – and now hardly anyone dies from overdosing. 2015 article by Chris Ingraham. Chart below is from the article. From the article: "The country has 3 overdose deaths per million citizens, compared to the EU average of 17.3."
In 2014 the USA had 147 overdose deaths per million people. [30] [31] [32] [33]
In 2016 the USA had 185 overdose deaths per million people. <~~ See chart in article, and a similar chart below.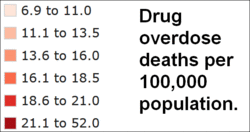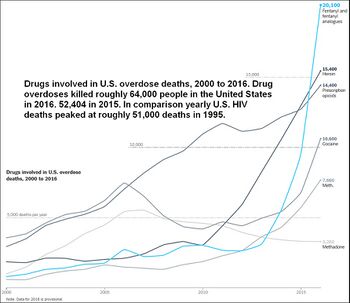 US charts:
Ibogaine cure:
Portugal's drug decriminalization. 2.3.4.5. Based on single-payer, universal healthcare. 2.