Template:2019 top
Jump to navigation
Jump to search
Share link: 2019. Or 2019short for the short, faster-loading version. Events on April 20 and May 4, 2019, or thereabouts. See dates on 2019 GMM flyers, and 2019 420 flyers. The Global Cannabis March (Global Marijuana March) is the first Saturday in May, or thereabouts. 420 events are on April 20 or thereabouts. Marches, meetings, rallies, raves, concerts, festivals, info tables, expos, lectures, movies, etc.. Other names, and associated events (some have been around longer than GCM): World Cannabis Day, Cannabis Liberation Day, J Day, MardiGrass, Million Marijuana March, Cannabis Parade, etc.. See: Google Translate.
Share GCM-420 event links here: Main talk page And here: Facebook groups.
Facebook: Main fan page. International group. Europe. 2019 Facebook events.
Reports, compilations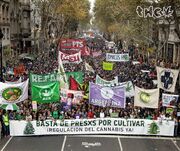 Country lists
Return to top. See also: 2018, 2017, 2016.
Nations and subnational areas listed below have participated in 420 and Global Cannabis March over the years. Anyone can edit city and country pages directly without logging in.