Topeka, Kansas, USA
Jump to navigation
Jump to search
Full site / Mobile. To Top or End. News & 2022 GMM & Categories. 2023 GMM-420. US Congress could legalize, reschedule, or remove cannabis from the federal schedule if Republican filibuster were gone. Vote in US Senators who will abolish it. [2][3][4][5]. Senators Manchin or Sinema could abolish it now. Abolish Presidential veto too. Mandatory retirement. [6].



Share link: Topeka. Local or regional cannabis-related links wanted. See cities by country on GMM map of all cities. See all cities (not just Global Marijuana March). See the yearly city and event lists for additional Facebook and other links.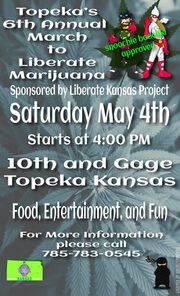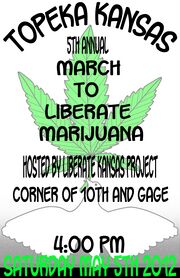 May 2nd:
Wikipedia:

Cannabis by country.
Search for: event videos. And more.
GMM graphics and other event graphics.
City lists. Global Marijuana March, 420. Crowd photos.
Global Marijuana March Links.
Flat list: Event graphics & photos. Alphabetical.
-Category: Cannabis-related links.
Medical Cannabis Worldwide. (zoomable English map). And: Spanish.
-Commons: Category: Cannabis by country.
See: Google Translate. And: Firefox addon.
Add local or regional links
See the above pages for additional Facebook and other links.
Facebook:
City info
[
edit
]
Global Marijuana March
[
edit
]
GMM (years signed up). Google site search no longer works well. It does not find all the yearly city lists containing a city name.
Special:Search works well. Click: "Global Marijuana March maps". Add city name to search, and state/province/nation as needed. This is an advanced search of main pages and templates. This will pull up all yearly maps in which the city is listed. Except for 2015, 2016, 2017, 2021 due to various problems. Putting quotes around multi-word city names helps focus the search: "New York City". This city, nation, or subnational area participated or signed up one year (or more) for the Global Marijuana March (GMM), Million Marijuana March (MMM), or 420. Cities and nations holding 4/20 events are also included in later years. Yearly maps. See: 420 and Global Cannabis March event lists by year. See: GMM links.
1035 cities have participated from 85 nations or subnational areas since 1999.
GCM/420 city lists and maps: ~ 1999. 2000. 1.2.3.4.5. 6.7.8.9.10. 11.12.13.14.15. 16.17.18.19.20. 21.22.23. Yearly event links in many cases will no longer be added to city pages due to the amount of work involved. Such links are found in the yearly city lists and maps. Graphics and crowd photos will also no longer be added to city pages in many cases. Graphics and photos can be found in this alphabetical flat list.
Return to top. (adjust dates as necessary)
May 3:
Return to top. See 2008 GMM, GlobalMarijuanaMarch.org archive, 2.
Topeka: Heidi Meadows heidemeadows(at)cox.net 785-233-0528 . 10th & Gage S.W . Corner. 4:20 PM
Return to top. See 2005 Global Marijuana March map.
GMM:
I dressed nicely and drove the 2 hrs to Topeka with a big, "Make Pot Legal 555.org" sign on the back glass while going 55 mph. (I believe in supporting our troops by not having them die for the oil we waste. 55 is faster than a horse!)
I just couldn't believe the coincidence. On the very opposite corner from the rep's office, there was a dedication of a memorial to fallen law enforcement officers going on. So, out of respect for the family members, I took my sign in the opposite direction, hoping to run into other people with signs like mine. I was stopped by one very friendly police officer who asked, "Are you for real?" and I gave him a flyer and explained how the police should never have to die in the drug war; how drug abuse is a health problem, not a law enforcement problem; and how I think the relationship between police and civilians has been hurt by the drug war. He was VERY receptive, but mostly amused, I think. He was nice, that's all I know!
I found a busy intersection, waved my sign happily & proudly, and I've never heard so many honks for legalization anywhere else - not even in California! Only 2 negative responses (No birds this time, yeay!) and it was GLORIOUS! I did not expect that from KANSAS! I stayed there about 90 minutes, then hand delivered some cannabis information to ex-Representative Ryun's office. It included an "End Cannabis Prohibition" flyer, a "Law Enforcement Against Prohibition" flyer, a personal testimony on how cannabis helped me, and a card from Americans for Safe Access about the rescheduling of cannabis. Then I went home, and it was a GREAT DAY FOR FREEDOM, Thank You, LORD!
May 2005 events are detailed on the "Things I've Done So Far" page. I hope all this is helpful to you! Rock On For Freedom!!!

Return to top. 2023 GMM-420 and Mirror.
Full site / Mobile. To Top or End. News & 2022 GMM & Categories.
Cannabis is safer.
[
edit
]
See articles: Cannabis is safer.
And: History of US Republican war on cannabis, and their lies about its health effects.
US Republicans &
[
edit
]
Conservatives worldwide
[
edit
]
US Republicans have led cannabis and drug wars worldwide. All to create 2nd class citizens who are blocked from many educational, job, and voting opportunities. Part of the conservative plan to concentrate wealth in fewer hands worldwide. USA. The state of the nation. After decades of Republican-led drug war, and their filibusters in the Senate.
Global warming. Roswell
[
edit
]
Return to top. Share link: Roswell UFO.
---
---
---
Full site / Mobile. To Top or End. News & 2022 GMM & Categories. 2023 GMM-420 and Mirror.
---
---
Categories
[
edit
]