File:Buenos Aires 2015 May 2 Argentina crowd.jpg
From Cannabis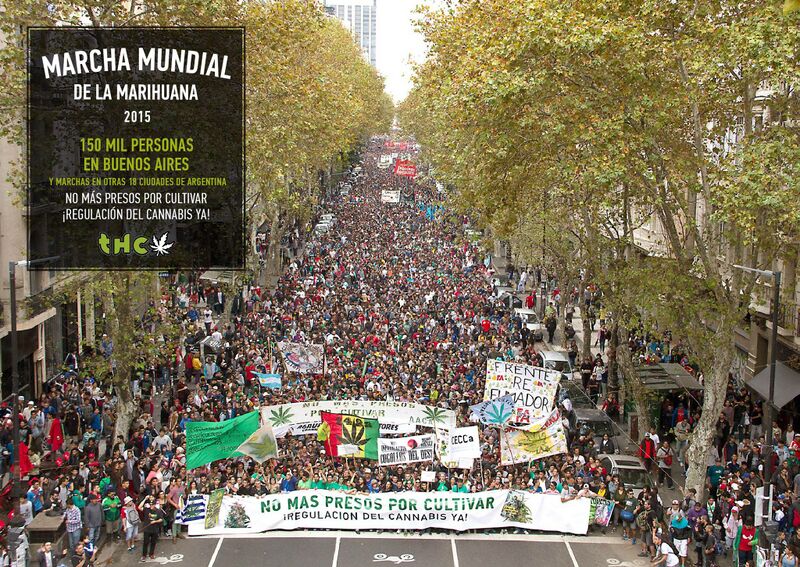 Original file
‎
(2,048 × 1,452 pixels, file size: 790 KB, MIME type:

image/jpeg

)
Share link: buenosaires2015
Global Marijuana March. 150,000 people marched in Buenos Aires, Argentina on May 2, 2015. 19 other cities in Argentina also had events.
See also: Argentina Demands Marijuana Legalization. By Adam Dubove. May 4, 2015 article.
Licensing
[
edit
]
This is a

fair use

image, and will only be used on the most relevant pages here. If an appropriate

free image license

is chosen for this image by the creator of this image, then the image can be used freely anywhere on this wiki and elsewhere.
Source:
MULTITUDINARIA MARCHA POR LA REGULACIÓN DE LA MARIHUANA
150 mil personas en Buenos Aires exigieron el fin de las detenciones a usuarios y cultivadores y miles se manifestaron en otras 19 ciudades de Argentina
El sábado 2 de mayo se llevó adelante la Marcha Mundial de la Marihuana en 20 ciudades de Argentina. Bajo la consigna "¡No más presos por cultivar! - Regulación del cannabis ya", más de 150 mil personas en el país exigieron el cese urgente de la criminalización a usuarios de drogas y cultivadores, la regulación del acceso al cannabis y la autorización estatal de sus usos medicinales. En la ciudad de Buenos Aires, cerca de las 3 de la tarde, 150 mil personas se concentraron en Plaza de Mayo para luego marchar hacia Plaza Congreso donde se realizó un acto del que participaron diversas organizaciones de usuarios y cultivadores de cannabis, diferentes asociaciones por la defensa de los derechos civiles y legisladores de distintas fuerzas políticas. También se realizaron marchas en Córdoba, Rosario, Mendoza, La Plata, Neuquén, Mar del Plata, Ushuaia, Rufino, Bahía Blanca, Bariloche, Paraná, Santa Fe, El Bolsón, Bariloche, Comodoro Rivadavia, San Juan y Resistencia.
--- --- ---
NO MÁS PRESOS POR CULTIVAR ¡REGULACIÓN DEL CANNABIS YA!
• AUTOCULTIVO: Por el inmediato fin de los allanamientos, detenciones y procesos penales a cultivadores de cannabis.
• REGULACIÓN: Por la regulación de los Clubes Sociales de Cannabis para el acceso al cannabis y sus semillas.
• TENENCIA: Por el urgente cese de las detenciones y procesos penales a los usuarios por la simple tenencia de sustancias psicoactivas prohibidas.
• MEDICINAL: Por la autorización estatal del uso medicinal del cannabis y sus derivados.
• INDUSTRIAL: Por la promoción estatal del uso industrial del cannabis no psicoactivo.
• INVESTIGACIÓN: Por el estímulo estatal de la investigación de los usos medicinales e industriales del cannabis.
• SALUD: Por la implementación de una ley de atención pública, universal y gratuita de los problemas asociados al uso de sustancias psicoactivas.
• LEGISLACIÓN: Por la urgente modificación de la ley de drogas (23.737). Massive March for the regulation of marijuana
Facebook translation
[
edit
]
150 thousand people in Buenos Aires they demanded an end to the arrests to users and growers and thousands rallied in other 19 cities in Argentina
On Saturday, May 2 th was carried forward the global March of marijuana in 20 cities in argentina. Under the slogan ' No more prisoners for grow! - regulation of cannabis already ", More than 150 thousand people in the country they demanded an end to the urgency of the criminalisation of users of drugs and farmers, the regulation of access to the cannabis and the authorization of state of their medicinal uses. In the city of buenos aires, close to 3 in the afternoon, 150 thousand people were concentrated in plaza de mayo and then marching towards Plaza Congress where they performed an act of participating in various organisations of users and growers of cannabis , different associations for the protection of Civil Rights and legislators from various political parties. It was also conducted marches in Cordoba, Rosario, Mendoza, La Plata, Neuquen, Mar Del Plata, Ushuaia, Rufino, Bay White, Bariloche, Paraná, Santa Fe, The Bolsón, Bariloche, Comodoro Rivadavia, San Juan and resistance.
--- --- ---
No more prisoners for grow Regulation of cannabis now!
• Autocultivo: for the immediate end of those raids, arrests and criminal proceedings to growers of cannabis.
• Regulation: for the regulation of the cannabis social clubs for access to cannabis and their seeds.
• Possession: by the urgent cessation of the arrests and criminal proceedings to users for the simple possession of psychoactive substances prohibited.
• Medicinal: for the authorization of State of the medicinal use of cannabis and their derivatives.
Industrial •: by state promotion of industrial use of cannabis non-psychoactive.
• Research: by the stimulus of state of the investigation of the uses of cannabis medicinal and industrial.
• Health: for the implementation of a law of Public Attention, Universal and free of the problems associated with the use of psychoactive substances.
• Legislation: for the urgent amendment to the law of drug (23.737).
File history
Click on a date/time to view the file as it appeared at that time.
You cannot overwrite this file.
File usage
The following 6 pages link to this file:
Metadata