Moscow, Russia
See also: Moscow, Idaho, USA.
News.

- 2018:

Global events.

-

Vote for Cannabis
See:

CannabisVoter.info

. News sources. Facebook: Global Marijuana March [52][53][54]. Hashtags: [55][56][57]. Twitter: [58][59][60]. Featured crowd photos. See videos.
Will 2018 midterm elections remove Republicans? 2018 ballot issues: marijuana & minimum wage.
---
Republican lawmaker wants to drug test Congress. He is from Louisiana, the state with the 2nd highest incarceration rate. See Wikipedia: List of U.S. states by incarceration and correctional supervision rate.
USA. Since 2001, labor's share of national income has suffered a sustained decline. 15 Sep 2018.
14 Sep 2018: Oklahoma. Democrats Call For Special Session For Medical Marijuana. 14 Sep 2018: Florida. Polling: Republican candidates on wrong side of medical marijuana smoking ban. 12 Sep 2018: Texas. Willie Nelson to headline rally for Democrat O'Rourke, running against Republican Ted Cruz. 10 Sep 2018: Marijuana In Texas: Where Ted Cruz And Beto O'Rourke Stand On Legalization. 12 Sep 2018: NPR. More Older Americans Are Turning To Marijuana. [61].
12 Sep 2018: Manhattan DA to dismiss more than 3,000 marijuana cases. 11 Sep 2018: Marijuanaville: Jimmy Buffett Gets Into the Weed Business With Billionaire Wrigley Heir. 11 Sep 2018: Republican Congressional Leadership Strips Provisions Facilitating Medical Marijuana Access for Veterans. 10 Sep 2018: Poll. Republican Rick Scott. Florida Governor's Opposition to Medical Marijuana Hurts His Senate Bid.
He will spend life in prison for pot. Trump hasn't given clemency to any cannabis lifers. 10 Sep 2018. [62]. And: Video. Serving Life for Pot. For a first time offense.
1 Sep 2018: California. Editorial board: Vote yes on Prop. 12, allowing farm animals a cage-free life. Compassion for all sentient beings. The aliens are among us. Prisons at all levels need to be made more humane.
New York City. No more arrests for smoking marijuana in public. 2 Sep 2018 article: NYPD change in marijuana arrest policy goes into effect.
Withdrawal deaths in jail. 4 Sep 2018: New Orleans jail staffers ignored dying man's cries for help, lawsuit charges. 3 Sep 2018: Woman lay dead in Nevada jail cell for hours after deputy found her unresponsive. 30 Aug 2018: Canada. Free cannabis offered at Vancouver, British Columbia clinic to help illicit drug users detox.
1 Sep 2018: Lancaster, Pennsylvania mulls marijuana decriminalization. Citations, not arrests.
25 Aug 2018: Video. Amazon founder Jeff Bezos' wealth has increased by $260 million every single day in 2018. [63][64][65][66][67][68]. 24 Aug 2018: New Poll Shows 70 Percent of Americans Support Medicare for All. [69][70].
22 Aug 2018: I'm a Convict and a Human Rights Attorney, and This Is Why You Need to Support the Prison Strike. [71][72][73][74][75][76][77].

20 Aug 2018: New Jersey Democrat legislature has the votes to pass recreational marijuana bills. [78][79].
22 Aug 2018: California lawmakers pass bill to erase old pot convictions. 21 Aug 2018: Vets to Protest For Medical Marijuana Outside VA (Veterans Administration) Headquarters. 20 Aug 2018: Wells Fargo Closes Florida Politician's Account Due To Marijuana Donations.
18 Aug 2018: Beto O'Rourke, on a 'suicide mission' against Ted Cruz, is having the time of his life — and might even come out of it alive. He supports federal marijuana legalization. [80][81].
16 Aug 2018: India Is Introducing Free Health Care—for 500 Million People. Making India Great Again. Where's Trump? 15 Aug 2018: Mexico's new president has a radical plan to end the drug war. 14 Aug 2018: California. Judge allows Santa Rosa girl, 5, with epilepsy to bring medical marijuana to school. 11 Aug 2018: Lebanon to consider legalising medicinal cannabis.
10 Aug 2018: Trumponomics. Wage growth is being wiped out entirely by inflation. [82].
9 Aug 2018: Another Backfire for Koch Brothers as Survey Shows Americans Actually Want Free College, $15 Minimum Wage, and Medicare for All. [83]. And: Single-Payer Healthcare costs less per person.
9 Aug 2018: Colorado hemp plastic startup says it's shipped first orders in North America. 100% plant-based and chemical-free hemp plastic. 8 Aug 2018: Lawmakers In U.S. Territory (Northern Mariana Islands) Vote To Legalize Marijuana. Senate likely to pass it. Republican governor is shaky. 6 Aug 2018: From combat to marijuana processing — veteran corners the CBD market.
3 Aug 2018: New York Marijuana Legalization Hinges On Democrats Winning In November. 2 Aug 2018: First Big U.S. Offshore Wind Farm will save Massachusetts electricity users about $1.4 billion over 20 years. [84]. 1.6 million tons of carbon emissions removed per year. Equivalent of removing 325,000 cars from the road. 1 Aug 2018: Israeli Weapons Manufacturer Selling Guns to Duterte's Drug War. Duterte compared himself to Hitler. And: Trump likes Duterte.
Trump's staggeringly low approval ratings compared to other presidents during their first 18 months. [85][86]. Run mouse cursor over charts. Updated continuously.
3 Aug 2018: Michigan. 80-year-old medical marijuana patient with expired card jailed for less than an eighth of cannabis.
31 Jul 2018: Trump administration must stop giving psychotropic drugs to migrant children without consent, judge rules. 30 Jul 2018: Country of Georgia's High Court Removes Marijuana Possession Penalties. [87]. 29 Jul 2018: Michigan Democrats hope pot measure brings out youth vote in November. 29 Jul 2018: Two-thirds of voters in Utah support November ballot measure to legalize medical marijuana. 26 Jul 2018: UK government approves prescription use of medical cannabis. [88].
26 Jul 2018: As Workers' Wages Continue to Fall Under Trump, Analysis Shows CEO Pay Is Way Higher Than Typically Reported. Trumponomics. A stimulus program for the rich that only benefits the rich. 22 Jul 2018: Portugal. A stimulus program that works for the middle class and poor. And: Portugal led the way on drug reform, too. 23 Jul 2018: How the Republican tax cuts are failing workers, in one chart. [89]. And: >>> Republican leaders will do anything to avoid talking about falling real wages under Trump.
26 Jul 2018: John Tory's Actions After Toronto Shooting Were What No U.S. Leader Has Ever Done. Handguns, which are already severely restricted in Canada, may be banned in Toronto. Canada has a much lower homicide rate than the USA. And no fear of the American NRA. The NRA expanded mandatory sentencing state by state, and thus created mass incarceration.
Portugal's drug decriminalization. 2.3.4.5. Based on single-payer, universal healthcare. 2.
24 Jul 2018: New Jersey Stalls All Marijuana Court Cases Until September. 24 Jul 2018: Canada. RCMP sniffer dogs out of work due to pot legalization.
19 Jul 2018: 70 Democrats Sign On to New 'Medicare for All' House Caucus. 16 Jul 2018: The Astonishingly High Administrative Costs of U.S. Health Care. New York Times. See: Canadian healthcare.
Medicare-for-all is single-payer, non-socialist, non-government-owned, Canadian-style healthcare.
18 Jul 2018: A Spike In Liver Disease Deaths Among Young Adults Fueled By Alcohol. Wake the f*ck up! Cannabis is safer!
18 Jul 2018: Mexico: Lopez Obrador government to consider legalization / decriminalization of drugs. "Carte blanche. Whatever is necessary to restore peace in this country. Let's open up the debate."
17 Jul 2018: Pussy Riot Prevails Against Russia In European Human Rights Court Ruling. Also 17 Jul 2018, they demand: "Stop imprisoning so many people for 228 article of Criminal code (drug offenses)." (in Youtube description). [90] [91] [92] [93].
16 Jul 2018: Jury nullification wins medical cannabis case. Georgia. [94]. And: Georgia Republicans created near-useless medical cannabis laws. [95]. 7 Jul 2018: Georgia Cops Took Their Son Away For Medical Marijuana. Now Reunited, Family Speaks Out. [96][97]
16 Jul 2018: Decriminalize all drugs, Toronto health board urges Ottawa. [98]. 14 Jul 2018: Video. Mexico's Crime-Free Town? The secret? No politicians. Many independent representatives, but no political parties. 11 Jul 2018: Wisconsin. Democrats hope for advantage in counties holding marijuana referendums.
We interrupt your regular daily Trump programming .... 9 Jul 2018: News bulletin. Video. Antarctica is melting three times faster than it was just 10 years ago. Climate change is real, very real — and it is devastating our planet. [101].
6 Jul 2018: Video. Hash it out. Should Non-Violent Marijuana Offenders be Released? 7 Jul 2018: Bernie Sanders video. 1 in 5 inmates have not been convicted. They can not afford bail.
CannabisVoter.info - Click your state to see which anti-cannabis Republicans to vote out. Cannabis polls.

5 Jul 2018: Duterte is Assassinating Opponents Under the Cover of the Drug War, Philippine Rights Groups Say. And: Trump supports Duterte. [102].
5 Jul 2018: After Popular Uproar, 20-Foot-Tall Angry Trump Baby Blimp Gets Okay to Fly Over London During President's UK Visit.
27 June 2018: Time magazine. Majority of Americans support Alexandria Ocasio-Cortez's positions. Including federal marijuana legalization.
27 June 2018: Meet Alexandria Ocasio-Cortez, the 28-year-old who took out Joe Crowley.
26 June 2018: Oklahoma voters legalize medical cannabis. 30th state to do so. [103][104].
26 June 2018: Gallery Owner Arrested After Dropping Sculpture Of Giant Drug Spoon At Purdue Pharma.
25 June 2018: New Hampshire Democrat platform: "marijuana should be legalized, taxed and regulated."
23 June 2018: Texas Democrat platform supports recreational legalization. It also supports coverage of medical cannabis prescriptions under their proposed healthcare plan. 23 June 2018: Canada. Bill to pardon old pot crimes to be introduced after cannabis becomes legal. [105]. 21 June 2018: N.F.L. Players to Trump: Here's Whom You Should Pardon. [106][107].
19 June 2018: Canada's Legislature Votes To Legalize Marijuana. [108][109].
18 June 2018: Majority in France Favors Marijuana Legalization, Poll Finds. 18 June 2018: Reflections About Father's Day From Men In Prison. Life for Pot.
17 June 2018: Viral Bernie Sanders video. Why Can We Import Vegetables But Not Medications? 18 June 2018: Study: Almost half of diabetics skip medical care due to insulin costs. 15 June 2018: 50,000% markup for a shot makes the case for a single-payer healthcare system in California.
Republicans waste $$-trillions on health insurance companies, and ground wars ($5.6 trillion). Instead of paying higher wages, and higher minimum wages. As Canada does.
17 June 2018: Texas Republican Party Endorses Marijuana Decriminalization. And: Texas Democrats support legalization.
Where's That $4,000 Raise Republicans Promised Workers? And: Suicide rates rise sharply across the United States, new report shows. [113][114][115][116][117][118].
Mexico Presidential Frontrunner supports amnesty for people convicted of non-violent drug trafficking. "We are going to change this rotten, corrupt regime of injustices and privileges, and we are going to promote development. I can summarise it in one sentence: work, good salaries, and hugs, not bullets." [119][120].
Wikipedia: List of minimum wages by country.
Democrat Ben Jealous Talks Marijuana, Dave Chappelle, And His Campaign For Maryland Governor.
Will 2018 midterm elections remove Republicans? 2018 ballot issues: marijuana & minimum wage.
Mom Warns Her Son Could Die If The UK Doesn't Return His Confiscated Cannabis Oil. [121]. UK Conservatives are letting patients die. UN Committee Declares Cannabis Is An Effective, 'Relatively Safe Drug'. And: Quincy, Illinois. Billboard promotes medical marijuana over opioids. And: 1 In 3 Adults In The U.S. Takes Medications Linked To Depression. Depression Is Possible Side Effect Of Many Common Drugs. [122][123].
Minneapolis, Minnesota. "Marijuana should be a lowest-level enforcement priority". 46 of 47 Arrested in Low-Level Marijuana Stings Were Black, So Mayor and Police Put an End to the Operations. [124]. And: St. Louis, Missouri to End Prosecution of Low-Level Marijuana Crimes. Focusing on murder instead.
South Carolina Voters Overwhelmingly Pass Medical Marijuana Question On Democratic Party Primary Ballot. Republicans are blocking a full vote in the legislature. And: Weed Nuns. Growing weed, religiously. Video. 60 Second Docs. And: Can Hemp Clean Up the Earth? Cleaning contaminated soil. [125]. And: Men Deserving Clemency -- Andy Cox -- Life for Pot. And: New Jersey. Possession's not enough: Expunge all weed convictions | Editorial | NJ.com. And: Video. These Vets Want Weed Instead of Opioids. Meet the Iraq war veterans protesting opioids with joints. And: Which States Will Be Voting on Marijuana in 2018?
Democrats Are Running—and Winning—on Medicare for All.
"We must ensure that no mother ever weighs the costs before taking her children to the emergency room when they are in the need of immediate care," Eastman's campaign website reads.
Inconsolable Jeff Sessions Tries To Commit Suicide By Smoking Joint. And: It is insane to be arresting some 600,000 people a year for marijuana possession. It's time to remove the federal prohibition on marijuana. - Bernie Sanders. [126]. And: Older Americans' Marijuana Use Driven by Pain Relief. And: ATTN Video > What if the DEA treated caffeine the same way they treat marijuana?
Bobby Kennedy's son suspects 2nd gunman killed father. [127]. 50 year anniversary of coup d'etat.
RFK's children believe there was a second assassin with Sirhan Sirhan. Did L.A. police and prosecutors bungle the Bobby Kennedy assassination probe? And: FBI altered witness testimony of hearing 2 gunmen and 12 to 14 shots. And: Los Angeles police department destroyed much evidence.
Popular Turkish rapper Ezhel arrested for 'inciting drug use'. President Erdogan is just another religious right dictator wannabe. And: Not guilty! After representing himself, NJ Weedman freed by jury. [128][129][130][131][132][133][134].
Weed weddings are taking over. And: New Zealand may vote on marijuana legalisation in 2019. [135][136]. And: Video. These unexpected uses for hemp are giving us hope for the planet. And: Front-runner in Mexico's presidential election Open to Debating Drug Legalization to Stop Violence.
New York Daily News editorial board calls for marijuana legalization with huge front page headline. [137]. And: Thanks, Internet: Estonian Town of Kanepi (Kanep means cannabis) Gets Cannabis Leaf as Its Emblem. And: Movement to Legalize Drug Use Gains in the Former Soviet Republic of Georgia. [138][139]. And: Philadelphia Gets Green Light to Study Pot, Treat Opioid Addiction With Cannabis.
NYC. Manhattan District Attorney says he'll stop prosecuting pot possession on Aug. 1. [142][143][144][145].
Texans march and say it is time to vote out anti-cannabis (Republican) politicians. And: Bernie Sanders. Workers need $15 an hour and a union. And: Trump Officially Backed Out of His Own Plan to Make Drugs Cheaper. Pharma stocks spiked in celebration. [146][147]. And: Mom serving 16 years for marijuana pens Mother's Day letter to daughters. [148]. And: Awesome full-screen panorama of Mexico City Marijuana Liberation Day. And: Port Louis, on the small island of Mauritius. East of Africa and Madagascar. May 5, 2018. Global Marijuana March. Marche pour la dépénalisation du cannabis. [149].
We marched with 100,000 people in Medellin, Colombia. And: Colombia video. Graffiti is legal in this country! Every wall is a mural in Bogota. And: Global medical cannabis map. Click on it and zoom in on any country. See popup box with info about that country's medical cannabis laws and history. Spanish version.
Buenos Aires, Argentina. PHOTO. 100,000 at Global Marijuana March. [150][151]. See 2018 global map.
Cape Town Cannabis Walk 2018. Photo essay: #CannabisWorks2018 urges South Africa to join the global movement to legalise marijuana.
Maine Legislature Overturns Republican LePage's veto of recreational cannabis sales and production.
See healthcare costs by country. Americans have to pay so much more out of pocket versus OECD countries. And the US does not have universal healthcare. And public college tuition costs much more in the US. It is free in some OECD nations.
Total taxes as a percentage of GDP. But OECD countries have universal healthcare and cheaper tuition:
Meet Ibogaine – a missing cure for opioid recovery. And: Guest opinion: Why it's time to let Oregon cannabis cross state lines. Removing cannabis from the federal list of controlled substances.
Serving Life for Pot in the Legal Cannabis Era. And: Two Democratic Frontrunners for Florida Governor Back Legal Recreational Weed. And: Oklahoma group cleared to collect signatures to put recreational pot on ballot.
Worst US prison riot in 25 years kills 7 men. Guards AWOL. Moldy food, sweltering heat, nothing to do.

2018 Global Marijuana March and 420 events. April 20 and May 5, 2018. Or thereabouts. Take power! Global campaign to register and vote for medical cannabis, and against conservative-led cannabis incarceration worldwide.
Zimbabwe just became the second country in Africa to legalise cannabis cultivation. And: Seattle officials file motion to vacate all marijuana possession convictions since 1996. [157][158].
People with opioid prescriptions could get medical marijuana instead under Illinois Senate plan that passed. It now goes to the House. And: Canada. Police chiefs studying decriminalizing drugs as possible solution to opioid crisis. And: Everybody in Italy has full access to free addiction treatment.
Michigan approves recreational marijuana legalization vote for November. And: Isle Of Man Could Be The First Place In The British Isles To Decriminalise Cannabis Possession.
25 April 2018. Will Texas elect the first Democratic Senator in 30 years over cannabis? Beto O'Rourke could beat Senator Ted Cruz. And: O'Rourke supports federal cannabis legalization. [159][160].
20 April 2018: Video. 85% of the NBA smoked weed according to former players.
Some 420 reports here. And do a 420 search. See: huge 420 crowds. [161][162][163]. And: Bernie Sanders Joins Cory Booker's Marijuana Justice Act to Federally Legalize Weed. [164][165][166]
Democrat Senator Schumer to introduce bill to federally decriminalize marijuana. [167][168][169]. And: Australia. Greens propose full legalisation of cannabis. And: Faces of Greed: Walton Family of Walmart. Bernie Sanders video: "One family, the Walton family, owns more wealth than the bottom 40 percent".
Meta-analysis: Cannabis Exposure Not Associated With Residual Adverse Impact On Cognitive Performance. [170].
WE INTERRUPT your regularly scheduled programming...
New York. Cuomo lays groundwork for legalizing marijuana. And: New Orleans. After 7 years in jail for possession of 2 joints, Bernard Noble hopes to advocate for criminal justice reform. [171].
Opinion Piece - Life for Pot. By Beth Curtis. Sister of John Knock, a pot lifer. [172][173]. And: Dumbass Louisiana Republican state lawmaker cites satirical article in argument against medical marijuana. And: Sinclair Host Resigns After Threat to Sexually Assault David Hogg With 'Hot Poker'.
Mexican states should start legalizing marijuana: tourism minister.
Hall of Famer Joe Montana advocates cannabis for pain relief, healing. "Cannabis eased my pain. It also put me in a state of healing and relief." And: '60 Days In': The worst things about jail, from undercover inmates. "A police officer who went to jail undercover quit the force after he got out — and his decision is a sobering reminder of how bad prison really is". And: Video. Here's what happened when a Republican senator challenged a Canadian doctor on their single-payer health care system. And: Italy issues presidential pardon for pot-growing pensioner.
Trump's Private Prisons: Blood, Suicide and Poorly Paid Guards. Where cannabis inmates are injured and left to die just like the rest of the inmates. New York Times.
Rick Steves on a journey toward marijuana legalization. "In some cases, they're just waiting to get rid of their Republican governor." And: 6.1 million Americans can't vote due to a felony conviction. April is #SecondChanceMonth.
Where Marijuana Is Legal, Opioid Prescriptions Fall. April 2, 2018. Scientific American. [174][175]. And: Video. This cannabis commercial is just perfect. A company that delivers cannabis throughout Oregon.
Scientists discovered a moth with golden hair and a tiny penis. They named it after Trump. Twitter: "hence forward , the grabus vaginus moth".
Utah's Republican Governor Herbert comes out against medical marijuana initiative, warning it would 'open the door to recreational use'. [176].
Global voter campaign against conservative-led global cannabis incarceration. And: ATTN: Video - This former Republican official nails why more states should legalize marijuana. His liver failed 4 times in 5 years while using legal medical opiates. He now uses medical cannabis.
A new poll found 59% of Americans support a "national Medicare-for-all plan." 75% support optional expanded Medicare program for those who want it. And Poll: 44% Of Americans Skip Doctor Visits Because Of Cost. Costs are the top health care issue. And: Why thousands of Americans Are Risking It and Skipping Health Insurance. And: Single-payer plan would improve bottom lines. And: Medicaid Expansion. "Studies demonstrate a positive association between expansion and health outcomes."
NRA created Drug War Mass Incarceration with their mandatory minimum sentencing laws. And: CIA and Bush started 15 years of endless, costly ground wars by their 2003 lies about WMDs in Iraq. [179]. And: Video. What happened to the middle class? Elizabeth Warren. Bernie Sanders. [180][181]. And: Congress Protects Medical Marijuana From Jeff Sessions In New Federal Spending Bill.
Voters In Illinois' Cook County Approve Non-binding Marijuana Legalization Ballot Measure. And: Data shows More U.S. Imprisonment Does Not Reduce State Drug Problems. [182]. And: Exploring the ever-changing European cannabis scene (Part 3). Part 2. Part 1. [183][184].
Gina Haspel became chief of the "Cat's Eye" CIA black site in Thailand in late October 2002. [185][186][187].
Jeff Sessions once wanted to execute pot dealers.
Alabama Republican Sheriff Todd Entrekin Legally Took $750,000 Meant To Feed Inmates, Bought Beach House. [188]. Citizen who exposed him framed with marijuana distribution charges. And: Cannabis Industry Is Saving Cities With Struggling Economies. [189]. And: Canadian Health Insurance Company to Cover Medical Cannabis. Up to $6,000 per year.
Meet Beto O'Rourke, the Pro-Pot Former Punk Guitarist Who Could Beat Republican Ted Cruz And Ignite Blue Wave. And: Greek Parliament Passes Bill to Regulate Medical Cannabis Production. [190][191][192][193].

Drug War, NRA, mandatory minimum sentencing, handguns, homicide rates.
Iowa grants gun permits to the blind. USA Today. What could go wrong? Blind people can drive... right? US gun laws are insane.
The Teens Are Coming For The NRA. We are witnessing history. John Knock - Buried Alive. Nonviolent marijuana drug conspiracy. [194][195]. NRA-supported mandatory sentence of life without parole.
Jeff Sessions running after cannabis users:






1
2
3
4
5
6
7
8
9
10
11
12
13
14
15
16
17
18
19
20
21
22
23
24

Median wealth


per adult in
US dollars

| Country | 2017 |
| --- | --- |
| Switzerland | 229,059 |
| Australia | 195,417 |
| Luxembourg | 167,664 |
| Belgium | 161,589 |
| New Zealand | 147,593 |
| Norway | 130,543 |
| Italy | 124,636 |
| Japan | 123,724 |
| France | 119,720 |
| Singapore | 108,850 |
| United Kingdom | 102,641 |
| Netherlands | 94,373 |
| Canada | 91,058 |
| Taiwan | 87,257 |
| Denmark | 87,231 |
| Ireland | 84,592 |
| Israel | 78,244 |
| Qatar | 71,118 |
| Malta | 67,980 |
| Korea | 67,934 |
| Spain | 63,369 |
| Finland | 57,850 |
| Austria | 57,534 |
| United States | 55,876 |
Marijuana Criminal Cases Dropped En Masse by Philadelphia District Attorney. [196].
Jeff Sessions Opposes Bipartisan Drug Sentencing Reform Bill. And: Fox News is afraid that the American people will find out the truth about Canada's single-payer health care. Bernie Sanders video.
---
US middle-class wealth has collapsed. [197]. See chart to the right. Median wealth is exactly in the middle. 50% of adults have more, and 50% have less. Wealth is all assets (money, stocks, property, etc.) minus all debts.
---
U.S. household debt at all time high. Chart below from page 3 of PDF.
2003 to 2017 (4th quarter). Total Household Debt by Type:
Income Inequality Is At The Highest Level In American History. By Bryce Covert. July 1, 2016. ThinkProgress. "Incomes for the 99 percent have only recovered about 60 percent of what they lost. But the rich are doing great. ... They captured more than half of all the income growth in the country."
Drug War, NRA, mandatory minimum sentencing, handguns, homicide rates
Gun-related deaths in high-income countries. Deaths per million people

. Suicides in gray on the left. Homicides in darker color on the right. USA is the long bloody line at the end.
Mayor Jenny Durkan: Why Seattle Is Erasing Misdemeanor Marijuana Convictions. [198]. And: San Francisco's D.A. Is Clearing Thousands of Marijuana Convictions. Others Around the Country Should Do the Same. And: International Criminal Court to begin preliminary examination on Philippines killings by Duterte. And: Trump Says He Will Focus On Opioid Law Enforcement, Not Treatment. And: Police officer (and veteran) fired for not shooting black suspect wins $175,000.
Military veterans defy Jeff Sessions, fight for medical marijuana to kick opioid addiction. Of all the veterans returning from the Middle East, about 60 percent experience chronic pain. And: California could make it easier to erase your old marijuana convictions. And: Maine becomes first state to protect marijuana use outside of work.
Bernie Sanders video. Debunking Single Payer Myths with Dr. Danielle Martin of Canada. [199][200]. And: Dennis Peron, gay hippie Vietnam veteran, and Early Medical Marijuana Advocate, Dies at 71. New York Times. [201][202]. And: Federal judge: Florida's felon voting restoration flawed. And: Floridians will vote this fall on restoring voting rights to 1.5 million felons. And: 27 percent of all the disfranchised felons in the U.S. live in Florida. And: Marijuana Company Donates 1 Million Meals To Needy Californians. And: Russian Presidential Candidate Wants to Legalize Marijuana. [203][204].

Virginia Senate Republicans kill bill to decriminalize small amounts of marijuana.
France To Consider Decriminalising All Drug Use, Following Government-Commissioned Report. And: Florida: Judge rules medical marijuana law allows patients to grow own drug. And: Malaysia: Amiruddin facing death penalty for possession and distribution of medical marijuana.

Governor signs bill: Vermont Makes History By Legalizing Marijuana through legislature. [205]. And: Thailand About to Make Medical Marijuana Legal. And: Police chief advises police candidate concerning teen marijuana users: "F*ck the right thing! If Black, shoot them!" And: Ontario (Canada) seeks public feedback on allowing cannabis lounges as legalization looms. And: California is Allowing One Million Residents Convicted of Weed Charges to Wipe Slate Clean.
New poll shows Trump with historically low approval rating. Jan. 19, 2018 article.
Chart below is from a Washington Post article on Dec. 29, 2017:
"The U.S. has one of the stingiest minimum wage policies of any wealthy nation."
Bernie Sanders video. We took some American doctors to Canada to see a universal health care system up close. [206]. And: Canada. Liberal MPs urge dropping criminal penalties for all illicit drug use.
Medicare-for-all is single-payer, non-socialist, non-government-owned, Canadian-style healthcare.

~

Republicans

waste $$-trillions on health insurance companies,

plus

$5.6 trillion on ground wars.

USA spent $3.3 trillion on healthcare in 2017

. (

2.

3.

4.

). Canada spent

half as much per person

, and got better outcomes.

70%

of Americans support a "Medicare-for-all" system.

(

2.

3.

)

Country.

Life expectancy (years)

. 2016

Under-five mortality rate

per 1000 live births. 2016

Maternal mortality rate

per 100,000 live births. 2015

Per capita expenditure on health

. Public and private costs.

USD

-

PPP

. 2017

Healthcare costs as a percent of GDP

. 2017

% of health costs paid by government

. 2016
(refs~~>
1.
2.
3. 4. 5.
6.
7.
8.
Australia
82.9
3.8
5.5
$4,543
9.1
67.8

Canada

82.8

4.9

7.3

$4,826

10.4
70.3
France
82.9
3.9
7.8
$4,902
11.5
78.8
Germany
81.0
3.8
9.0
$5,729
11.3
84.6
Japan
84.2
2.7
6.4
$4,717
10.7
84.1
Sweden
82.4
2.9
4.4
$5,511
10.9
83.9
UK
81.4
4.3
9.2
$4,264
9.7
79.2

USA

78.5

6.5

26.4

$10,209

17.2
49.1

Charts.

Videos.

Republican

myths about Canadian healthcare:

1

2

3

4

5

6

7

8

9

10

11

12

13

14

15

16

17

18

19

20

21

22

23

24

25

26

27

28

29

30

31

32

33

34

35

36

37

38

39

40

41

42

43

44

45

46

47

48

49

50

51

52

53

54

55

56

57

58

59

60

61

62

63

64

65

66

67

68

69

70

71

72

73

74

75

76

77

78

79

80

81

82

83.

Nations with better and healthier quality of life:

1

2

3

4

5

6

7

8

9

10

11

12.

Math for

Republicans:

US spent

17.2% of GDP (national economy) on healthcare in 2017.

-

Canada spent 10.4%.
Medicare spends less than 2 percent on bureaucracy. 1.4% to be exact. We need Medicare for All. Nearly a third of our health care dollars go to something other than health care. And: Universal healthcare and drug war.
Trump approval hits new low (35%) in CNN poll. 32% in AP–NORC poll. Lowest in history for a first-year President. [207]. Bring back democracy: Remove Presidential veto power. And: Senate 60% rule.

See: More News. And: Cannabis is safer. Cannabis polls. Vote out most Republicans.
Could Legal Marijuana Tip the Senate for Democrats? - Vote for cannabis.
Under Trump, real wages are not just flat, they are falling. Wages adjusted for inflation.
A or F? How Congress scores on marijuana

.

2.

By Danielle Keane, NORML political director. 2016. "Of the 233 Democrats in Congress, 208 members (89.3 percent) received a passing grade of a 'C' or higher. Of the 302 Republicans in Congress, 102 members (33.8 percent) received a passing grade of a 'C' or higher." For your state see:

Congressional Scorecard. NORML

. Grading was based upon members' voting records.
Will 2018 midterm elections remove Republicans? 2018 ballot issues: marijuana & minimum wage.
CannabisVoter.info - Click your state to see which anti-cannabis Republicans to vote out.
---
---
---
---
Universal healthcare, drug reform, harm reduction, minimum wage, median wealth, homicide rates, and quality of life are rarely compared by country in mainstream US media, and public radio.

Medicare-for-all is single-payer, non-socialist, non-government-owned, Canadian-style healthcare.

~

Republicans

waste $$-trillions on health insurance companies,

plus

$5.6 trillion on ground wars.

USA spent $3.3 trillion on healthcare in 2017

. (

2.

3.

4.

). Canada spent

half as much per person

, and got better outcomes.

70%

of Americans support a "Medicare-for-all" system.

(

2.

3.

)

Households with handguns: Canada: 3%. USA: 30%.

Country

Life expectancy.

2016

Under-5 mortality rate

per 1000 live births. 2016.

Maternal mortality rate

per 100,000 live births. 2015

Healthcare cost per person.

US dollars

PPP

Murder rate

per 100,000.

2016

Canada

82.8 years.

(2)

4.9

7.3

$4,826 in 2017

1.7

USA

78.5 years.

(2)

6.5

26.4

$10,209 in 2017

5.3

Charts.

Republican

myths about Canadian healthcare.

See

many videos.

And:

Nations with better and healthier quality of life:

1

2

3

4

5

6

7

8

9

10

11

12.

Math for

Republicans:

US spent

17.2% of GDP (national economy) on healthcare in 2017.

-

Canada spent 10.4%.


Share link: Moscow. Local or regional cannabis-related links wanted. See: Russia. See cities by country on GMM map of all cities. See all cities (not just Global Marijuana March). See the yearly city and event lists for additional Facebook and other links.
Online translation:
Links:
GMM-MMM history from 2002 through a preview of 2008:
Wikipedia: Cannabis by country.
Search for marijuana march videos. And more.
Find GMM graphics and other event graphics for any city.
*Please add more local or regional cannabis-related links.
- CannabisVoter.info - Vote for cannabis.
Drug Policy Organizations (from MAP). US cannabis organizations. And: Canada. State, province, nation from Area menu. Can also sort by topic. See advanced power search. It can search news, and it can Google search many organizations (choose one from menu).
DrugNews.org (from MAP). News and opinion in one list. Titles are too short. Can sort by area, source, author, topic. But they can not be combined. For example; Cannabis topic is for all countries. United States is for all topics. See: News. See: Opinions. Sort either by low, medium, or high detail.
MAP news topics ("focal points"). For example; Cannabis news for the United States, or Canada, or the UK.
News Source Directory (from MAP). State, province, nation from Area menu. Or A-Z from Source menu. Google search MAP site for news, sources, topics, city, state, province, nation, organizations, etc..
World Cannabis Map - SpliffyMap. See "about" for Paypal link. See Facebook.
MarijuanaTravels.com - Cities and countries. And Google site search.
Marijuana Travel Database. Marijuana travel reports. Countries and cities. Marijuana and travel, smoking laws and cannabis legality.
WeBeHigh.org - Click "Travel Guides" button at top for continents. By U.S. state. And: Google site search.
PotGuide.com | Comprehensive Guide. Dispensaries, events, news, guides.
Global Marijuana March
[
edit
]
GMM (years signed up). Google site search no longer works well. It does not find all the yearly city lists containing a city name.
Special:Search works well. Click: "Global Marijuana March maps". Add city name to search, and state/province/nation as needed. This will pull up all yearly maps in which the city is listed. Except for 2015, 2016, or 2017 in which only countries were listed for the most part. This city, nation, or subnational area participated or signed up one year (or more) for the Global Marijuana March (GMM), Million Marijuana March (MMM), or 420. Cities and nations holding 4/20 events are also included in later years. 41 nations participated on May 6, 2017, or thereabouts. 44 nations participated on May 7, 2016, or thereabouts. 43 nations participated on May 2, 2015, or thereabouts. 212 cities from 42 nations signed up for May 3, 2014 or thereabouts. 226 cities from 42 nations signed up for May 4, 2013 or thereabouts. 950 different cities have participated from 82 different nations or subnational areas since 1999.
Global Marijuana March

links

.
GMM: photos, basic city lists, maps, detailed city lists, years, regions, nations, links, graphics. Google images: Crowds, flyers: Marcha da Maconha. And: Marche Mondiale du Cannabis. And: Marcha Mundial de la Marihuana. And: Global Marijuana March. Add city name to searches. See signup. And: Facebook hashtags: [208][209][210][211]. Twitter hashtags: [212][213][214][215][216]. Google Plus searches: [217][218][219]. Pinterest: [220][221].
GMM, MMM. First Saturday in May (or thereabouts).

Cities

and

nations

holding

4/20 events

are included in the lists for later years. Yearly maps: 41 nations participated on May 6, 2017, or thereabouts. 44 nations participated on May 7, 2016, or thereabouts. 43 nations participated on May 2, 2015, or thereabouts. 212 cities from 42 nations signed up for May 3, 2014 or thereabouts. 226 cities from 42 nations signed up for May 4, 2013 or thereabouts. 177 cities from 34 nations signed up for May 5, 2012 or thereabouts. 274 cities for May 7, 2011. 328 cities for May 1, 2010. 270 for May 2, 2009. 240 for May 3, 2008. 230 for May 5, 2007. 203 for May 6, 2006. 184 for May 7, 2005. 165 for May 1, 2004. 235 for May 3, 2003. 199 for May 4, 2002. 119 for May 5, 2001. 104 for May 6, 2000. 31 for May 1, 1999.
Global Million Marijuana March. GMM Facebook pages. GMM yearly city totals. Many GMM links. See also: 420 event lists. And: More cannabis-related links. And: Google News archives. And: GMM on Wikipedia. Google (add name of city to searches): [222] [223] [224] [225] [226] [227] [228] [229]. [230]. Google maps: city, state, nation. Photos, graphics, and image searches: Marijuana March: [231] [232] [233] [234] [235]. Marihuana March: [236] [237] [238] [239]. Marcha Marihuana (Spanish): [240] [241] [242] [243]. Marche Mondiale Cannabis (French): [244] [245] [246] [247]. Marche Mondiale Marijuana (French): [248] [249] [250] [251]. Marcha Maconha or Marcha Marijuana (Portuguese): [252] [253] [254] [255] [256] [257] [258] [259]. Google Advanced Image Search (find free images). Pinterest: [260][261][262][263]. GMM Blogs: [264]. Travel blogs with photos: [265]. Wikipedia: Legality of cannabis by country: Erowid.org. WeBeHigh.org - many cities worldwide. Old Yahoo Groups: [266] [267] [268]. Basic city lists by year. Marijuana polls. And: Wiki upload posters, flyers, and banners. See also Wikimedia upload.
950 different cities have participated from 82 different nations or subnational areas since 1999. Wikipedia: Cannabis by country.
Search for marijuana march videos. And more.
Find GMM graphics and other event graphics for any city.
December:
September:
June 26:
September:
Return to top. See 2011 Global Marijuana March map.
GMM, May 7:
Translation into English  
MK: At OCE Rally supporters of legalizing marijuana

Published in SergE May 8, 2011 - 07:55

"Hemp festivals" held this Saturday at the Exhibition Center. Proponents of legalizing hemp instead of the authorities banned a march held a flash mob. Approach to the Peoples' Friendship Fountain, which was declared a gathering place for the participants, was blocked by police officers, so the activists had to ride around the park on roller skates and bicycles, according to "Moskovsky Komsomolets".

Saturday's action took place in the "World March of hemp," which started its history in 1999. In Moscow, he was first held in 2002. Moreover, as the organizers of marches, the first action done without detention because of "ignorance of the authorities and a small number of participants."

"Hemp march-2011" has been agreed with the authorities, so the organizers decided to hold a "Hemp festivals." Supporters of the legalization of marijuana called to come to the OCE in clothes with elements of red, yellow and green. In the announcement also reported that "categorically" would be welcomed and bicycle clips.

On the site it became clear that all approaches to the Friendship Fountain, near which were supposed to meet members, covered with metal railings. The police explained this by carrying out maintenance work for the holiday on May 9. However, the organizers believe that this is done to prevent the gatherings. Meanwhile, the exact number of participants is unknown. According to some reports, during the event, police had arrested two members who tried to pass through a metal fence to the fountain.

The aim of the organizers is to legalize marijuana, including for medical purposes, which may lead to lower consumption. Now, a constant amount of drug marijuana growing in Russia. Participants in the action also requires the procedure to change the medical examination of drivers - in particular, to establish the fact of drug use is not in the past period, and at that time.
Please support Serzh Konstantinov, Russia. Global Marijuana March organizer:
Return to top. See 2008 GMM, GlobalMarijuanaMarch.org archive, 2.
GMM, May 3:
Serge Konstantinov ussserge(at)gmail.com +7926-229-98-30 Dmitry Goldyz rastovd(at)gmail.com +7905-575-63-31 Maria Smirnova +7926-248-69-38 http://www.legaliz.info Cannabis Walk near the fountain "Druzhba Narodov" (Friendship of Nations)..
We invite all not indifferent people to the "Friendship of Nations" to the All-Russia Exhibition Centre [297] on May, 3rd, at 15:00. Thematic clothes, excellent mood and musical instruments are welcome. Please, go without direct political propaganda.
The fountain "Friendship of The Nations" [298] has been erected in 1954. In the center of a circle consisting of 16 female figures, that are personifying Republics of USSR – a sheaf made of inflorescences of sunflower, ears of wheat and hemp leaves. In 1961 USSR ratifies the prohibition Convention of the UN "On Narcotic Drugs" [299]. According to it, Cannabis is a dangerous drug, which should be destroyed everywhere. Domestic hemp cultivating has fallen into decay, and it can't recover from this impact till now. We insist on necessity to return former value to the fountain, and we demand to eliminate prohibitive restrictions on hemp cultivation – the leader of Soviet agriculture. For this purpose we gather by the fountain on May, 3rd. Without politics.
Organizing committee of the Cannabis Legalize League
2008 GMM report from Moscow
Worldwide Marijuana March in Moscow: the continuation
globalmarijuanamarch.org/report.php?id=161 (inactive)
After the repressions at Moscow GMM - 2007 we gave up the idea to organize a march and decided to limit ourselves to Cannabis Walk as it was in 2006. Two years ago our action was a great fortune. No cannabis activists were arrested, the police was quiete friendly and all the walkers passed the time chatting, singing, playing mouth harps and drums. So this year we hoped to organize something similar.
We published an official statement on the CLL site, so that both authorities and activists could learn that no marches would be held in Moscow in 2008. We offered our supporters to come to the fountain "Friendship of Nations" at the All-Russia Exhibition Centre. There should be no banners or other means of political propaganda: only thematic clothes, excellent mood and musical instruments.
As soon as the statement was published we met the aggressive reaction of the Federal Service of Drug Control (Russian DEA analog). In the interview to one of the most famous Russian news agencies the head of informational department of the FSDC Alexander Mikhailov commented our action in the following expressions:
"Legalization of cannabis as a drug is out of the question. This theme mustn't be discussed at all. Such actions are the grossest breach of the peace and hooliganism. This is a spring exacerbation on which the bodies of internal affairs and psychiatrists should react".
When we came to the "Friendship of Nations" on May, 3rd, at 3 P.M. we found out that the fountain was blocked by forces of OMON and metal fences. Members of OMON and non-uniformed people caught out of the crowd everybody who seemed suspicious to them no matter if it was a Rastafarian, a punk, an emo or just a long-haired guy. In a few minutes 8 persons were arrested without any reasons. Some of them knew nothing about the action and came to the All-Russia Exhibition Centre just to have fun on the holiday. All the journalists who managed to fix the arrests were forced to erase their videos and photos under blackmailing by arrest or spoiling the camera.
40 minutes later I was sitting in a company of 8 or 10 people in 200 metres from the fountain. We did nothing and spent our time chatting and waiting for the other activists, so that we could go to a more peaceful place. We just wanted to change our dislocation when a band of OMON came near us and asked us to stay at our places. As I remembered clearly the last year march and as it was still possible to get out, I tried to run away. I was lucky to reach the exit from the All-Russia Exhibition Centre when a backheel of a non-uniformed person stopped me. Two seconds of free-fall - and I was lying on the ground. As I wasn't able to stand up myself the members of OMON began to beat me. I don't remember the moment I got to the military bus. The left side of my body was injured but the men in the bus denied me in any medical assistance. I could receive some help only in the police department.
The treatment in the police department was much better than last year. Only one guy of about 15 of our arrested supporters was subjected to pressure from the policemen. It took us two hours to understand the reason of our imprisoning. It sounded very funny and absolutely illegal. The matter was that the Federal Service of Drug Control just wanted to speak to us about the harm of drugs and any actions devoted to their legalization. So after 3 hours in the police department all of us were released from custody without any claims, fees or protocols and could continue the Cannabis Walk.
As a result of this amiable speech with the representatives of law I now have a fracture of a clavicle and several less painful but much more effective injuries - a good illustration of their methods of leading discussion as well as a good occasion for further legal struggle.
Return to top. See 2007 Global Marijuana March map.
Repression of a Moscow cannabis website (legaliz.info). See report.
GMM. May 5, 2007:
May 5, 2007 video of GMM 2007 aftermath in Moscow. Youtube link.
Some GMM 2007 flyers:
Some more GMM 2007 flyers below. The flyers are found on this page too:
English translations of the info on the flyers are from Maria Smirnova. Click on the flyers for the translations.
Many Moscow 2007 GMM links, videos, photos, reports.
Moscow, Russia. Global Marijuana March 2007.
Links:
13 marijuana marchers arrested May 5, 2007 by police in the Arbat Street area, and also outside the ARBAT police station. Some beaten. One hospitalized. 6 men sentenced in a kangaroo court that night to 10 days in jail. One man to 15 days. 6 women were fined 4500 rubles each (about $175). English report from participant:
Video of May 5, 2007 arrests outside the ARBAT police station:
Later on May 5, 2007 there were around 30 more arrests at the evening GMM gathering in a park in the city of Moscow.
Video of May 5, 2007 arrests in the park around the All-Russia Exhibition Centre: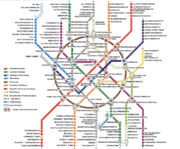 Those arrested in the park were released without fines in around 3 to 4 hours. The Cannabis Walk in the park at the All-Russia Exhibition Centre, was the second part of the May 5, 2007 Global Marijuana March (GMM) in Moscow. The park is located at the VDNKH metro station on the north end of the Kaluzhsko-Rizhskaya Line (line number 6 on the map to the right).See:
See this Moscow metro map:
More photos with forums:
Info in English:
MMMworld Yahoo Group messages:
531 532 533 534 535 550 553 569 570
Home: http://health.groups.yahoo.com/group/mmmworld
CannabisAction Yahoo Group messages.
1366 1367 1368 1370 1371 1376 1377
Home: http://health.groups.yahoo.com/group/cannabisaction
--- Original Message ---
Subject: For Interested person: Policemen are beating Marijuana
march activists in Moscow!
Date: Sun, 6 May 2007 04:22:28 +0400 (MSD)
From: Eugene Kazachenko

Dear sisters and brothers!
My name is Eugene Kazachenko. I'm from Moscow, Russia. Today, some hours ago my friends from Marijuana march were arrested. They tried to stretch the banner with calling to legalize marijuana. The goal of this march was legalization marijuana for medical use. Now there are about 20 people arrested. The police was very cruel with marijuana activists.
With fear for life of our brothers and sisters my friends and I are receiving periodical news of Radio station "Ekcho Moskvy" - (The Echo of Moscow": http://www.echo.msk.ru/ ). This is the only free radio channel, which real informs of social and political life in Russia. It informs that Police has placed people by faces on the ground. Police has dragged girls upon the ground and has beaten young men. Policemen have banged young men by their faces about parked cars. In the police department some young activist was beaten so cruel that this has caused coming an ambulance.
The representatives of The Federal service of drug control have accused all delaying activists in biased attitude to narcotics. Without any reason they have accused participants of Marijuana March in propaganda of narcotics. At the police department some policemen are trying to plant the drugs to activists. However attorney was not passed to his clients for legal defense. On entrance with the sub-machine-gun in hands the policeman did not let to attorney to come into the door of the police department.
Marijuana March was organized by Cannabis Legalization League (Please, visit http://www.legaliz.info/ ). At this moment all of delaying marijuana activists are in Presnentsky administrative (misdemeanor) court of Moscow (phone number of this court: +7 495 254-53-59). They are accusing for undertaking unsanctioned meetings. This position of government disagrees with 31 articles of The Constitutions of Russian Federation and Public International law.
Though many religious confessions concern with a rehabilitation and spiritual counseling for drug abusers, however they never call any attention in regard to the realistic position of medical cannabis. Regrettably Christians and other religious circles of Russia do not raise a voice in rights protection of drugs consumers from unjustified state repression.
Because of unchangeable and increased repressive policy of Russia in attitude to consumers of drugs the religious figures are positioning itself apart of to questions of government drugs policy. Hypocritically the majority of them tacitly agrees with official drug policy or on the pattern of flattering politicians they loudly convicts all people, which voice opinion for legalization hemp as a medicine.
With respect,
Eugene Kazachenko
(MDiv of Moscow Theological Seminary).
E-mail: e_kazachenko(at)yahoo.com; sabba(at)fromru.com
Mob: +7 916 9808590

---end of forwarded message---
More 2007 GMM Moscow info in Russian:
More Moscow 2007 GMM photos and police action
"Putin skinhead whores report":
---
Press release below for April 27, 2007 press conference in Moscow called "Cannabis - Hemp is useful!" Maria Smirnova translated the press release.
Cannabis Legalize League invites you to attend a press-conference in a round-table format, "Cannabis - Hemp is useful!", that will take place on April 27, 2007 in Moscow, Russia.
Discussion of the following subjects:
Current legal status of hemp and its derivatives, future prospects for reform of Russian and international law regarding hemp use in agriculture, industry and medicine.
The Prospects of therapeutic cannabis for a wide spectrum of diseases. The achievements of world medicine.
The possibilities of hemp use in agriculture and industry; economic, ecological and technical advantages of hemp compared to the competition.
Myths and facts about psychoactive hemp.
Pros and cons of hemp legalization. Various legalization models. Economic effects.
We expect famous experts in drugs, Russian and international politics, journalists, cultural workers, FSKN and MVD representatives to attend this press-conference.
If you have any suggestions about the subject matter of the round table or you wish to present your own report, we are pleased to consider it.
Please, inform us whether you will attend not later then April 17, 2007 by e-mail: mariasmirnova(at)gmail.com , ussserge(at)gmail.com or call +7.905.5756331, +7.926.2299830
Link:
This info was translated by Maria Smirnova. Her blog:
Return to top. See 2006 Global Marijuana March map.
GMM:
More info:
There were no arrests in 2006 at the Moscow Global Marijuana March. The disorders announced beforehand by nationalists on the Internet did not take place at the All-Russia Exhibition Centre. The cannabis walk, which was organized by Cannabis Legalize League instead of the march prohibited by the Moscow authorities, went off calmly. There were no incidents first of all because of the work of Moscow police which was well prepared for them. At 5 pm about 200 people gathered at the fountain "Friendship of peoples" behind the lens of numerous cameras and under protection of police and OMON. Many of them were dressed in colorful clothes with symbols of the prohibited plant. Cannabis walkers were communicating, singing, playing the drums, some of them were publicly smoking cannabis. A group of several dozen of young men, led by the deputy of the State Duma from LDPR party Nikolay Kurjanovich, could only throw up their hands and scan several times: "Drug users! Get out of Russia!" and "The Christ has revived! " The improvised political debates on the policy in the sphere of drugs, which took place between the deputy Kurjanovich and the secretary of "Russian Radicals" movement Nikolay Khramov near the same fountain behind the cameras, aroused a special interest of press, cannabis walkers and their opponents.
An Interfax article:
Apr 27 2006 1:07PM.
Attempts to hold pro-marijuana march are provocative - drug service.
MOSCOW. April 27 (Interfax) - Attempts by supporters of the legalization of marijuana to hold a march in Moscow in early May are a provocative act, head of the Federal Drug Control service's interdepartmental affairs and information department Lt. Gen. Alexander Mikhailov told Interfax on Thursday. "Russia is growing hemp for economic needs. The produce is limited to economic needs and everything else is the work of the devil. Legalizing the plant as a narcotic drug is out of the question. The issue should not even be discussed," Mikhailov said. Supporters of the legalization of marijuana have asked the Moscow administration for authorization to hold a march in early May. Similar requests were made in previous years, but all of them were turned down.
Reports, media: Всемирный Конопляный Марш 2006 в Москве | Лига Легализации Конопли / Cannabis Legalize League. Google translation:
English translation  
World Hemp March 2006 in Moscow Published in SergE May 7, 2006 - 18:00
10:00-12:00. Planting trees in the forest park "Kuskovo"
14:00-15:00. PICKET IN SUPPORT Demonstration in Pushkin Square
17:05 -... Hemp FESTIVITIES near the fountain "Friendship of Peoples" FOR ENEA Planting trees in the forest park "Kuskovo"
In Forest Park "Kuskovo" activists and supporters of the League carried 33 landing larches. Action is dedicated to the victims of "war on drugs" (drug war), began in 1933 in the U.S. administration, "Prohibition," which grew out of the world drug mafia, has penetrated almost all government and paralmenty world.
PHOTO
05/07/2006 Hemp WORLD MARCH - 2006. MOSCOW. 14:00 - 15:00. PICKET IN SUPPORT Demonstration in Pushkin Square
radikaly.ru:
About 15 activists of the League of legalizing hemp and the movement "Russian Radicals" held this afternoon at Pushkin Square to protest against the ban by Moscow authorities on the intended day of the march of hemp in the international campaign Global Marijuana March.
Guarding the demonstration the police shortly after it began, however, require the organizers to remove the flags of the legalization of hemp League, as their presence allegedly did not meet the stated objectives of the action in the notice. Time remaining protesters stood with uplifted empty shafts in protest.
polit.ru:
This year's bid to host the World march of hemp have filed 189 cities. At Moscow activists drawn from the "legalization of marijuana League 'notice of a procession from the Old Arbat to Pushkin Square metropolitan government rejected" due to the fact that the objective stated in the notice of public events suggests a violation of the ban on promoting drugs. " Organizers of the "hemp march" was considered such a waiver illegal, because the shares are not intended in any way advocate the illegal use of illicit psychoactive substances. Requirement of the organizers came down to political claims based on Article 29 of the Constitution, which guarantees freedom of speech, freedom to seek, receive, transmit, produce and disseminate information by any lawful means. Raising the issue of revision of existing law with regard to cannabis, the organizers were guided by their constitutional right to direct participation in managing state affairs (Article 32 of the Constitution), as well as the principle of ideological pluralism, laid the foundation of the constitutional system of the Russian Federation (Article 13 of the Constitution). In this regard, the Moscow City Court has filed an application for recognition of the failure to conduct "hemp march" illegal.
In today's demonstration, held in Novopushkinsky Square, was attended by a dozen community activists. They unfurled a banner "For the freedom of demonstration," and raised the flags with the symbol of "legalizing hemp League." The representative of the prefecture of the Central Autonomous demanded the protesters to remove the flag as not conforming to the application picket. Although these guidelines are not within the purview of city officials, in order to avoid a confrontation with police picketers submitted the request and continued to stand empty shafts, said in an interview with reporters that the government once again highlights the illegal demands. According to Dmitry Zlotnikov, one of the activists of the "League of legalization of cannabis", Moscow became the sole capital of the "Big Eight" in which the conduct of Global Marijuana March this year was denied. In his view, it can not affect negatively on the image of Russia on the eve of the summit of "Eight", which will be held in St. Petersburg in July this year.
After graduating from the picket to the participants who were walking in the area of ​​the Tver parkway, approached by several riot police and threatened with physical force required to leave at once. After that, the activists for "legalizing hemp League" has for a long time continued to follow the three members of security forces in civilian clothes.
PHOTO Hemp WORLD MARCH - 2006. MOSCOW. 17:05 - ... Hemp FESTIVITIES near the fountain "Friendship of Peoples" FOR ENEA
polit.ru:
The second part of the shares today was not a political organizer and was named "Hemp festivities." About a hundred fans of cannabis and its derivatives at the call of "LLC" gathered at 17:00 at Friendship Fountain on the All-Russian Exhibition Centre. An attempt to disrupt the event was noted by a group of nationalists, is approximately equal to the number of the participants 'walks'. Supporters and opponents of the legalization of soft drugs entered the war of words, but the overflow into a brawl conflict prevented delivered to AREC and riot police forces.
The purpose of "hemp march" was to be an attempt to appeal to the Russian society and the authorities to stop criminal and administrative prosecution of psychoactive cannabis users, a maximum simplification of licensing activities related to the cultivation of cannabis and its technical processing, lift the ban on therapeutic use of cannabis and its derivatives. The current situation, according to activists for the legalization of cannabis derivatives - hashish and marijuana - contributes to the fact that the main fight narcotics police are with the consumers of soft drugs, but not with distributors, particularly opiate drug group, which are deadly to humans, resulting in contrast of marijuana and hashish physical dependence. Such a situation, the advocates of legalizing marijuana, it is advantageous primarily to drug traffickers and corrupt power structures, earning millions of dollars in profit from the illicit trade in drugs.
radikaly.ru:
Previously announced by the nationalists on the Internet at VVC riots did not happen. "Hemp festivals" organized by the League of the legalization of hemp instead of the Moscow authorities banned the march, passed quietly and without incident in the first place - thanks to well prepare for the police. About 200 people gathered in 17 hours under the lens of numerous TV cameras and guarded by policemen and riot policemen in Fountain "Friendship of Peoples", many of which - in a colorful dress with the symbols of a prohibited plant, talked, sang, played drums, some - smoking in public ' shoals. "
Yavivshasya on "Hemp festivals," a group of several dozen young people, led by State Duma deputy from the Liberal Democratic Party, Nikolai Kuryanovich, limited by the fact that the throwing arm, several times in unison chanted "addicts - get out of Russia" and for some reason, "Christ is risen."
Of particular interest is the press held immediately aroused when a large concourse of spectators impromptu political debate on television between the deputy and the secretary Kuryanovich "Russian Radicals" Nikolai Khramov on drug policy.
Statement by Nicholas Khramova:
"I am grateful to the many dozens of young men and women who came to participate in the festivities hemp, not afraid abundantly penivshihsya eve online threats against protesters. I am also grateful and deputy Kuryanovich, who had come to, as I understand it, peacefully express their position on the legalization of marijuana - though diverging radically from the position as antiprogibitsionistskoy radicals and LDPR leader Vladimir Zhirinovsky.
Special thanks I would like to make the leadership of the Moscow police, employees of police and riot, which provided a model of public order during the festivities and hemp prevent provocation and violence, even if it's someone else planned.
All together now we have successfully complete the task facing us as organizers of this campaign antiprogibitsionistskoy: to promote the deployment of a public debate on the substance of policy proposals antiprohibitionist - legalized in one form or another now prohibited narcotic drugs and psychotropic substances (first of all - the so-called "light drugs ", ie cannabis and its derivatives) as a means to undermine the prohibition of drugs based on the power of the drug and to establish on these substances effective government control.
Meanwhile, the critical interpretation of results of the current failed drug policy, is free debate on this subject - is precisely what most supporters are afraid to maintain a system progibitsionizma from bosses drug and its voluntary or involuntary lobbyists in government (including Federal Drug Control Service Guide) to their cannon fodder in the form of a "politicized" street hooligans and aggressive small mongrels Runet strochaschih letters demanding to turn the discussion of "inconvenient" at Live Journal. "
PHOTO
svoboda.ru:
Arslan Said: In Moscow on Sunday were "The onoplyanye celebrations", the organizers are required to legalize marijuana and decriminalization of its consumption. At Fountain "Friendship of Peoples" at the Exhibition Center gathered not only the supporters of legalization, but her opponents.
Michael Salenko: Moscow "Hemp festivities" began on Sunday at five o'clock in the afternoon. The organizers - members of the League of legalizing marijuana - have decided to hold them in place of "hemp march" that Moscow authorities did not allow. On why the place was selected festivals Fountain "Friendship of peoples" in the All-Russian Exhibition Centre and what the requirements are walking, I told one of the activists of the League of legalizing marijuana Sergei Konstantinov.
Sergei Konstantinov: You can see in the center of the fountain, under the sunflowers - hemp. In general, in the 30s in Russia was a four-fifths of the world volumes of technical hemp, it was 900 000 hectares. At the moment, only 10 thousand hectares. Here there is hemp, a symbolic place for our movement.
Our claim, rather, targets the event, which was to be held on the Arbat, the following: changes in government policy on regulation of psychotropic and narcotic substances, in this case, cannabis, simplification of licensing for the cultivation and processing of technical grades of hemp and lift the ban on therapeutic use of cannabis and its derivatives.
Michael Salenko: Secretary of the movement "Russian Radicals" Nicholas Temples also believes that the state should legalize marijuana and regulate its production and distribution, getting from this additional funding in the form of tax revenue.
Nicholas Temples: Enter the same regulatory requirements for production, trade, taxation, what is there for the alcoholic beverages or tobacco products. Another question that these proposals are not implemented anywhere yet, including in Holland, because Holland is not the legalization of soft drugs, there is a more tolerant policy toward drug use. You are legally entitled to acquire in the Hoff-shop hashish or marijuana, or the owner of Hoff-shop has the right to sell it at retail, but there is no place where he can buy it in bulk. Because wholesale purchases for these shops Hoff made for the back door, so to speak, all at the same drug traffickers because of the legal market does not exist. And here is not that the Government of the Netherlands does not want to go further. The fact that there is a UN convention, which obliges the state to just such a restrictive policy. It is impossible to legalize marijuana in one country, it is necessary first to denounce or to modify at least three UN conventions. Here's the drug policy is clearly enough proved a failure and inefficiency.
Michael Salenko: In addition to the supporters of the legalization of hemp, to the fountain "Friendship of nations" come and its opponents. Opponents of legalization led State Duma deputy from the Liberal Democratic Party, a member of the Duma's security committee Nikolai Kuryanovich. Two of Nicholas, Temples and Kuryanovich peacefully to debate whether or not to legalize hemp and marijuana, as well as harmful to the health of its use.
Nikolai Kuryanovich: Yes you can, if desired, such to have to buy drugs now, even here without a problem. But if we imagine at ENEA in pharmacies would sell them now, probably even now one of the challenges here would come up and said, "Dyke me a bong, I turf."
Nicholas Temples: Nicholas, but vodka is sold, but nothing terrible happens.
Nikolai Kuryanovich: What happens?
Nicholas Temples: There is, of course. But it's much worse than it would if it was banned, then can be etched or palituroy hell knows what else. And Al Capone would have appeared again, as in America in the 20s.
Nikolai Kuryanovich: Same analogy can hold the line. How would the same thing now cheap drugs go, they will be easily accessible.
Nicholas Temples: Why cheap?
Nikolai Kuryanovich: Because if the drug mafia ...
Nicholas Temples: No, Nicholas, wait, we are talking about what? We are talking about drugs or we're talking about marijuana? It's all different things.
Nikolai Kuryanovich: We believe on the contrary, these are the things of the same order. On the severity of these a little different. After all, people start to smoke marijuana first, and then move to heavier drugs.
Nicholas Temples: No, Nicholas, people first start drinking beer, smoking marijuana and then after that heavy.
Nikolai Kuryanovich: Drinking too harmful.
Nicholas Temples: from hemp until no one died, and the vodka we simply dying with terrible speed.
Nikolai Kuryanovich: From hemp why not die, because it is really a transitional bridge from cannabis to harder drugs.
Nicholas Temples: Generally, no statistics. Most likely, of course, those who use hard drugs, they begin with hemp, it's true.
Nikolai Kuryanovich: We can again assume the reverse logical order, if a man in his time had not tried marijuana, it can be switched to harder drugs.
Nicholas Temples: That's understandable. But the fact that not all who start smoking cannabis, moving to hard drugs.
Michael Salenko: Among came to the fountain just young Russian citizens views on the legalization of cannabis and its derivatives, cannabis and mariuhany also divided. Julia and her friends for the legalization of soft drugs.
Julia: No hard drugs, "screws" all sorts and so on heroin - it's awful, it should not be at all.
Michael Salenko: The visitor to the fountain "Friendship of Nations" Michael - the enemy is not only drugs but algokolya.
Michael: Of course, an outspoken opponent. There is nothing good that people just will not. Our people are gullible, simple, more fool the mind pomutnitsya. It will all end badly. We have a healthy and strong Russia, for a healthy lifestyle without drugs and alcohol and their ilk.
Michael Salenko: But what is the opinion regarding the legalization of soft drugs expert of the Ministry of Health and Social Development of Russia Mikhail Narkevich.
Michael Narkevich: I am totally against. Because the step from light to heavy drug - a small step. Where marijuana and recreational drugs, you give a cigarette, in the Netherlands, in Amsterdam you can smoke, there is less of that hard drugs, heroin (I myself was there last year). Methadone - it goes without saying. Already heroin experience is, we were amazed. To some this is necessary, I guess. No control of the state will not, it's all nonsense. We have, according to drug control in our country, six million drug users, 10 years ago was 10 times less. In our country, 70-75 percent of HIV-infected people - drug users. Therefore, we must fight the system, including prevention, investigation of all causes at all. I also think that drug-free world - a utopia, it is. But this does not mean that they should be promoted, they should be allowed.
Michael Salenko: Hemp festivals supporters and opponents of the legalization of soft drugs in Fountain "Friendship of Peoples" ended peacefully to the sounds of "tam-tam." Last but not least thanks to the presence of considerable number of police with dogs and a bus of riot police. (Probably due to the large number of journalists - approx. Edition of the site.)
Return to top. See 2005 Global Marijuana March map.
Some more GMM 2005 flyers:
GMM. May 7, 2005:
English translation  
Hemp will march across the planet , except for Moscow. For the simple reason that the initiative group of citizens (the organizing committee of the march of hemp), intending to organize a march in the capital, made a great folly - has decided to keep the law. The due date (27.04.2005) [April 27, 2004] in the Prefecture of the Central Administrative District of Moscow filed notice of a march of hemp. 05/04/2005, [April 5, 2005] the Prefecture of the employee responsible for receiving notifications, reported the following: "... A march of hemp? course, forbidden! As in the past year . Here employees of the constantly ringing, are interested ... You will not hold an unauthorized rally as in the past year? Look more carefully, in Moscow intensified regime ... "

So. In Moscow there will be a march of hemp. It would not be in the form which was planned - with banners, flags and rally. Will not, because Prefecture CAO shamelessly violated the Federal Law "On Meetings, Rallies, Demonstrations, Marches and Pickets": the only thing that the authorities were entitled to do is three days after receipt of the notice, the organizers propose to change the time and place of the action. But this was not done.

This is to inform employees of the Prefecture of esteemed TSAO of Moscow and personally Mr. Baidakova (prefect CAO) that will not hold any unauthorized mass demonstrations that are described in the notice filed by April 27.

But to worship the memory war poet Bulat Okudzhava Shalvovich on the eve of Victory Day is not entitled to prohibit any one prefecture of the world, even if it's prefecture of central district of the capital of the victorious country. Therefore, we ask all who have gathered to honor the memory of Bulat Okudzhava, May 7 on the Arbat, do not bring any banners or posters. We strongly recommend not bringing anything illegal and to abstain from both banned and legal substances. Arbat - the street poets, musicians and artists, so very relevant in the Arbat tricolor berets, drums, jew's harp, dreadlocks, warm hearts, clean hands, cool heads and good vibrations ...

May 7 - Day of Remembrance of Bob Marley. For victory! For our victory!
Return to top. See Global Marijuana March 2004 map.
GMM-MMM:
Some more GMM 2004 flyers:
Return to top. See GMM 2003, MillionMarijuanaMarch.org archive, 2.
GMM-MMM:
From Moscow, the Moscow team wrote to say that their MMM was held on Sunday, May 4 as a Smoke-In for Human Rights. At noon, about 20 activists gathered on Pushkin Square in the center of the Russian capital, where they smoked up while posting stickers and distributing a petition to legalize marijuana and the MOZG harm-reduction magazine. Members of the reggae band Jah Division were in attendance, and passersby joined the festivities as well to listen to what was being said.
"At one point, Dima, an activist, was passing out literature and asked to leave his spot, an underpass, by a policeman. He refused and the policeman was joined by others until there were eight cops to the one activist. 'Then we explained to them that legalization meant state production and supply of drugs, therefore controlling the drug trade. They understood it the way cops would we able to open their own shops and sell drugs, which actually cheered them up. But they still thought it unrealistic, so they asked us to leave the underpass, and promised that next year they would smoke with us.'"
"In Moscow, 20 activists came together in Pushkin Square to smoke pot, post stickers, hand out the harm-reduction magazine MOZG, and display a petition to legalize pot. A possibly unpleasant situation involving one activist and eight policemen was diffused when legalization was explained to the cops as something that would be mutually beneficial. The activists were still asked to leave the underpass they were occupying, but not before the police promised to smoke pot with them next year."
Categories
[
edit
]